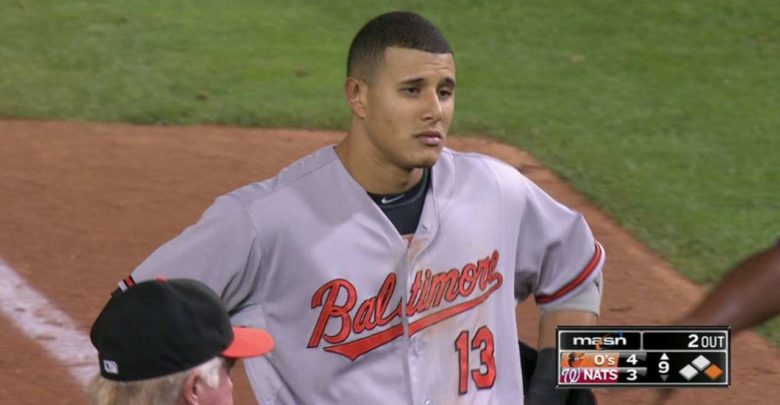 Cubs Trade Rumors: Report Out of Philly Says Machado Will Be Traded There Wednesday (Updated)
Though the Cubs are no longer directly connected to Manny Machado, the slugger's eventual destination could certainly impact them in the second half. The Brewers have been named as one of the favorites to land Machado, but reports out of Philly have him staying out East.
Joe Giglio of Sports Radio 94 WIP in Philadelphia said Monday that a source told him "Machado to the Phils Wednesday" and that Phillies president of baseball operations Andy MacPhail "is a magician." Take that for what it's worth, but the anecdotal evidence does support the idea.
A source told @JoeGiglioSports that "Machado to the Phils Wednesday morning" and that "Andy MacPhail is a magician"

— Jon Marks & Ike Reese on 94WIP (@MarksReeseWIP) July 16, 2018
Ken Rosenthal wrote last week about the unlikely nature of a pre-All-Star Game trade, what with Machado being the O's lone representative. There's also the awkwardness that would follow a trade to an NL team, which would leave Machado either unable to play or forced into the weird spot of playing in a generic uniform and usurping someone else's playing time.
That backs up the timing of a trade, but what about the destination? The Phillies are a half-game up on the Braves in the AL East, which would put them just ahead of that final Wild Card spot as well. That's a pretty tenuous grasp on the postseason, one that they'd do well to strengthen. The Phillies have a good deal of young talent and have been linked to several other players ahead of the deadline as well.
Machado makes a lot of sense for the Phillies and MacPhail making that splash could actually help out his former team. Though they'd still have enough to stay ahead of the division, the Brewers landing Machado would certainly make the Cubs' job more interesting. And while having him in Philly might make the postseason more difficult, it'd make it easier for the Cubs to get there.
Even if the report doesn't end up being accurate in terms of the team, I'd expect to hear final word on Machado by Wednesday.
***Update***
Multiple other people are reporting that there is no deal in place, which could mean the initial leak was simply a way for the O's to stoke the fires in the bidding furnace. Which is to say that this whole thing is lit.
Keep getting asked about this: no deal in place for Machado. Rumors they have one w Philly are untrue says numerous sources.

— Brittany Ghiroli (@Britt_Ghiroli) July 16, 2018
Multiple sources say #orioles don't have deal done with #phillies for Machado. #dodgers and #brewers also still involved. Told "very close" but nothing has been agreed upon yet

— Roch Kubatko (@masnRoch) July 16, 2018
***Update No. 2***
MLB.com's Jon Morosi is reporting that the Phillies are willing to include righty Adonis Medina, their No. 2 prospect and No. 73 on MLB Pipeline's Top 100. The O's would really love top prospect Sixto Sanchez — no relation to Antonio Alfonseca — but they're said to covet Medina as well and his inclusion could make them the winner here.
There would obviously be other players involved, but the Phillies match up well with the Orioles when it comes to team needs. Philly has a wealth of young pitching, Baltimore desperately needs young pitching. Philly has gotten really poor play at shortstop, Machado is a shortstop. Makes sense.
Beyond this, the Phils are also being very aggressive as the deadline draws near. In addition to Machado, rumors have connected them to a pair of their former southpaws: Cole Hamels and JA Happ. They've also been linked to Jeurys Familia. And you know they'll be all over Zach Britton, particularly if they're already doing a deal for Machado.
Morosi seems to add a little depth to what I wrote above, which is that the initial reports were both true and an attempt to draw out some higher bids. He wrote that "Philadelphia is the most likely destination…unless the Brewers or Dodgers respond with a compelling counteroffer."
***Update No. 3***
Throw some chum in the water and the sharks will come to feed. The O's seem to be doing a good job of upping the ante.
Breaking; The Dodgers appear to be the leading contender for superstar Manny Machado as talks head toward the finish line. The situation is fluid and brewers and phillies may still have an outside chance. Barring turnabout, deal should be done this week. Story comin on @Fancred

— Jon Heyman (@JonHeyman) July 17, 2018