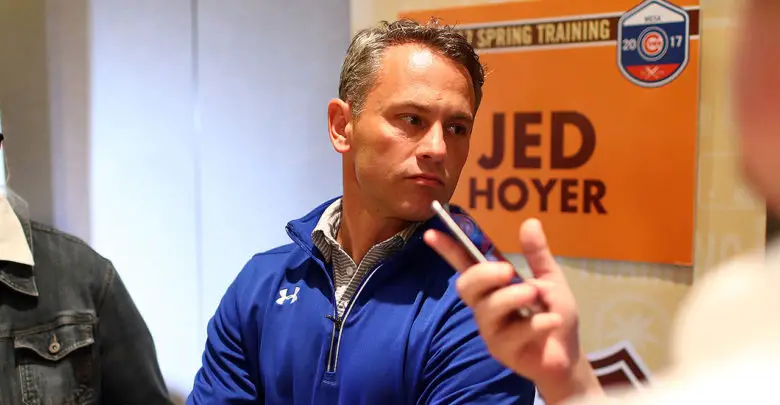 Hoyer: Cubs Focused on Depth, 'Going to Be Talking to a Lot of Teams About Pitching'
Cubs GM Jed Hoyer joined the Bernstein and McKnight Show on 670 The Score Wednesday to discuss a host of topics, including Kris Bryant's return and the participation of Javy Baez and Kyle Schwarber in the Home Run Derby. But, this being trade season, it's talk of the Cubs' intentions heading into the July 31 deadline that make the headlines.
Commentary around that strategy has shifted somewhat, which Hoyer openly acknowledged last month.
"I don't think right now we know exactly what we may need," Hoyer said when the Cubs were in St. Louis back in June. "What we may need on July 31 may be totally different than what we know sitting here right now.
"I do think that right now the answers are here. We have enough depth offensively. We have the right position players. We have pieces internally. Now, that might not be the answer in six weeks. But I think that's the answer today."
Reading between the lines, Hoyer is saying that the Cubs would be targeting pitching if indeed they decided to make any moves at all. He was even more transparent about that in the wake of the decision to shut stud prospect Adbert Alzolay down for the season.
And though there has been recent scuttlebutt about the Cubs perhaps looking to add a veteran leader in the outfield, even that smacks of a desire for pitching. Adding another bat to what is already a crowded mix would mean parting with one of the young outfielders like Ian Happ, Albert Almora Jr., or Kyle Schwarber, which the Cubs would only do if they were getting back a big-time pitcher in return.
Such a move appears to be on the periphery when we consider all the likely scenarios for what is going to happen over the next three weeks, but that doesn't mean the Cubs won't still be active. They're among several teams in the mix on the Jays' JA Happ and have been at least anecdotally linked to talks about the Rays' Blake Snell.
The potential returns of Yu Darvish and Drew Smyly in July and/or August offer a lot of hope and would certainly bolster the pitching depth, but neither is a sure thing at this point.
"There's nothing I want more than to have [Darvish] out there pitching well, but at the same time we have to go forward thinking about our depth, about having enough pitching," Hoyer admitted Wednesday. "Yu coming back would be fantastic but injuries can linger and we need to be aware of that.
"We're going to be talking to a lot of teams about pitching and pitching depth ahead of the deadline. We got away with it in '16, riding (Aroldis) Chapman hard. We probably didn't have the necessary depth in the bullpen. The game is played different in the playoffs."
Rather than make a big splash like they did for Chapman two years ago or for Justin Wilson last year, the Cubs are more likely to add reliable role-players. Much of that is based on necessity, since they have exhausted the top-flight prospects in the system on those aforementioned deals and also the acquisition of Jose Quintana last season. There's also the matter of building back their existing depth via improved health.
Brandon Morrow's usage since returning from a pants-related back injury has spawned plenty of questions, but Joe Maddon appears to be very cognizant of not burning out his first non-rental closer in the last three seasons. Carl Edwards Jr. recently returned after a month on the shelf and looked like every bit the potential dominant setup man the Cubs have hoped for.
Then there's Wilson, who is slowly settling into a more consistent role after nearly a year of disappointing performance. The Cubs also have hulking righty Dakota Mekkes waiting in the wings at AAA Iowa after shooting through the system as a 10th round pick in 2016. Also at Iowa is former Cubs starter Casey Coleman, who recently rejoined the organization after an odyssey that saw him in independent ball for over a year.
If everything works out perfectly, the Cubs could easily find their way to October without making a single change to the roster they've got right now. Almost nothing goes exactly according to plan, though, which is why you'll see them burning up the phones in search of an insurance policy or three.
I'd be shocked if they ended up making a splashy move that required them to part with a contributing member of the 25-man roster, but stranger things have happened.