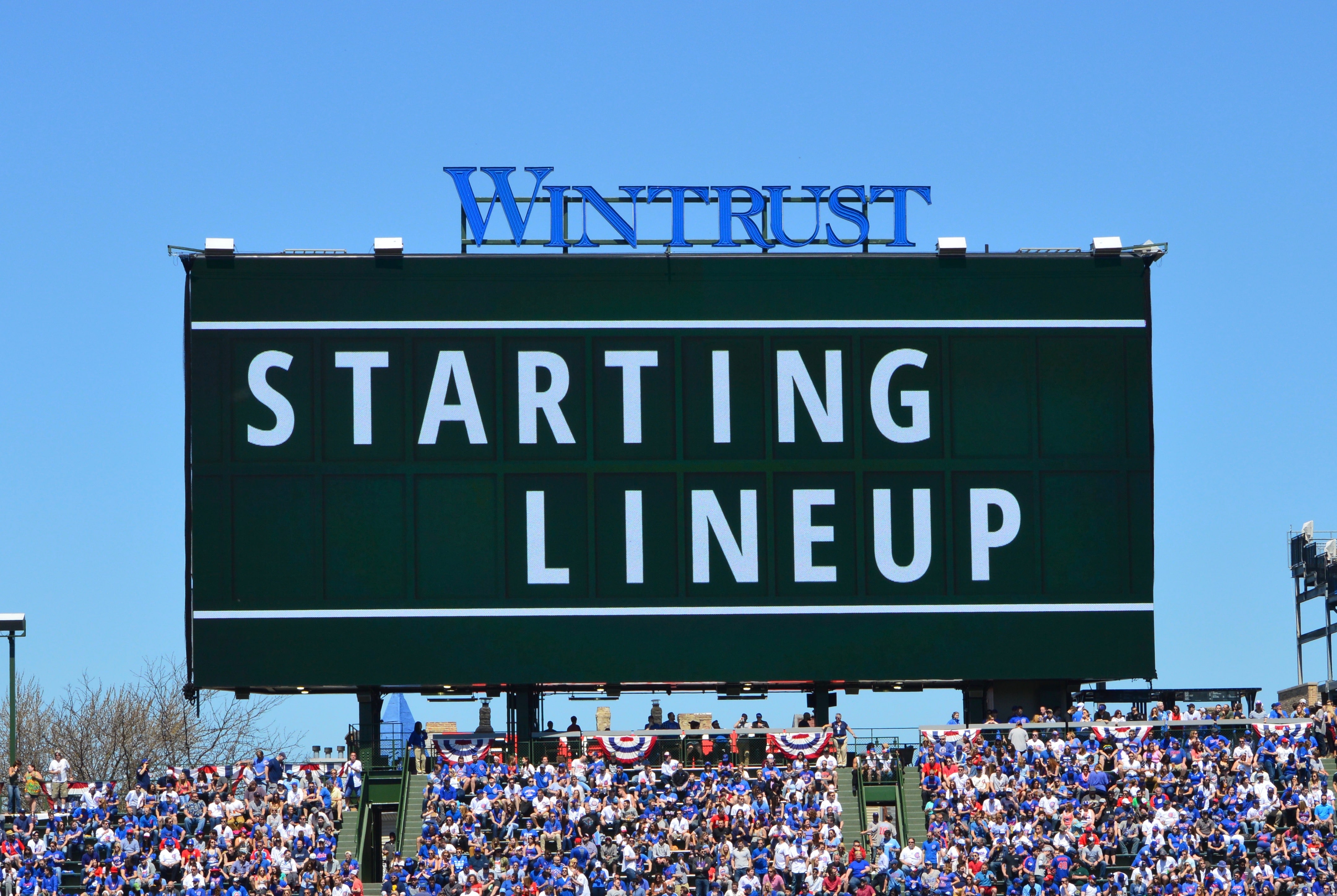 Chicago Cubs Lineup: Almora Leads Off, Javy at 3B, Hendricks Starts Against Bizzaro Self
Albert Almora Jr. leads off in center this afternoon, following by Jason Heyward in right and Ben Zobrist at second. Anthony Rizzo cleans up and reigning NL Player of the Week Javy Baez bats fifth and mans the opposite corner.
Kyle Schwarber is hitting sixth in left, Willson Contreras is behind the plate, and Addison Russell is at short. It's good to see Russell in there after he left Sunday's game as the result of a collision with Baez that left him shaken up and nursing a jacked-up finger. It looks like he's really figured some things out at the plate, making him a very dangerous eight hitter.
Kyle Hendricks would normally be a guy you'd want on the mound to shut a team down, and he may still be moving forward, but his pitching this year doesn't really lend itself to the warm afternoons at Wrigley when the wind is blowing out. He's already within one home run of the most he's allowed in an entire season, a direct result of leaving his sinker up in the zone too often.
The Tigers may be about the nicest opponent to help Hendricks get right, though, since their 69 dingers are 28th fewest in MLB. And they don't have many men on base when they happen to go yard, as evidenced by a .307 OBP that's lower than all but six teams.
The one thing Detroit does really well on offense is run the bases. Their 8.6 cumulative BsR is second in MLB and could mean that they'll be aggressive if and when they reach. That could mean a little back-pick action from Contreras, so the cameramen and their producer had better be on their toes.
Going for the Tigers will be Michael Fulmer, who is basically Hendricks' antithesis. The 25-year-old righty is burlier, beardlier, and throws a lot hardlier than his stoic counterpart. Wait, I used at least two fake words there, didn't I? Whatever, I bet they'd work in Words With Friends.
No matter how you describe him, Fulmer is putting up a 4.20 ERA that is a little higher than you might expect. And when you compare it to his identical 4.04 FIP and xFIP marks, everything seems to match up pretty closely. Those numbers aren't actually too far from what he put up last season, but his 3.06 ERA as a rookie set the bar pretty high. Or low.
Fulmer's big issue this season has been the 33 percent jump in hard contact, most of which has been in the air. His 1.45 ground/fly ratio is the lowest of his career to this point (lot of time left this season, of course), so giving up nearly 85 percent medium and hard contact is not a great recipe for success.
A big-time sinkerballer, you can easily see Fulmer's issues by looking at heat maps of his two-seamer location. I'm not including them here, but it's evident that he's not busting righties inside nearly as much as he has in the past. His go-to pitch is leaking out over the plate just a wee bit more, leading to more hard contact. And when you throw 97, hitters can really turn that thing around.
One thing I noted when looking at Fulmer's pitch usage was the remarkable consistency with which he uses his various offerings regardless of the count. Lefties have roughly a 33 percent chance of seeing the four-seam or sinker at all times during an at-bat, with the change making up about 25 percent early or with the batter ahead. The slidepiece flip-flops with the change as Fulmer gets ahead or gets two strikes.
It's even more static when he's facing a righty, with the fastballs and slider each averaging about 30 percent usage no matter what. The slider does jump up to around 40 percent when Fulmer gets to a two-strike count, though.
Fulmer's even/reverse platoon splits are made so by home/road splits that vary wildly based on batter handedness. Righties have a much higher batting average against Fulmer overall, but wOBA numbers between right and left are only one point apart. The wild aspect of it is that lefties have a .266 wOBA against him at Comerica and a .372 everywhere else, while righties have a .355 wOBA at Comerica and a .246 everywhere else. What the what?
As you can probably tell from some quick math, the overall home/road splits are nearly identical. Here's the thing, though: Wrigley has be a straight launchpad over the last few games. Temps will be much more bearable Tuesday afternoon, which means the ball won't be carried aloft on the heat shimmer rising from the field. Even so, it doesn't bode well for a dude who's hanging pitches and getting tagged with regularity.
We'll see if the Cubs can maintain their incredible offensive output at 1:20pm CT. You can catch Jeff Garland-free broadcasts on either NBC Sports Chicago (MLB Network has it for you out-of-marketers) or 670 The Score.
Here is today's #Cubs lineup against the #Tigers. #EverybodyIn

Stream on @YouTubeTV: https://t.co/t4XvcdoeJc pic.twitter.com/493oboZH2H

— Chicago Cubs (@Cubs) July 3, 2018