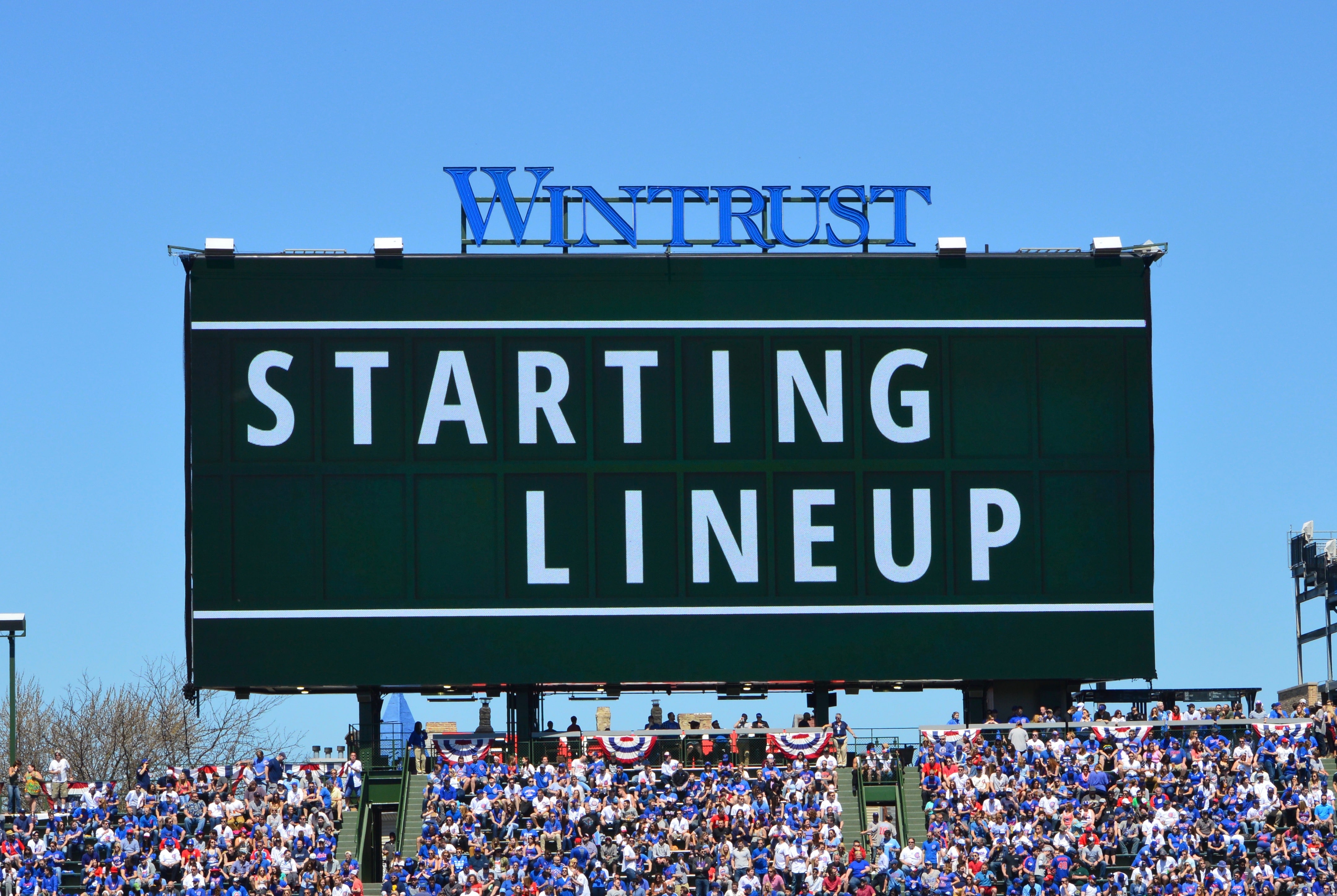 Chicago Cubs Lineup: Happ Leads Off at 3B, Heyward in CF, Lester Pitching
***Update***
If you happen to be seeing this as the game is going on, you'll notice that Happ was shifted out to center, with Heyward sliding to right, Zobrist to second, and Javy to third. With Lester on the mound and the Twins perhaps getting aggressive on the bases, this configuration makes sense.
---
Ian Happ is back in the leadoff spot and playing third base, a product of his hot hitting and surprisingly solid defense in place of Kris Bryant. Jason Heyward is playing center, Ben Zobrist is in right, and Anthony Rizzo cleans up.
Javy Baez bats fifth and plays second, Kyle Schwarber bats sixth in left, Willson Contreras moves down to the seventh spot, and Addison Russell finishes things out. As well as he's been seeing the ball, I can't imagine there being a better No. 8 hitter in the game.
Is it just me, or does it seem as though Jon Lester has pitched every time the Cubs had a chance to either sweep or salvage a series? I know that's not actually the case, but the crafty lefty always seems to be out there in big moments.
That perception gap is evident in his peripheral stats as well. Lester's batted-ball profile doesn't match up against his sterling 2.18 ERA, but this is one of those cases in which you just kinda throw the stats out the window. Or at least you do that to an extent.
Lester just knows how to pitch and given the Cubs exactly what they need almost every time out. Doing so again against a familiar foe will have his team looking pretty much the opposite of what they did a week ago.
Lance Lynn has pitched against the Cubs roughly 1,000 times after seven years in the Cardinals organization, so both sides know what they're getting into in this one. Alright, you got me, this is only Lynn's 20th appearance against the Cubs. Interestingly enough, he has made fewer appearances and pitched fewer innings (99.2) against the Cubs than any of his other former divisional opponents.
Part of that notoriously sluggish free agent market this past winter, Lynn signed with the Twins relatively late and got off to a predictably rough start. Through eight games, he had a 7.47 ERA and 6.99 BB/9 and was only able to complete the 6th inning twice. Since then, however, things have taken a turn for the better.
Lynn has a 2.40 ERA and has gone at least six innings five times in his last seven starts, exercising better control in the process. Of course, the 3.92 BB/9 above his career average. It's all about fastball command for the hulking righty, who counts on the hard stuff for roughly 80 percent of his pitches. That fastball is up a little this year, sitting 94, his his command of it hasn't been quite as good.
The slider will get a little play as well and it's performing as well for Lynn as it ever has. If the Cubs are able to get to the fastball, though, none of that will matter. Lefties and righties alike have absolutely raked against Lynn this season, and that's especially true on the road. Opposing hitters carry a .302/.385/.488 slash when he's pitching away from Target Field.
If they hit anywhere close to the way they have over the last few games, this should be a fun one for the Cubs. First pitch is at 1:20pm CT and will be carried by WGN and 670 The Score.
Here is today's #Cubs starting lineup.

Game preview: https://t.co/XyLzLrPOen #EverybodyIn pic.twitter.com/9zv3z8bVJp

— Chicago Cubs (@Cubs) July 1, 2018