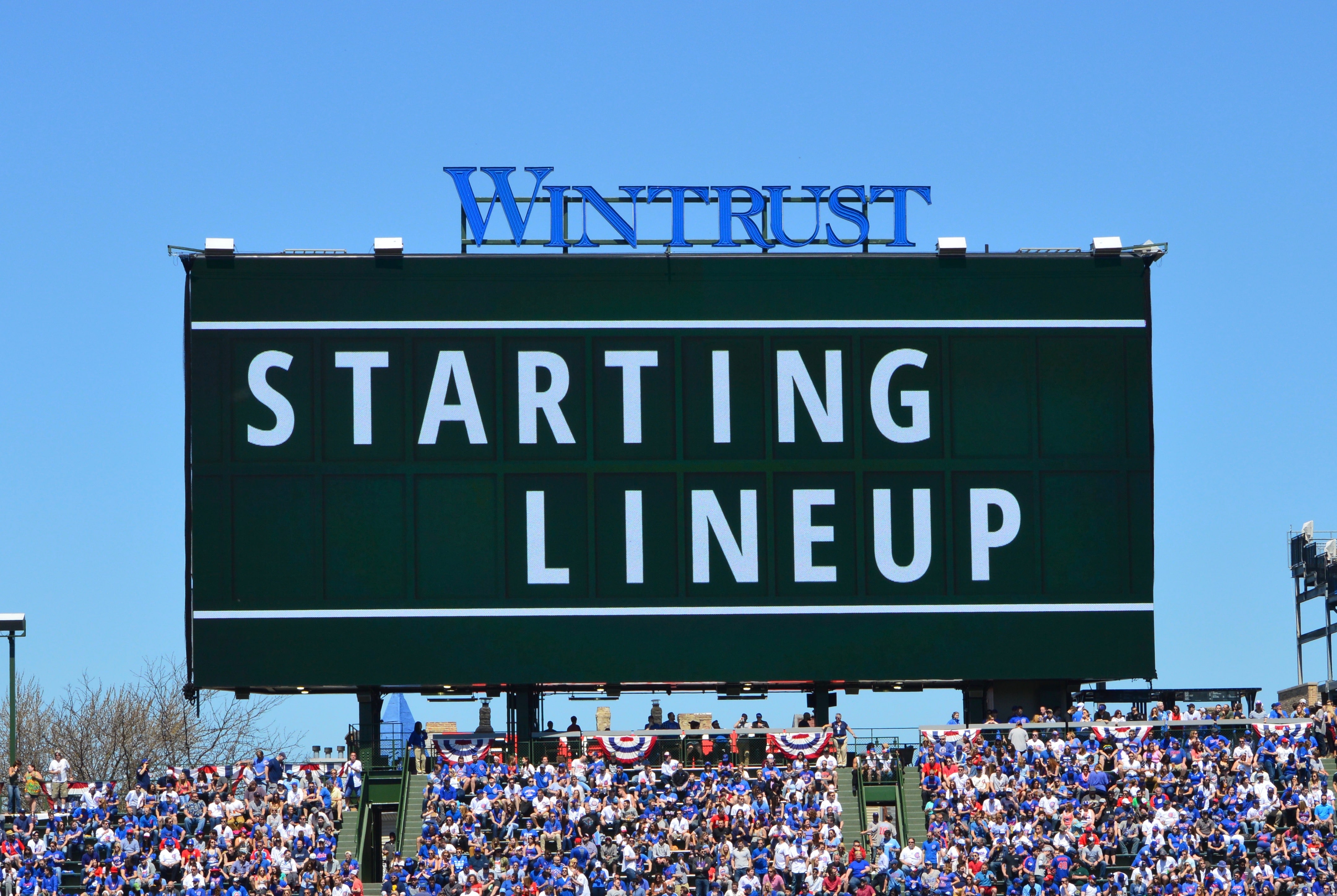 Chicago Cubs Lineup: Almora Leads Off, Happ at 3B, Gimenez Catching, Montgomery Starting Against Twins
Albert Almora Jr. leads off in center, followed by Jason Heyward in right and Ben Zobrist at second. Anthony Rizzo will bat cleanup in this one, with Addison Russell batting fifth at short and Kyle Schwarber handling left field.
Ian Happ plays third yet again as the Cubs wait out Kris Bryant's return to the active roster. Chris Gimenez will catch in this one to give Willson Contreras a day off. You may also notice that Javy Baez is not in the lineup after closing out the Dodgers series with three straight multi-hit games.
This team is too stacked for even Javy to play every day, though, and we've seen how well Joe Maddon manages his players' time. Of course, we might see less of him over the next few days because he just became a father.
Se los presento después! Baby Baez's here! ?? Gracias Mi Dios Por Otra De Tus Tantas Bendiciones!! pic.twitter.com/6yQWhfT6hQ

— Javier Báez (@javy23baez) June 29, 2018
Mike Montgomery comes into this one following his worst start of the season, a loss in Cincinnati in which he allowed as many runs (4) as he had in his previous five outings combined. Which, how good has he been that four runs was kind of shocking? His stat line wasn't wholly out of whack in most regards, but the batted-ball profile was way off.
Less than 25 percent of the balls in play were on the ground, as compared to Monty's 57-plus percent average. He'll need to keep the ball out of the air for continued success, which isn't going to be easy against a team that has the lowest groundball contact in baseball (37.7 percent). The Twins rank 26th in MLB with a .670 OPS against lefties, though, so those balls in the air aren't doing damage.
We all knew Montgomery was due for a little regression after his hot start(s), but even settling in to something more sustainable gives the Cubs a very capable pitcher.
Going for the Twins will be 24-year-old righty Jose Berríos, who has been excellent in his second full season. He's got a 3.15 ERA with a 3.25 FIP and his 1.75 BB/9 tells you he's not messing around with the zone. He'll miss a lot of bats too, striking out 5.45 times more men than he walks.
Berrios sits 94 with the fastball and sinker, the two of which combine for around 62 percent of his pitch mix. He's got a changeup as well, though it's really only there for show. His curveball is the real weapon, generating an 18.3 percent swinging-strike rate and 42.5 percent strikeout rate against 3.8 percent walks. Given the Cubs' performance against Uncle Charlie, this pitch should scare them.
Righties in particular will have to be wary of the curve in any count, since Berrios is perfectly comfortable opening at-bats with it. That really dials up as he gets ahead in the count and tries to buckle knees. Lefties will see more of the fastball combo, with the change floated up there for good measure.
Despite a repertoire that would tell you otherwise, Berrios doesn't get a ton of contact on the ground. He does, however, induce 21.4 percent soft contact, which makes it easy for the defenders behind him to make plays. Things haven't been easy for him on the road, though, which should play to the Cubs' advantage in this one.
Pitching away from Target Field sees Berrios' wOBA against spike by 110 points as each component of opposing hitters' slash line skyrockets. His platoon splits are very even overall, though they do separate a little more on the road. Righties have a better average, lefties slug better.
One thing I'm interested to see is how the young pitcher will handle his first game of the season under NL rules. Between having to bat and the potential strategy required in the case of a close game, he may be under a little more pressure than he's used to. Or maybe the Cubs can just carry over the hot hitting from Thursday and not even give him a chance to bat.
First pitch is 4:05pm CT and can be seen on NBC Sports Chicago
Here is today's #Cubs starting lineup as we begin our 4th of July homestand! #EverybodyIn

Stream on @YouTubeTV: https://t.co/t4XvcdoeJc pic.twitter.com/dGKtm4EdTv

— Chicago Cubs (@Cubs) June 29, 2018