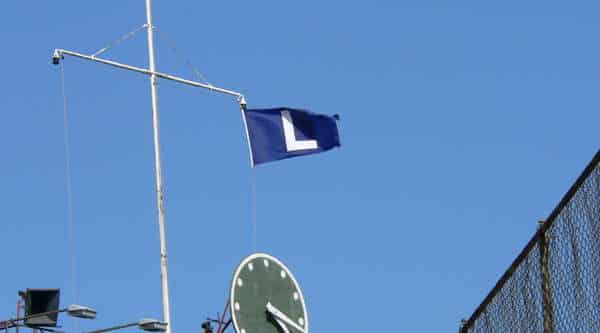 CI Recap (6/27/18) – Cubs 5, Dodgers 7: Contreras's Four RBI Not Enough, Hendricks Struggles in Loss
After winning game two of the four-game series on Tuesday night, the Chicago Cubs looked to secure at least a series split with Kyle Hendricks on the mound Wednesday evening. Unfortunately for the Cubs, this was shortest outing of the season for Hendricks, and the first time he's failed to go at least five innings in 2018.
Hendricks lasted just 2 2/3 innings while giving up six earned runs. The Dodgers scored three runs in each of the first two innings. In the first inning, Max Muncy hit a solo home run which was later followed by a two-run double by Yasmani Grandal. In the second frame, Joc Pederson hit a two-run home run and Kike Hernandez added an RBI single.
While the five runs the offense put up would've been enough for a win Monday night, it wasn't enough Wednesday.
Willson Contreras drove in four runs, including a two-run home run in the first inning. Jason Heyward's infield single in the fifth inning brought the Cubs to within three runs at 6-3. The Cubs continued to claw back in the eighth inning when Contreras hit a two-run double to close the gap to one run. With Contreras on second and only one out, the Cubs failed to bring the tying run home as Ben Zobrist grounded out, and Kanley Jansen was brought in to retire Addison Russell, ending the inning.
Randy Rosario would give one of those runs right back in the bottom half on the inning on a solo homer by Cody Bellinger. Jansen allowed a single to Ian Happ in the top of the ninth but that was all the Cubs would muster as their comeback effort fell short (Box Score).
Why the Cubs Lost
Kyle Hendricks put the Cubs offense behind early in this one and they didn't quite have enough in them to dig out a win. Despite having a 2-0 lead when he took the mound in the first inning, Hendricks command was lacking, not to mention he wasn't getting any close calls around the plate, and the Dodgers made him pay with some hard hit balls. The home run has been a problem for Hendricks all season, and tonight was no different.
Key Moment
There were perhaps a few moments to choose from in this game, so I'll go by change in WPA (win probability added according to Fangraphs). With two outs in the first inning and the Cubs still leading 2-1, Yasmani Grandal doubled off the wall in right field to drive in two runs and give the Dodgers the lead, which turned out to be for good.
Stats That Matter
Kyle Hendricks ERA jumped from 3.73 to 4.21 in what was by far his shortest outing of the season. His 1.41 HR/9 rate is nearly double what it was during his Cy Young worthy campaign in 2016. His final line: 2.2 IP, 6 ER, 8 H, 2 BB, 1 K
Contreras continues to drive the ball well, going 2-4 with four RBI. His OPS now sits at .803.
Javy stayed red-hot, going 2-4 with a double.
Dillon Maples pitched two scoreless innings of relief while striking out three and walking two.
Bottom Line
The offense scoring five runs, especially lately, would've sounded great heading into the game, but Kyle Hendricks couldn't hold down the Dodgers offense. A 6-2 hole at the end of the second inning proved to be just enough for Alex Wood and the Dodgers bullpen to hold off the Cubs.
On Deck
The Cubs will try to salvage a split tomorrow, and they'll have to beat Clayton Kershaw to do it. The Cubs will counter with a lefty of their own in Jose Quintana. The game will start at 2:10 CT and can be found on NBC Sports Chicago and the MLB Network if you live out of area.