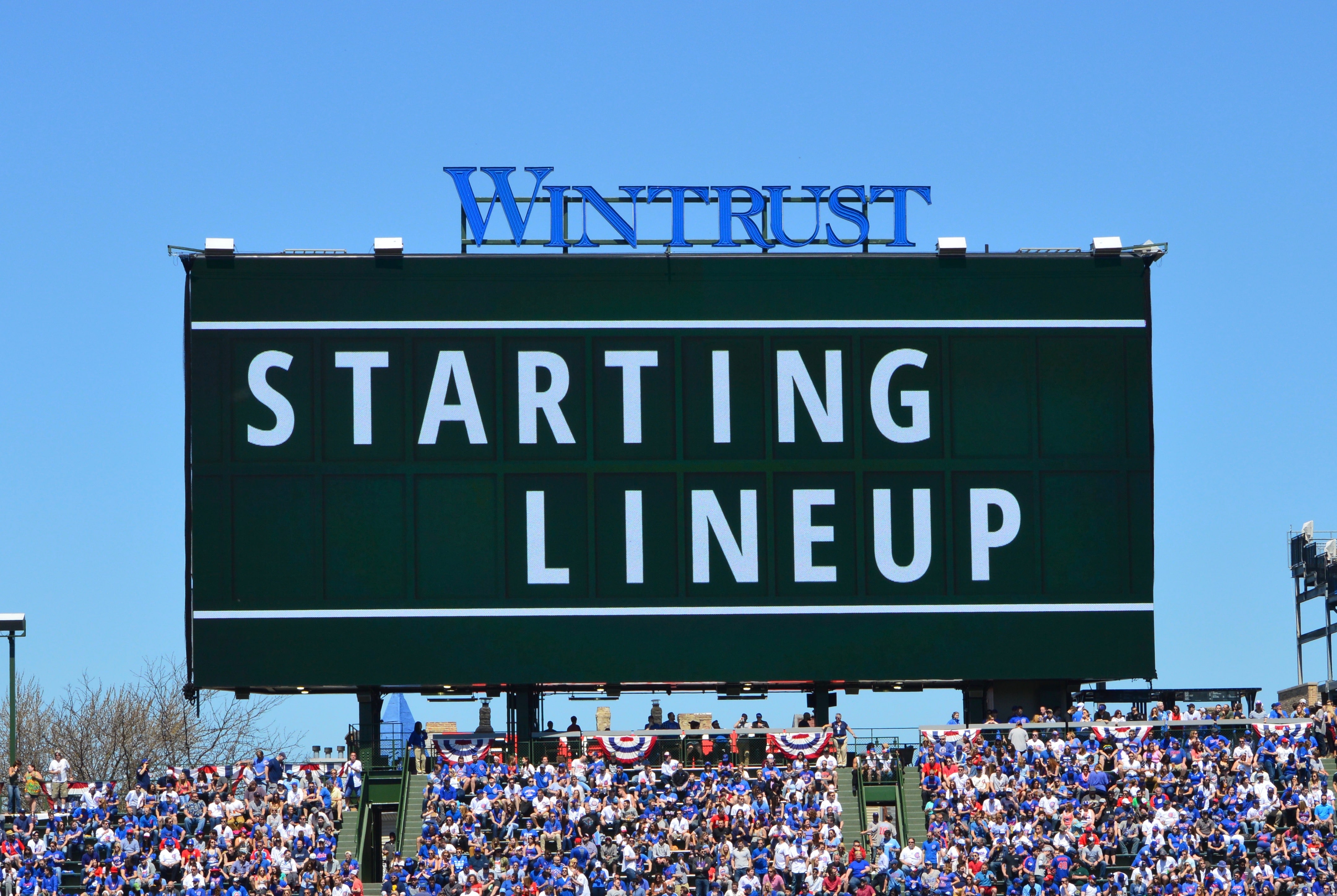 Chicago Cubs Lineup: Bryant Leads Off, Zo at 2B, Gimenez Behind Plate, Quintana Pitching
Thunderstorms are expected to roll into the Cincy area by mid-afternoon, with the heaviest stuff hitting right around game time. Things are supposed to clear up by around 7pm CT, though, so it's entirely possible they'll still get this one in.
Kris Bryant remains in the leadoff spot with Jason Heyward in the two-hole and Ben Zobrist batting third at second base. Anthony Rizzo cleans up, Javy Baez plays short, and Kyle Schwarber handles the duties in left. Albert Almora Jr. is in center and Chris Gimenez will call pitches behind the plate.
Jose Quintana didn't have a great start to the season, but he's shown much better consistency and control over his last four starts. After opening with a 4.78 ERA and 4.67 FIP that were largely the product of 4.61 BB/9 and 1.37 HR/9 over his first 10 starts, Q has cut some of those numbers in half of late. In the more recent sample mentioned, he's got a 2.38 ERA and 3.36 WHIP with 3.18 BB/9 and only 0.79 HR/9.
What's more, he's averaging only 3.5 hits allowed per game in that stretch and hasn't allowed more than four hits in any of those games. Each of the two homers he's allowed — both came during his start in Milwaukee — were solo shots, a testament to his reduced walk totals.
Free passes and the longball did the Cubs in last night in Cincy, so it's incumbent upon Quintana to settle in and keep his team in the game. He's also going to need to eat some innings since the Cubs are probably going to need all hands on deck for Saturday's game. You never like these back-against-the-wall starts, but Q has been excellent lately and should be able to get it done.
Oh, and did I mention that his last start against the Reds, which actually game two games prior to the recent run I've been citing, was a one-hit effort over seven innings? That would be nice to see again.
Cincy starter Luis Castillo held the Cubs to a single run when he faced them back on May 19, the only start in his last 11 in which he didn't allow a home run. Castillo has given up a total of 17 dingers on the season, just two shy of the MLB lead, and should pipe a fastball or three for Cubs hitters in this one.
The 25-year-old righty is going to lean heavily on that 96 mph fastball, though it's one of the worst pitches in baseball when it comes to giving up runs (-13.8). Only Kevin Gausman (-14.1) and Chad Kuhl (-14.0) have given up more, so the Cubs are going to want to sit dead red early and jump on strikes when they get them.
Should he get ahead in the count, Castillo is capable of sweeping his slider on righties or pulling the string with the change against lefties. The latter has become even more of a go-to pitch for him this season, but his slider usage was nearly twice as high in that earlier Cubs game (25.5 percent) as it has been on the season (13.7 percent).
Just about 43 percent of his pitches (24 of 56) to Cubs righties were sliders and he generated a 24 whiff rate with the pitch. He actually used the change somewhat evenly to lefties and righties, but it wasn't nearly as effective as the slider. How he is able to command the breaking ball in this one may well tell the story of the game.
Castillo has also been better at Great American Ball Park, where he has reversed his splits to perform better against lefties than righties. Perhaps the Cubs can put that to the test by taking advantage of that home run trend.
First pitch is set for 6:10pm CT and can be seen on WGN or heard on 670 The Score.