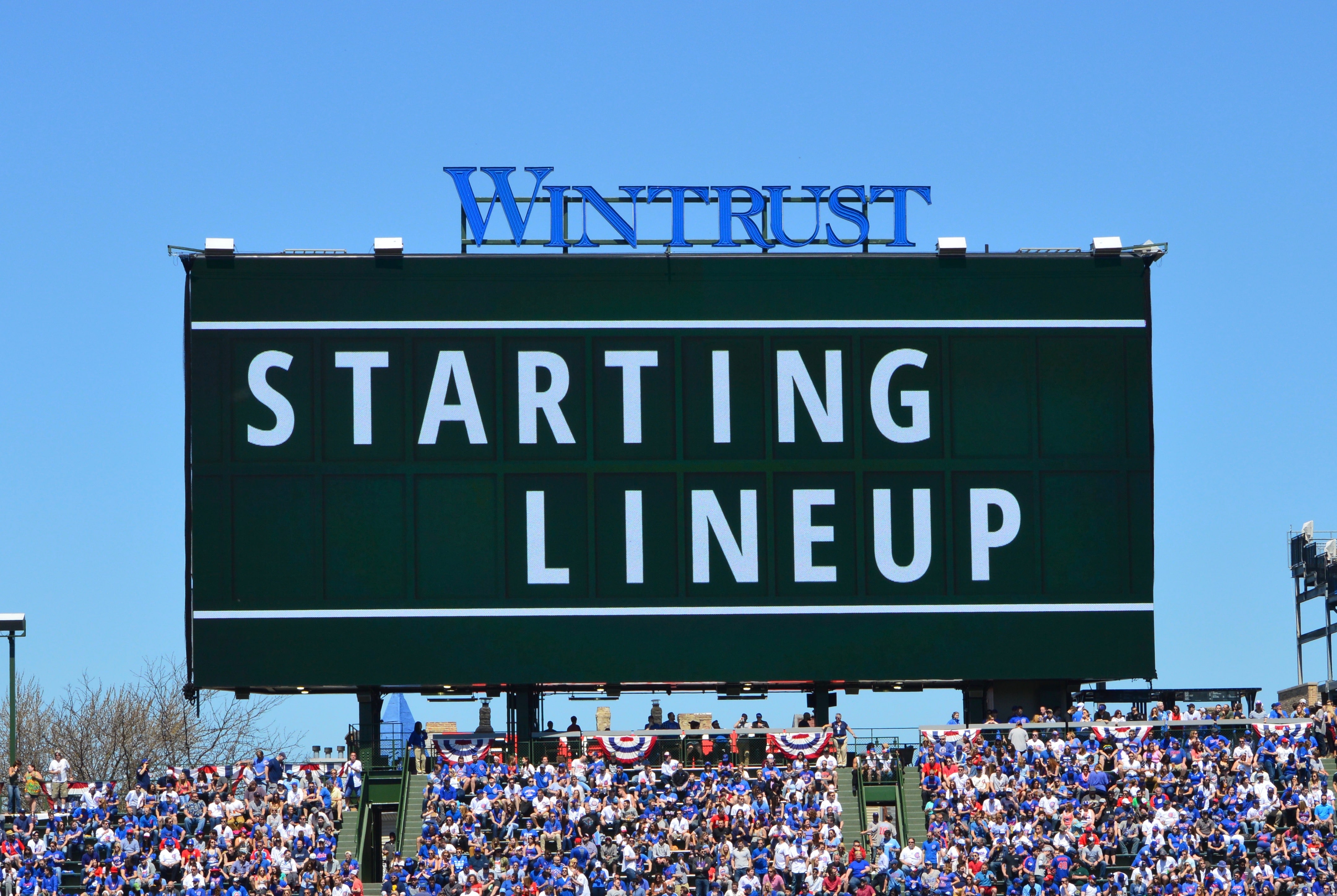 Chicago Cubs Lineup: Zobrist Plays Second, Heyward Bats Second, Steven Tyler Pitching
Ben Zobrist leads off at second, Jason Heyward bats second in right, and Kris Bryant bats and plays third for the Cubs tonight. Anthony Rizzo cleans up and the best catcher in the NL Central bats fifth.
Kyle Schwarber handles the duties in left, Addison Russell is at short, and Ian Happ will play center as the Cubs look to make it two in a row against the short-handed Cardinals.
Kyle Hendricks, who walks up to Sweet Emotion, was taped belting out I Don't Want To Miss A Thing in the car with his wife recently, hence the titular referral to Aerosmith's lead singer. Hendo hasn't been as much of a can't-miss pitcher this season and has struggled with consistency, which is pretty much the theme of this Cubs team.
He was rolling along pretty well in his last start before being pulled early, putting him at three straight games of only five innings pitched. This is Hendricks' first start against the Cards this season and will be his sixth all-time at Busch Stadium, where he has posted a 3.38 ERA with 25 strikeouts to eight walks.
The Cardinals will be sending hard-throwing righty Carlos Martinez, who seems like a big candidate for a little regression, to the mound in this one. His velocity is actually down a couple ticks across the board and his 5.31 BB/9 is nearly two full walks higher than his career average. But despite giving up more hard contact than ever, Martinez has only given up one home run in 57.2 innings.
That tells us that he's doing an excellent job of keeping the ball on the ground, though that 0.19 HR/9 is just unsustainable low. Martinez has gotten positive value out of each of his five pitches, with the cutter standing out as his best offering. What's interesting there is that the cutter is a new addition, at least in terms of pitch-tracking metrics.
Martinez is throwing fewer four-seamers, changeups, and sliders in order to accommodate the cutter, which makes up nearly 17 percent of his total mix. As evidenced by his high walk rate, Martinez isn't going to work in the zone very frequently and is going to try to get the Cubs hitters to chase. Pretty solid strategy, really.
Then again, it hasn't worked all that well for him in the past. Martinez carries a 4-4 record with a 4.54 ERA in 24 appearances (14 starts) against the Cubs over the course of his career and has given up eight homers in 91.1 innings. He's also coming off a trio of mediocre starts and is looking imminently hittable of late.
After busting out for a baker's dozen last night, the Cubs bats should be more than warmed up for a hot night in St. Lou. First pitch is at 7:15pm CT and can be seen on FOX.
Here is tonight's #Cubs lineup against the Cardinals.

Game preview: https://t.co/e7pkIhr1yc #EverybodyIn pic.twitter.com/TPB4J7aizv

— Chicago Cubs (@Cubs) June 16, 2018