Cubs Draft Profile: Cubs Select Stanford SS Nico Hoerner with 24th Pick (Video, Breakdown, & More)
The Chicago Cubs went in an unexpected direction in the first round of the 2018 MLB Draft by selecting Stanford shortstop Nico Hoerner from Stanford. The 5'11 196 lb. shortstop is known as an ascending player who turned it on at right time leading up to the draft. He was ranked at #52 on MLB Pipeline Top 200. So, the Cubs could be signing him as underslot pick to save some money for later.
He is known for having a great approach as he hit third in the line up. He can play short or second.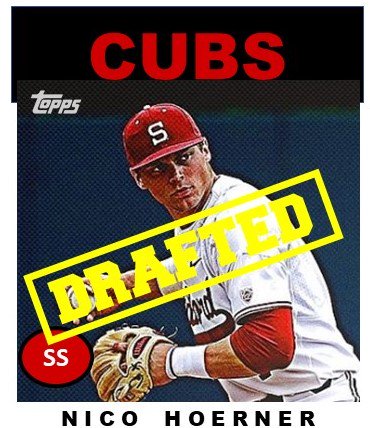 Here is what MLB Pipeline has to say about the Cubs' newest player.
Hoerner has a pretty good track record of performing well for an extended period of time, perhaps saving his best year for the right time in terms of the Draft. He can impact the baseball consistently, with an advanced approach at the plate, and while the numbers don't necessarily reflect it, there is some power for him to tap into. Hoerner runs fairly well, though he isn't overly fluid in his actions. That leads to some questions about his ability to stay at shortstop, with some seeing a return to second base in his future.
College hitters who perform typically move up boards as the Draft approaches, and that's exactly what has happened with Hoerner. He's like a slightly less fluid version of Ian Kinsler, with the potential to be an offensive-minded second baseman at the highest level.
Here is some video of Nico in action
Five years ago, the Cubs had a ton of shortstop prospects. Of course, that's thinned out over the years. But Hoerner seems to be more than a shortstop, fitting the adage of "have bat, will play."
3 Things I Like About the Pick
He has good control of the strike zone

He can put the ball in play and has the potential for power

He can play multiple positions
How He Fits In With the Cubs
He more than likely begins at Eugene, stays at least a couple of weeks and may move quickly to South Bend if the bat is as good as they say. However, there's no rush to get him to Chicago anytime soon. Ideally, he could be ready in 2 to 3 years. He comes across as a top of the order kind of guy who can be a table setter for others.
Let him tell his own story…