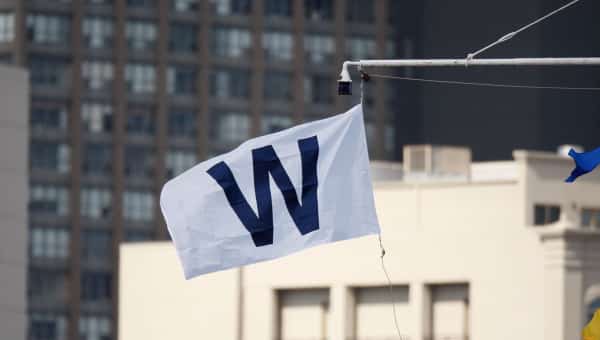 CI Recap (5/25/18) – Cubs 6, Giants 2: Zo Knows Clutch Hits
After a disappointing series against the Indians, the Cubs looked to get back in the win column against the Giants Friday afternoon at Wrigley. Thanks to a great outing from Kyle Hendricks and some timely hitting, the Northsiders made it happen.
Chicago struck first in the bottom of the 1st inning on an Anthony Rizzo single that scored Ben Zobrist. Albert Almora also tried to score on the single, but was cut down at the plate. Hendricks breezed through the first three innings before giving up a game-tying homer to Gorkys Hernandez in the 4th.
Both the Professor and Giants starter Derek Holland kept things at 1-1 through the top of the 7th. The Cubs finally broke through in the bottom half. Holland hit Javy Baez and walked Ian Happ to put two men on. Will Smith and Cory Gearrin came out of the pen and allowed two-run hits to Ben Zobrist and Kris Bryant. The Giants staged a late rally in the 9th inning, but Brandon Morrow quickly ended that nonsense with some 100 MPH heat. (Box score)
Why the Cubs Won
Kyle Hendricks was really on his game Friday afternoon. He mowed through the Giants lineup needing less than 90 pitches to go seven innings. That gave the Cubs enough time rally off of Holland and the San Francisco bullpen.
Key Moment
With the bases loaded and one out in the 7th inning, Ben Zobrist faced lefty Will Smith. Zo lined the first pitch he saw into the left field corner, the two-run double put Chicago ahead 3-1.
Stats That Matter
Kyle Hendricks looked as good as he has all year: 7 IP, 1 R, 2 H, 7 K, and 2 BB. If he wasn't lifted for a pinch-hitter he could have gone eight or even nine innings.
Ben Zobrist had two hits and really solidifies this Cubs lineup. The Cubs certainly felt the affects of an injured Zobrist in 2017, and the early portion of 2018 shows how much a healthy/productive Zobrist impacts this lineup.
Kris Bryant had an unusual strikeout in the 1st inning with two men on base. He atoned for that with his two-run hit in the 7th, like there was any doubt he would.
Bottom Line
The Cubs put a couple of frustrating losses to the Indians behind them. Unlike Wednesday night's game, they came through in the big moment with men on base. More of that going forward will be much appreciated.
On Deck
The second game of the series is a prime-time affair on Fox. Jose Quintana battles Chris Stratton Saturday at 6:15 pm CT.