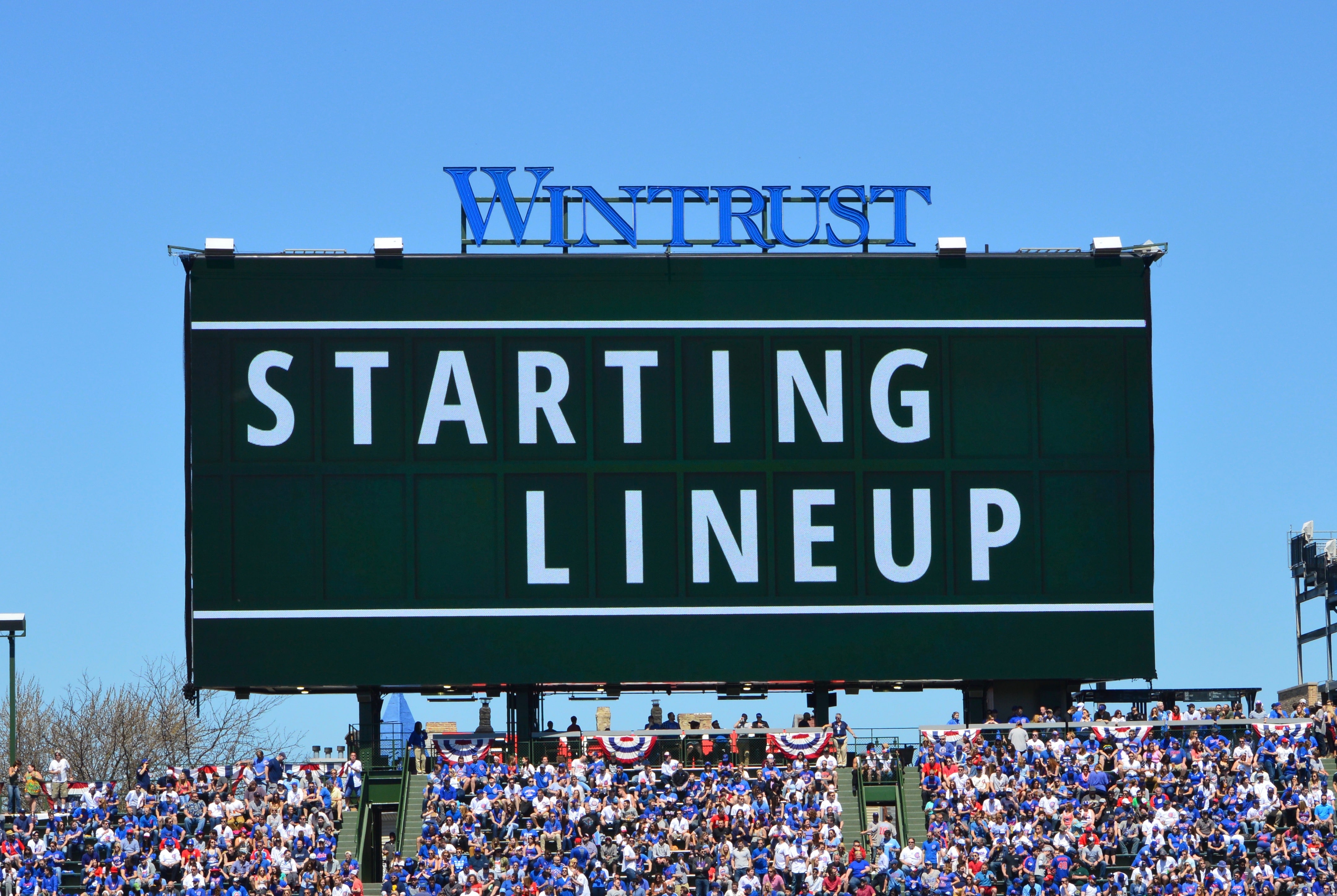 Chicago Cubs Lineup: Zobrist Leads Off, Javy Fifth, Hendricks Tries to Complete Sweep
Ben Zobrist is leading off in right, which means Kris Bryant is back at third base, followed by Anthony Rizzo. The hottest hitter in the planet, Willson Contreras, is catching and cleaning up.
It's a no-brainer to have WillCo in there, but Victor Caratini has frequently been paired with Kyle Hendricks.
Javy Baez moves down to fifth, Kyle Schwarber bats sixth in left, Addison Russell is at short, and Ian Happ mans center.
Having recently received their undergrad degrees from Rebuild University's South Side satellite campus, the Sox are now enrolled in master's level butt-whooping classes up at the school's wrigleyville HQ. Today's lecture on the art of deception will be delieverd by Prof. Hendricks, one of the finest practitioners of his craft over the last handful of years.
Okay, let's dispense with the silly metaphors and just get down to it: There's no reason Hendricks and the Cubs shouldn't be able to close this one out. The Sox probably aren't just going to roll over and play dead, though, so Hendricks is going to have to be on his game.
It might not seem that way at first blush, given the number last Lucas Giolito has been posting this season. Rated as the third-best prospect in the game when the Sox traded for him (along with two others), the former Nats prospect has not lived up to expectations. With a 7.25 ERA (6.01 WHIP) and more walks (25) than strikeouts (21) the 23-year-old righty has been downright bad so far this season.
Standing 6-foot-6 and tipping the scales at 250 or so, Giolito cuts an imposing figure and can really get good tilt on his pitches. When he's on, which hasn't been often, his slider and curve are able to wipe hitters out. The latter pitch used to boast a nice 1-2 combo with the fastball, but Giolito has had trouble controlling it and has actually backed down from using it.
The change and slider have gotten more usage in place of the curve, though that offspeed offering hasn't really worked out too well for him. You can't discount his performance outright, though, as Giolito has pitched much better on the road this season and seems like a guy who could draw from the added pressure of trying to avoid a sweep.
Giolito's wOBA allowed this season is 103 points lower on the road (.326) than at home (.429) and that comes from twice as many innings, so it's not totally flukey. A lot of that stems from two really terrible games, though he has yet to allow fewer than two earned runs in a start this season and has walked at least two in each of his seven outings. Oh, he's also struck out more than four in only one game.
That's not what the Cubs saw back on March 10, when Giolito and Hendricks squared off in Mesa. The youngster was lights-out in that one, punching out eight Cubs and walking only two over four innings. He allowed just two hits, with Caratini's homer standing as the only real blemish, and was making the Cubs look silly as he changed both speed and location with ease.
So maybe Giolito gets up for this one and pitches to his potential. Or maybe he continues with the disappointing trend. We'll find out at 1:20pm CT when WGN carries the broadcast of the final game in the series.
Here is today's #Cubs lineup against the White Sox.

Game preview: https://t.co/hOQAFq7DBZ #EverybodyIn pic.twitter.com/CIKpe9k2YY

— Chicago Cubs (@Cubs) May 13, 2018