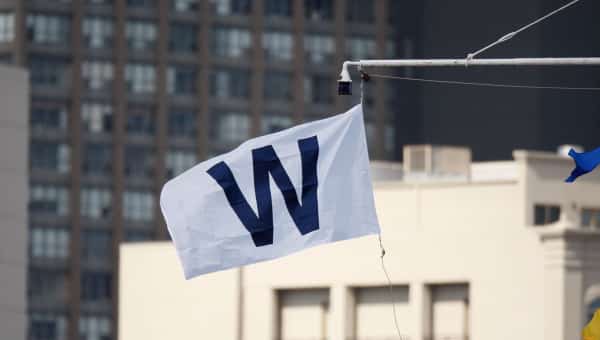 CI Recap (5/8/18) – Cubs 4, Marlins 3: Tuesday Night's Alright for Tickle Fighting
The Cubs came into this one looking to set fire to the narrative that they can't score runs in games following double-digit outputs and they sort of succeeded. In five previous opportunities, they totaled only seven runs and scored no more than three in any. So four runs was kind of an outburst.
Things started out poorly as Jen-Ho Tseng gave up three runs in the opening frame, all with two outs. He was tagged early and often, but settled in to set the Marlins down in order in the 2nd inning. Johnny Wholestaff took over from that point as the well-rested Cubs 'pen was pressed into action.
They were up to the task, holding the Marlins scoreless for the remainder of the game and giving the bats a chance to catch up. The Cubs drew only one walk, and even that didn't come until the 8th inning, but they did a great job of taking extra bases and making the most of their scant opportunities.
Okay, that's not entirely true. There were some moments at which they fell back into the all-too-familiar failings with runners on base, but they were able to get it done against an inferior opponent.
Oh, there was also a really fun tickle fight that broke out in the middle of the game.
Cubs and Marlins benches clear after Derek Dietrich barrels into Victor Caratini at home.

No punches thrown. Instead, the Cubs tickle Starlin Castro lol @WGNNews pic.twitter.com/nU3RvoAFiY

— Josh Frydman (@Josh_Frydman) May 9, 2018
Why the Cubs Won
The bullpen was really the key. Rob Zastryzny, who was called up Tuesday to replace Cory Mazzoni on the roster and give the Cubs a fresh arm, took over for Tseng and gave the Cubs two innings of one-hit ball. Steve Cishek, Justin Wilson, Pedro Strop, and Carl Edwards Jr. combined for five strikeouts with one hit and one walk.
Brandon Morrow came on for the 9th and needed only five pitches to end the game, inducing a trio of grounders with his trademark attacking style.
Key Moment
Noted punk Derek Dietrich was thrown out dead to rights trying to score from second on a Lewis Brinson single, but he chose to go in standing and then extended his arms to shove Victor Caratini back. The benches cleared in a typical show of hollow baseball bravado, which allowed the Cubs to engage in a little fun with a former teammate.
Kris Bryant reached out to tickle Starlin Castro, after which Tommy La Stella and Albert Almora Jr. got in on the fun. Willson Contreras, however, stood nearby mean-mugging Dietrich with murder in his eyes.
But back to Bryant, who keyed the Cubs' tying and go-ahead runs in the 6th and 8th innings, respectively. After being hit to lead off the former frame, he advanced to third on an Anthony Rizzo single and scored on a Victor Caratini groundout.
Bryant then walked in the 8th, advanced to second on a wild pitch and to third on an Anthony Rizzo groundout, then scored on a Caratini fielder's choice. And it was against an infield that was drawn in specifically to protect against such a play.
Stats That Matter
Tseng was called up to take Yu Darvish's turn in the rotation and allowed three earned runs in a pair of innings, which is good because that's fewer runs than he's allowed in his past five AAA starts.
Carl Edwards Jr. struck out the side in the top of the 8th and lowered his ERA to 0.53 with the scoreless effort. He displayed a 95 mph fastball with slider movement to strike out Starlin Castro and now has 30 K's in 17 innings (15.88 K/9).
The Cubs used six relievers over the final seven innings; they held the Marlins scoreless on two hits and two walks, striking out seven.
Bottom Line
The Marlins are not a good baseball team by any measure, but a win is a win and getting one in comeback fashion feels pretty durned good coming off of last week's bed-wetting.
On Deck
The Cubs go for the sweep on Wednesday afternoon behind Jose Quintana. Opposing them will be Wei-Yin Chen, who carries a 4.82 ERA from two 2018 starts into the game. First pitch is set for 1:20pm CT and can be seen on WGN.