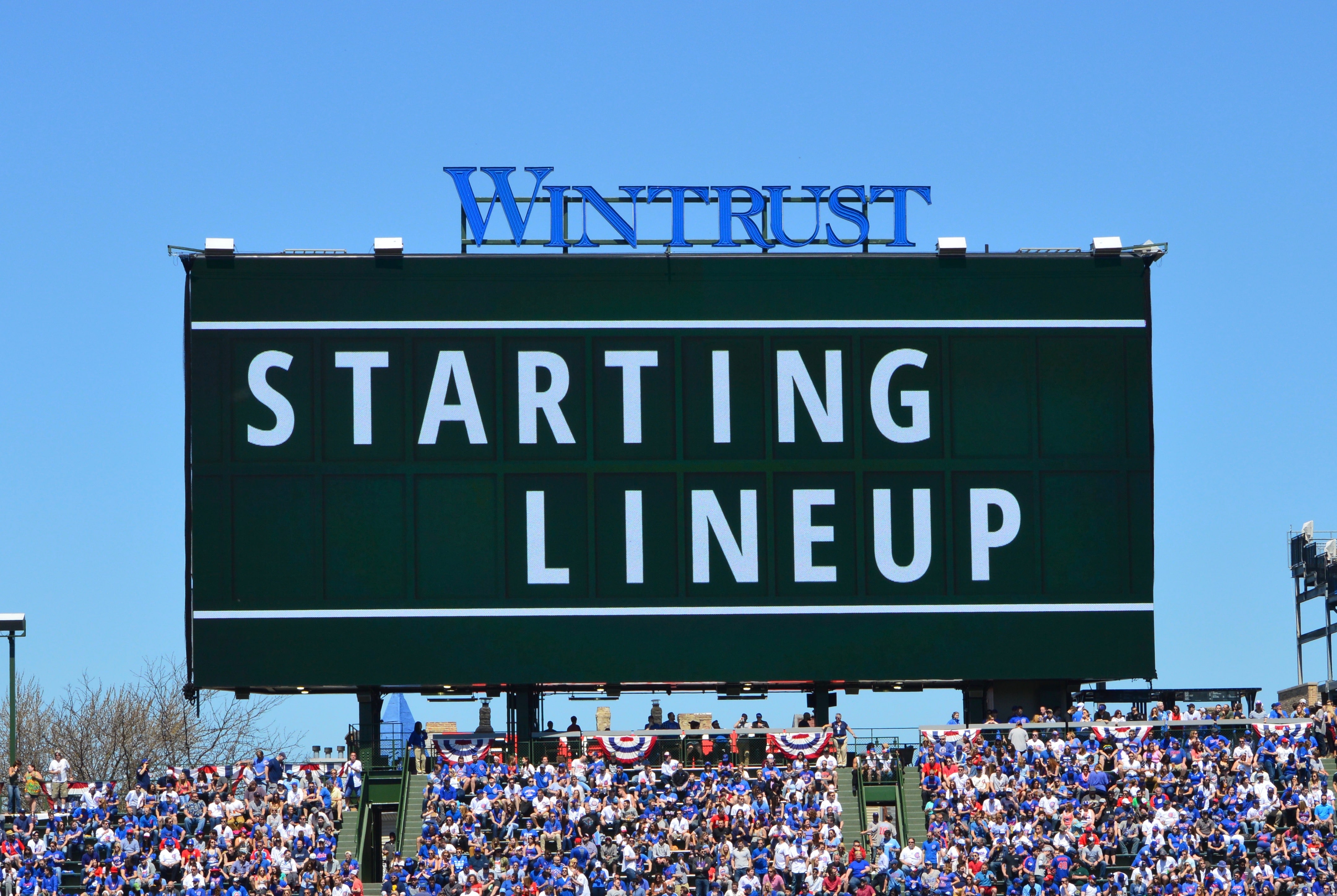 Chicago Cubs Lineup: Almora Leads Off, Zobrist Second, Caratini at 1B as Hendricks Wields Cautery Pen
Feel free to skip forward a bit if you'd like to get right to the meat and potatoes, but I feel compelled to share with you a quick anecdote before I get there myself. This is one I've shared before, after Robin Ventura had a brief skin cancer scare a couple years back, so forgive me if I'm recycling things too quickly for your taste.
This was maybe 12 or so years ago and my wife had noticed that a mole on my back looked a little funky, so I scheduled an appointment with a dermatologist. Sure enough, it turned out that I had some potentially bad stuff in there; I think it was just stage 0, but not something to leave unchecked.
So the doc says they need to remove the mole, which wouldn't be a big deal but for the fact that this bad boy is like the size of a quarter. Or maybe just a nickel, but they've also got to get down deep enough to excise all the dangerous tissue and the surrounding margins. I'm all numbed up and not feeling a thing, but the doc announces that he's nicked a blood vessel and he asks for the cautery pen.
Again, no big deal. Except that when he goes to zap said nicked vessel, he basically tasers a nerve and I spasm briefly in response. I still can't feel anything, mind you, but when someone literally strikes a nerve, it'll have an effect. From that point on, I jerked involuntarily every time I heard the pen buzz, thus prolonging the whole process and freaking me out.
So what the hell was the point of all that? I'm not sure, really, but I think I was trying to analogize Kyle Hendricks to my dermatologist. The Professor's got the cautery gun in his hand and is going to try to stop the bleeding, if only the jerks in the rest of the lineup can get their isht together.
Albert Almora Jr. leads off a lineup that is, uh, interesting. Ben Zobrist mans right field and bats second, Kris Bryant bats and plays third, and Javy Baez is playing second and batting cleanup. Willson Contreras will squat while Victor Caratini handles first base duties.
Addison Russell at short and Ian Happ in left finish out an order that had something of an odd shape, to use Jed Hoyer's terminology. And that probably means they'll bust out for a dozen runs on 15 hits.
Hendricks has been stung by the longball in a big way this season and has given up eight dingers over 36.2 innings. His 1.96 HR/9 is more than double his career average (0.88), as is his 23.5 percent HR/FB rate (11.6 career). What's odd is that he's allowing only slightly more fly balls than normal and his hard-contact numbers are only a couple ticks higher than usual.
What's more, Hendricks is inducing more soft contact than ever (27 percent) and is getting more grounders and fewer line drives than ever before. Then you see a .223 BABIP against that is the lowest mark of his career and you just throw up your hands and give up on trying to make the peripheral numbers fit the results.
One big problem to this point has been the curveball, against which opposing hitters have a 2.167 OPS and 1.167 ISO. Like, holy crap that's bad. Granted, the curve accounts for only 6 percent of his pitches and he gave up two dingers to Colorado on that pitch, so the numbers are skewed by a small sample.
The other issue is location, specifically how Hendricks is leaving the ball over the plate just a wee bit more than we've seen in the past. He loves the lower corners of the zone and typically works away, but has had trouble really keeping it all the way out against lefties in particular. As you might imagine, the curve is a big culprit there.
He'll need to dial the breaking pitch in and locate it more effectively against a surprisingly spry Marlins squad that comes in having won four straight series.
Opposing the Cubs will be 25-year-old lefty Jarlin Garcia, who sports a sterling 1.09 ERA in six appearances (four starts). He pitched six innings of scoreless relief against the Cubs in that early marathon game in Miami and has give up only four earned runs in his other outings.
Garcia isn't particularly imposing on the mound (6-3, 215) and he throws in the low 90's, so he's not going to put it past too many hitters. His peripherals all look absolutely pedestrian, too, which makes you wonder how legit that ERA is. He doesn't induce much weak contact and isn't an extreme groundball pitcher, yet he's held opponents to only two homers in 33 innings (0.55 HR/9).
The Cubs could very well change that trend while adding a few points to an obscenely low .151 BABIP mark. They can't get too jumpy in trying to do so, though, as Garcia's 46 percent first-pitch strike percentage is the lowest of any qualified pitcher in baseball.  Hitters from both sides of the plate have put up putrid numbers against him to this point, so it's not even worth reviewing.
Heck, let's just cut to the chase and say that the Cubs need to score some goshdarn runs and beat the you-know-what out of the Fish for a few games. That starts tonight at 7:05pm CT and you can watch the bloodbath unfold on NBC Sports Chicago.
Here is tonight's #Cubs lineup against the #Marlins. #EverybodyIn

Stream on @YouTubeTV: https://t.co/t4XvcdoeJc pic.twitter.com/0rXWPMorbb

— Chicago Cubs (@Cubs) May 7, 2018