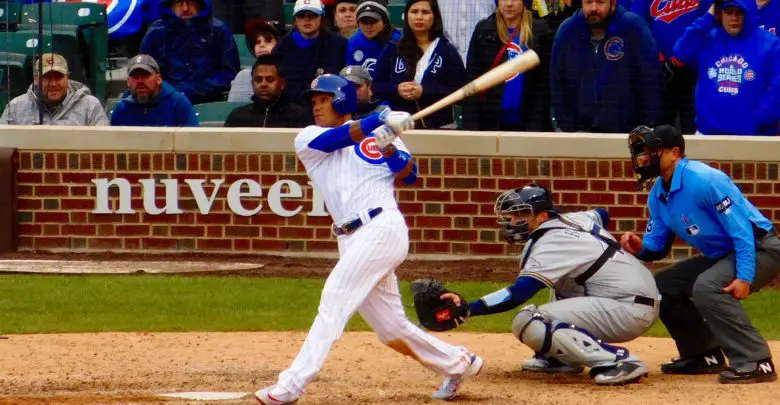 All Aboard the Struggle Bus: Thoughts on Slow Starts by Darvish, Happ, Russell
So, uh, the last couple games haven't looked too good, huh? Wednesday's affair was particularly disheartening for those Chicken Littles who get caught up in the throes of recency bias and decide that the season is over. Yu Darvish is a bust, Ian Happ needs to be sent down, and Addison Russell should have been traded this past winter. Rabble!
Of course, we could look at the 5-2 homestand and extrapolate that mark into a 116-win season. Or we could take the Cubs' .571 winning percentage and figure that they're in line for 92-93 wins. And when you figure that they've done all that with Anthony Rizzo, Kris Bryant, and Ben Zobrist all missing time, things seem pretty good.
Thing is, you've got every right to worry about the team's overall performance and the more specific production from the first trio mentioned, just as someone else has the right not to worry. This isn't Spy vs. Spy where everything is black and white and two sides are just trying to bludgeon one another. I mean, that's how it plays out across the various impersonal media platforms that serve as battlegrounds for our opinions.
As such, I wanted to look at some of the issues surrounding Darvish, Happ, and Russell, perhaps playing the role of my own devil's advocate. I'll look at what both the numbers and the eye test tell us to arrive at a definitive conclusion as to whether or not we should really be concerned.
Yu Darvish
Numbers
Darvish's box score stats fell from the top of the ugly tree and hit every branch on the way down. Were it not for the Brewers' futility, I don't even want to think about how abhorrently fugly the former Ranger's line would be. I mean, even after allowing a single earned run over 12 innings against the Scoreless Wonders, Darvish still has a 6.00 ERA and a 5.09 FIP.
He's missing bats (11.10 K/9), but he's also missing the zone (4.80 BB/9), and opposing hitters are getting enough barrels to fire line drives at a higher percentage (24.7) than ever before. But a quick look at his overall batted-ball profile doesn't show much else that represents a noticeable departure from his past numbers.
The velocity is still there, as evidenced by a fastball that averages around 95 mph, and his pitch mix is as varied as we've seen in the past. Looking below the surface, there's little to indicate that Darvish is struggling as badly as he is. What it comes down to is location.
Eye test
There are two ways to evaluate what we're seeing with Darvish, one very good and one very bad. The bad is that he's all over the place with his pitches, missing either way off the plate or right over it. The good is that his stuff is still freakishly nasty. He touched 98 in his most recent start, has displayed sick movement on his pitches, and even paired a 95 mph four-seamer with a 64 mph curve against the Brewers.
So Darvish looks good even though he doesn't look good, if that makes sense. And my thought/hope is that he'll be able to settle in once he gets out of his own head a little bit and can establish more of a rhythm with his new team. That's not something a lot of fans have patience for when discussing a pitcher with a nine-figure contract, but it's a unavoidable reality.
Joe Maddon spoke about getting his would-be ace to calm down and hit the reset button out there when he encounters trouble, now it's just a matter of doing that more consistently. I'd be far more worried about Darvish's performance were there more obvious problems with his stuff. If he's able to dial in the location, the results will follow.
Ian Happ
Numbers
Happ absolutely demolished Cactus Leauge pitching to the tune of a 1.211 OPS and seven homers, most of which came out of the leadoff spot. He continued that with a homer on the very first pitch he saw in the season opener. The Cubs had found their everyday center fielder and leadoff hitter. Except they hadn't.
Despite an incredibly high .412 BABIP, Happ's slashing just .233/.282/.384 with three homers and seven runs driven in. He's also striking out in 46.2 percent of his plate appearances, one of only four players at or above 40 percent (min. 70 PAs) and second to only the Rangers' Drew Robinson (50.0) for worst in baseball. What's more, Happ's 6.4 percent walk rate is roughly 32 percent lower than in his rookie season.
The overall numbers of a .292 wOBA and 82 wRC+ indicate that Happ is not even a league-average hitter, but they get better as we remove his earliest struggles. Since March 6 in Milwaukee (54 PAs), Happ has a .325 wOBA and 104 wRC+, both above average. From March 11 on, he's slashing .293/.326/.488 with a .351 wOBA and 122 wRC+ in 43 plate appearances.
Of course, all of that comes from a nine-game stretch that ran through April 24 in Cleveland. Since that time, Happ is slashing .133/.188/.133 with a .154 wOBA and a -16 wRC+. One must take that with a grain of salt, though, since Albert Almora Jr.'s emergence has meant Happ sliding into a bench role and accumulating only 16 plate appearances.
Eye test
When you strike out in nearly half of your trips to the plate, people aren't going to like what they see. Happ has some big holes in his left-handed swing and has strung together some pretty awkward at-bats on that side of the plate. It hasn't helped that his role has been reduced, thus leading to a change in routine and less frequent usage.
It's understandable that people would be calling for a demotion, particularly after what happened with Kyle Schwarber, but we need to remember that this isn't a cookie-cutter solution. Each player is different and you have to consider the role and psyche of each when weighing how to proceed.
There's also the matter of hands-on instruction and how that will impact the player. You may remember that Schwarber worked with Andy Haines immediately upon his arrival in Des Moines, wearing out the cage with the then-roving instructor. Yes, that's the same Andy Haines who is now with the Cubs as Chili Davis's assistant hitting coach.
So perhaps the Cubs feel Happ is exactly where he needs to be when it comes to receiving the best possible coaching to work through his struggles. On the other hand, the young outfielder might require more than just mechanical tweaks. Sometimes the best remedy is to completely break a routine, which heading back to Iowa would certainly accomplish. And if Happ can tune up AAA pitching, it would likely boost his confidence.
Addison Russell
Numbers
Russell's .231/.304/.295 slash with a .272 wOBA and a 68 wRC+ is not nice in more ways than one. He's been tinkering with his hands, a hallmark of his career that our Brendan Miller has obsessed over to an alarming degree over the past few seasons. Like Jason Heyward, Russell seems unable or unwilling to stick with something new, even when it works.
He may, however, be coming around. The numbers above come from a 102-plate appearance sample, the first half of which saw him slashing .205/.314/.295 with a .281 wOBA and 74 wRC+. But wait, that means his latter two numbers are even worse despite a .255/.294/.319 slash over his last 51 plate appearances. That's the danger of small samples, as going 0-for-7 against Colorado really knocked the results down.
Eye test
This one ain't so good. Russell has looked totally lost at the plate at times and we're just not seeing the pop that has marked his career to this point. He's always had a smooth doubles stroke and has knocked five two-baggers and a triple thus far, but he's got no homers and his .077 ISO is one of the 12 worst in MLB. I'm talking only three points better than Billy Hamilton.
I'm not ready to give up on what Russell could be and I'm not saying you should either, but I'd be lying to you if I said I didn't have serious concerns about whether he'll ever come close to his ceiling. There's a lot of time left in the season, so it's entirely possible this whole narrative changes in a flash and we see one of the game's most dynamic shortstops again.
What's stuck in my craw for a while now, though, is that Russell might need a change of scenery in order to truly spur his growth. I could be wrong there and maybe it's just a matter of time, but something always seems to be just slightly off when I watch Russell play. Sometimes you really need a big change to recalibrate things, and it's more than simply moving a guy around in the order or benching him for a game or two.
Conclusion
From what the numbers and my eyes tell me, I'm feeling good about what the future holds for Darvish. As for Happ and Russell, I'm less certain. I have zero doubt about either's talent or the potential both hold to be absolute monsters, but nothing I'm seeing right now signals an imminent breakout for either. Now watch as Darvish falls apart and the other two take off.
Given Happ's relative inexperience and current backup role, I'm in favor of sending him down to Iowa for a while. How much he can actually learn there is probably limited, so it's more about getting everyday at-bats and rebuilding his confidence a little bit. Some players might actually have their egos dinged by a demotion, but Happ seems like a guy who'd use it as fuel.
As for Russell, I'm just not sure. He oozes talent and can be one of the best all-around shortstops in the game if he puts it all together. The trouble is that it's almost as though he's doing so with duct tape at this point, and I just wonder whether it's possible for him to really be whole in Chicago. Perhaps I'm way off base or out of line there, I don't know.
Now let's hope I'm right on one count and wrong on the other two, which would be pretty much in line with my historical accuracy.