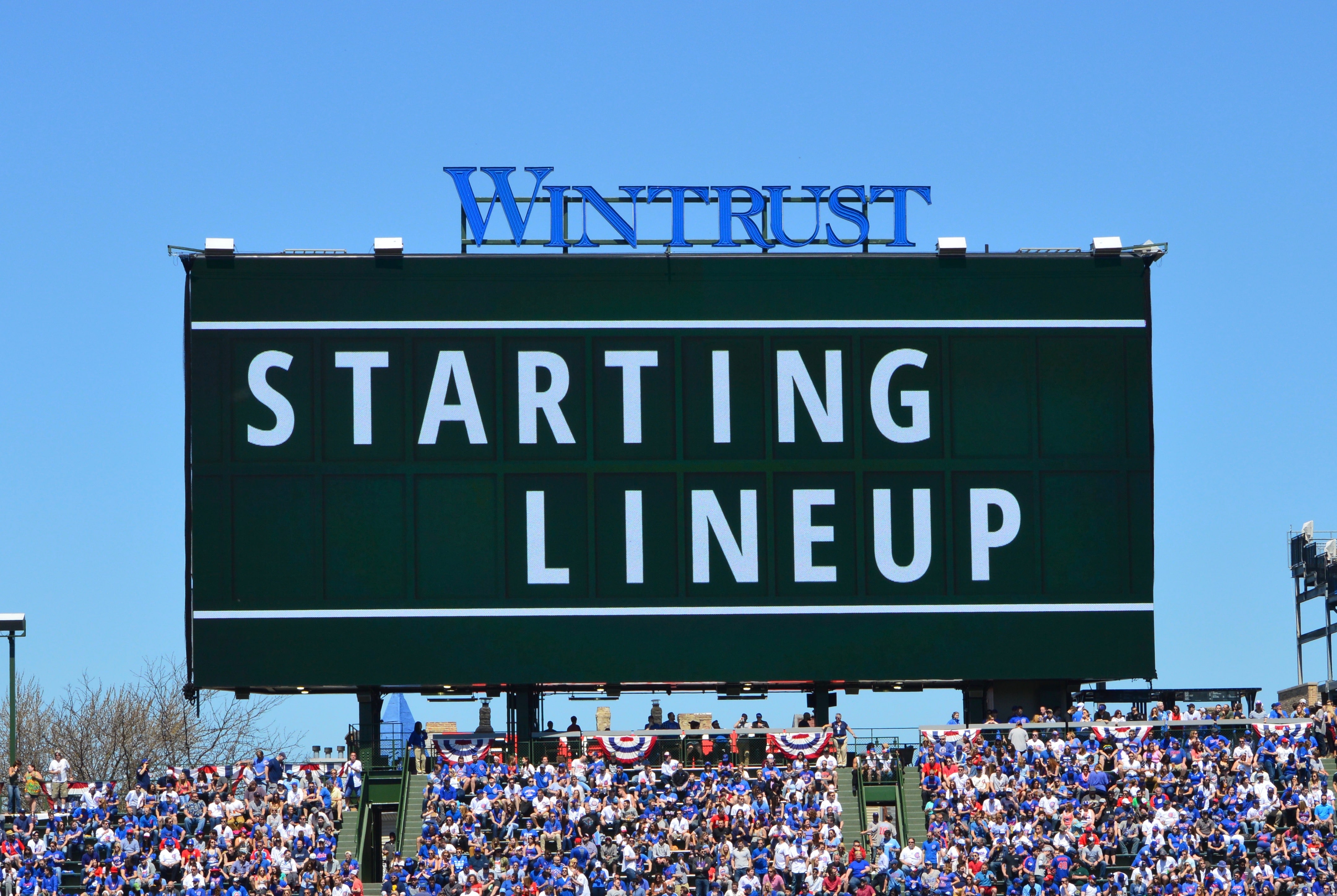 Chicago Cubs Lineup: Rizzo's Back, Happ Leads Off, Chatwood Starting (Updated w/ Zobrist Scratched)
Update: Ben Zobrist scratched due to back tightness. Lineup stays the same with Happ replacing Zobrist up top and Heyward moving from CF to RF so Happ can play CF.
Zobrist ouf of #Cubs lineup with back tightness. Happ to lead off and play center field. Heyward stays in the eighth spot and moves from CF to RF.

— Bruce Miles (@BruceMiles2112) April 17, 2018
Hey, Anthony Rizzo's back! No, not his stiff spinal column, I mean he has actually returned to the lineup. What better way to ease into things than by playing on a soggy field in mid-30's temps that should feel 10 degrees lower with the wind chill. As John Lackey used to say, "Fun!"
Ben Zobrist was initially slotted to lead off, but his own case of back tightness rendered him a late scratch. Ian Happ will once again handle the leadoff duties and will be followed by Kris Bryant and the returning Rizzo, whose had only three hits in 28 at-bats to start the season. Look for him to heat up (as much as the weather will allow) after taking the time to properly treat his troubled back.
Willson Contreras and Kyle Schwarber will look to provide pop in the middle of the order, with Javy Baez, Addison Russell, and Jason Heyward rounding things out in front of Tyler Chatwood.
Chatwood is making his third start of the season with eyes on combining what he's done in the first two. Chatwood was somewhat effectively wild in Cincy during his Cubs debut, but then was very ineffectively controlled in the home opener. He's got all kinds of stuff and he it's clear that he can be an excellent pitcher, it's just a matter of working the corners and keeping the ball down in the zone.
Waino? More like Way No, amirite? Adam Wainright has been all kinds of wrong this season, though that's not even close to a new trend for the 36-year-old righty. After averaging just over 226 innings pitching from 2009-14, Wainright pitched only 28 frames in 2015 before a torn Achilles ended his season. He bounced back with 198.2 IP in 2016, but was limited to only 123.1 last season due to back stiffness and ineffectiveness.
The latter bit is really the key, as Wainwright hasn't been good over the last three seasons even when he's been healthy. In 58 starts since the Achilles injury, he's posted a 4.82 ERA with a 4.11 FIP and has seen his strikeout rate dip while his walk and home run rates have jumped.
The veteran righty has worn the loss in each of his first two starts, though each saw very different performances. He walked four and allowed four hits in only 3.2 innings against Arizona in his first outing, then walked none and gave up eight hits (two HR) against Milwaukee. He's given up only four earned runs and hasn't allowed a homer in his last three starts against the Cubs (19.2 IP). Prior to that, however, he allowed seven earned on three walks and six hits (one HR) in just two innings.
As with any wily ol' codger, Waino is capable of throwing a gem when things break right. Speaking of breaking right, he's really been using the curve a lot more frequently this season. The bender has made up about a quarter of his offerings in the past, but it's near 40 percent through two starts. That could change as the frigid temps will make it feel like he's throwing a cue ball tonight.
Wainwright's sinker/cutter/four-seam combo makes up most of the rest of his repertoire, but he'll bust out the change every once in a while. As he's grown less able to miss bats, he'll depend more on generating weak contact and keeping the ball out of the air. And he's actually been pretty good at those things over the past two seasons, despite what the overall numbers tell you.
If they're actually able to get this one in, first pitch is set for 7:05pm CT and you can see it on NBC Sports Chicago. You may need to switch over to 670 The Score after an hour or so if you want to understand the call, though. The TV booth may be open to the elements, which could mean Len and JD mumbling through frozen faces all evening.
.@ARizzo44 returns to the #Cubs lineup tonight vs. St. Louis! #EverybodyIn

Stream on @YouTubeTV: https://t.co/t4XvcdoeJc pic.twitter.com/lG9JdLE6E8

— Chicago Cubs (@Cubs) April 17, 2018