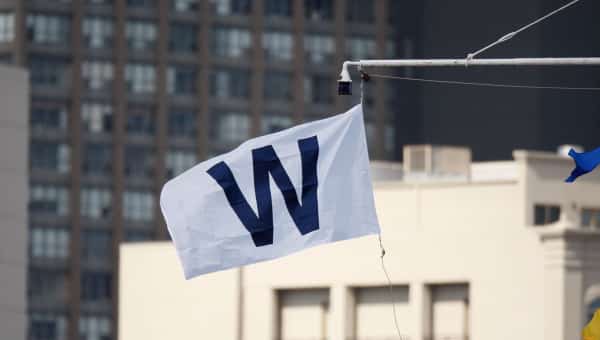 CI Recap (4/8/18) – Cubs 3, Brewers 0: Series Win in Friendly Confines of Wrigley North
The Cubs looked for their first series win of the year Sunday afternoon in Milwaukee. Jose Quintana had things get away from him his first start, but this time it was a much different story. Quintana kept the Brewers' bats very quiet in six excellent innings.
Chicago's offense didn't need to do much to take advantage of Quintana's great outing, scoring single runs in the 4th, 5th, and 7th innings to build a 3-0 lead. Justin Wilson and Carl Edwards Jr. each pitched 1-2-3 innings in relief. Brandon Morrow got his second consecutive save to preserve the shutout. (Box score) 
Why the Cubs Won
The Cubs' pitching staff allowed no runs and only three hits. It turns out a team wins a lot of ballgames when they don't let their opponent score.
Key Moment
Ben Zobrist cranked a long home run down the right field line against Chase Anderson in the top of the 4th inning. The solo bomb gave the Cubs a 1-0 lead, which it turns out was all the pitching needed Sunday.
Stats That Matter 
Quintana was much more efficient than his first outing: 6 IP, 0 R, 3 H, 6 K, and 2 BB. He was more aggressive in the zone, getting a lot of outs on the ground. With only 87 pitches through six, he could have gone another inning if needed.
Zobrist had a single in addition to his home run and it looks like he is back to 2016 form after an injury-plagued 2017 campaign.
Willson Contreras had a double and a triple. He wanted to go for an inside the park homer on his triple and wasn't thrilled when he got the stop sign at third.
WillCo not pleased about being held at 3B pic.twitter.com/zzbPiKW6FK

— Evan Altman (@DEvanAltman) April 8, 2018
The Cubs bullpen was excellent again. Edwards, Wilson, and Morrow all threw perfect innings on Sunday.
Bottom Line
After a slow start against the lowly Reds and Marlins, the Cubs looked very good against the Brewers. In the end, the 10-game road trip ended 5-4 with a rainout. Not great, but certainly not a disaster.
On Deck
The Cubs finally have their home opener at the once-again new-look Wrigley Field on Monday. The Pirates and Ivan Nova face off against fifth starter Tyler Chatwood at 1:20pm CT. The game airs on MLB Network (out of market) and ABC-7.