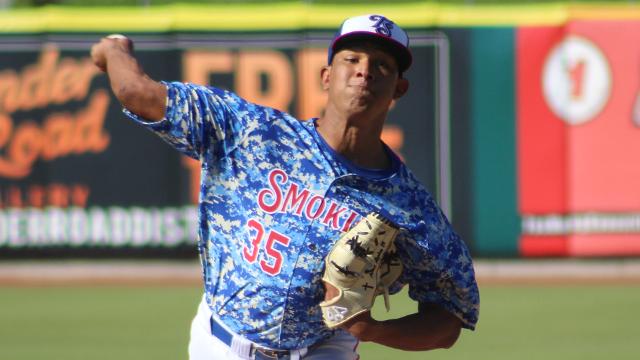 Adbert Alzolay 'About Two Weeks Behind,' Not Yet Assigned to Affiliate
Much has been made of the Cubs' struggle to develop homegrown pitching in the Theo Epstein era, though there's ample hope for a reversal of that trend in the near future. One of the standard bearers for the organization's renewed focus on pitching is Adbert Alzolay, who was a dark-horse candidate early in spring to make the 25-man roster.
While that possibility faded quickly, the Cubs are very high on the 23-year-old righty and believe he has the stuff to make it as a big league starter at some point. He'll need to dial in the changeup in order to fulfill those predictions, but he's got a great shot at a solid career as a reliever even if the offspeed stuff doesn't quite develop.
The Cubs were very careful with Alzolay during spring training, keeping his workload light and focusing more on the mental preparation side of things. Along with other highly touted pitching prospects, Alzolay's primary duties early on were simply to shadow members of the big league staff to learn how they went about honing their craft.
Whether it was a function of that strategy or simply a matter of preserving his health, the young righty got a late start on his throwing program and is lagging a bit behind his colleagues in terms of arm strength. As Mark Gonzalez reported for the Tribune, player development director Jaron Madison said Alzolay is "about two weeks behind" and will be assigned to an affiliate once he's ready.
Alzolay made 22 starts between high-A Myrtle Beach and AA Tennessee last season, posting a 2.99 ERA and 1.102 WHIP with 108 strikeouts to only 34 walks. It's entirely possible that he could be back at Tennessee once again for another crack at AA, but Iowa may have a spot open should he prove himself ready to handle that challenge.
The chances are very good for him to make an appearance with the Cubs this year as well, even if it's just as a September call-up.