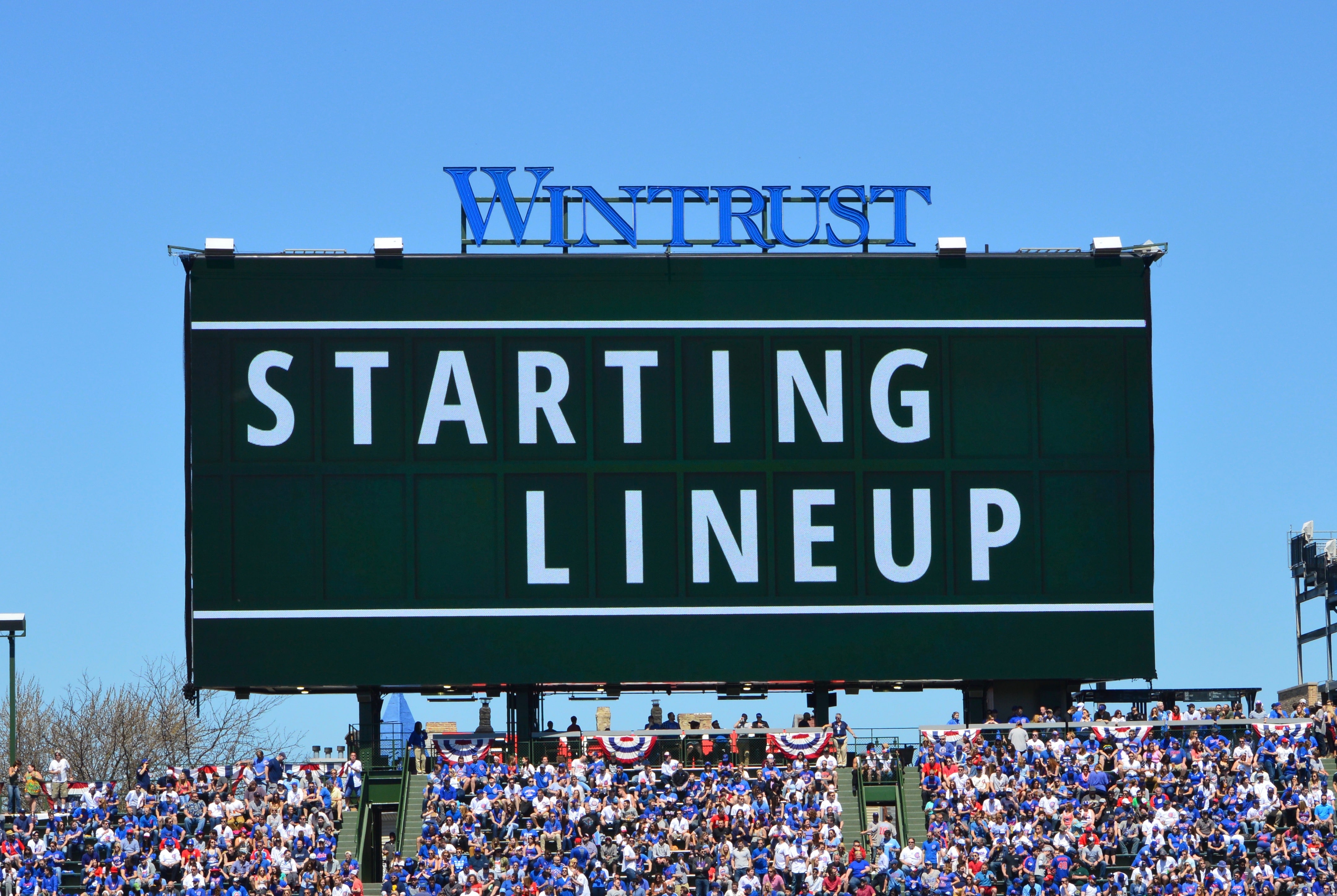 Chicago Cubs Lineup: Almora Leads Off, Zobrist in Right, Hendricks Makes 100th Start
Ian Happ will not have the opportunity to lead this one off with a homer, but maybe Albert Almora Jr. can force some crazy Cubs blogger to jump in a lake. The next five spots are unchanged, as Kris Bryant, Anthony Rizzo, Willson Contreras, Kyle Schwarber, and Addison Russell comprise the heart of the order.
What's that you were saying about Schwarber's defense? I couldn't hear you over the thunderous crash of his home run.
Ben Zobrist will bat seventh and play right, basically a direct swap with Jason Heyward, while Javy Baez hits eighth again. It's only the second game, but this gives us a glimpse at how playing time will be allocated. Of note, Zobrist is taking over for Heyward rather than Javy, though much of that is due to having a lefty on the mound.
Kyle Hendricks, who is making his 100th MLB start, is the heir apparent to Jon Lester's spot as the Opening Day starter. Based on age and regression, you get the sense that this is the big lefty's last go-round as the "No. 1 starter," and I think he'll be okay with that moving forward.
Hendricks looked incredibly sharp this spring, racking up 23 strikeouts against only two walks (both of which came in his last start) over 19 innings. Wait, that's 10.9 K/9, a mark that would have put him in sixth place among all starters last season. Don't expect that to hold up over time, but seeing Hendricks work the zone is a very good sign.
Once he got past a finger issue that prevented him from being able to grip pitches and spin his curve, and that eventually sidelined him for over a month, Hendricks got back to his usual self last season. Speaking of that curve, he's working with a new spike grip this year that is similar to what Mike Montgomery employs. Everyone throws it a little differently, but the basic gist is that the index finger is retracted a little so that it sort of "spikes" into the ball.
As always, the key to Hendricks' success is his ability to mix speeds and locations to keep hitters off-balance. I have always loved watching Hendricks pitch because he's not afraid to induce contact and he gets hitters out in the zone. He also works quickly, which is something Rob Manfred and I can both agree is good.
Opposing the Cubs will lefty Caleb Smith, who was a member of the Cubs organization very briefly back in 2016. Initially drafted by the Yankees in 2013, Smith was taken by the Brewers in the Rule 5 draft and was then traded to the Cubs, who then returned him to the Yankees in March of 2017. He debuted with the Yankees last season and was then traded to Jeter's Folly this winter (but not in the Stanton deal).
With just over 18 innings of MLB experience, it's hard to say exactly who Smith is as a pitcher. He's got a pretty big fastball that he sets off with a change and slider, though command seems to be an issue. That could lead to some effective wildness, as Smith did have 21 strikeouts in 19 spring innings. Of course, he also walked 11 and gave up 19 hits, good for a 1.58 WHIP.
After Jose Ureña thoroughly chummed the water Thursday afternoon, you can bet that the Cubs are going to be all over any early mistakes in this one. Bryant is going to go yard and I've got a feeling that Contreras will have a big game as well.
First pitch is at 6:10pm CT and can be viewed on WGN or listened to on 670 The Score. The whole WGN thing is still a little bit weird for folks, since it's just the local version of that venerable Chicago institution and is no longer the nationwide superstation. As such, we get a lot of search traffic coming our way each time the Cubs don't play a nationally-televised game.
The team has yet to update their affiliate list for 2018, or I've been too lazy to catch it, but you can see last year's list right here. That'll give you all the stations that are syndicating the WGN and ABC-7 broadcasts, or at least it sho