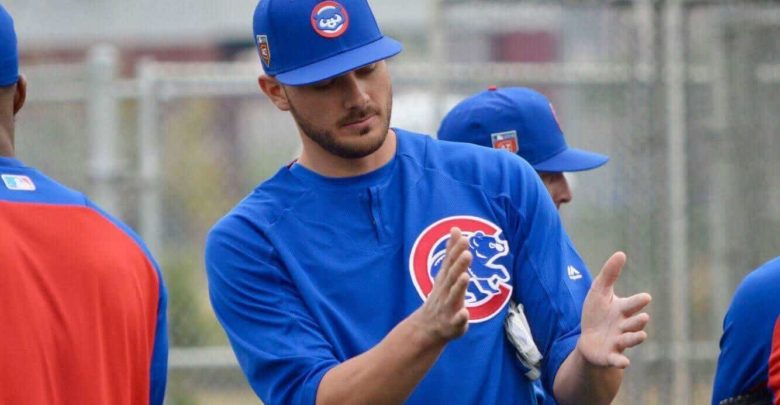 11 Bold Predictions for the Cubs in 2018
What is a writer to do when energy and ideas are at a premium? Why, they put together a "bold predictions" post with a list of things that are just believable enough that they'll stir up some conversations. Truth be told, I actually like coming up with these because I do try to keep them somewhat realistic. As such, it's fun to look back at them throughout the season to see how they're trending.
1) No Cubs starter will reach 200 innings
Had he been on the North Side all season, Jose Quintana's 188.2 total innings (the first time in five seasons he was under 200) would have led all Cubs starters. Injuries kept the other members of the rotation from hitting that 200-inning mark, with Jon Lester's 180.2 leading the way. Even with a run of great health this coming season, it's entirely possible they fail once again to have anyone past the Bizarro Mendoza line.
But calling it a failure is a misnomer, since the Cubs are very consciously looking to limit their starters' innings. Beyond just being more intentional about keeping them rested for what they expect will be another playoff run, it's a matter of following the numbers. It's no secret that a pitcher's performance generally drops off when he faces an order the third time, and the Cubs are doing what they can to maximize value.
Joe Maddon made it clear early on that they planned to run with eight relievers, which is as much about backing up the starters as it is providing options at the back end of the 'pen. Mike Montgomery will surely get some run as the sixth starter and it's possible the Cubs could opt to roster Eddie Butler for additional long-man support.
''What's fair to say is that maybe we've lowered the goal from getting 1,000 innings out of your starters to maybe getting over 900," Jed Hoyer said recently.
2) Kyle Schwarber will hit 40 home runs
He looks good, he feels good, and he's going to ride his new physique and renewed confidence to a monster season.
3) Ian Happ will lead team in CF innings
Happ and Albert Almora Jr. will serve in some sort of platoon out there, but the former has been performing too well to keep him out of the lineup on a regular basis. His game's got more streaks and skids than my son's underwear, though, and Almora should see plenty of time against lefties. Even so, and even with Happ picking up innings at other spots, he'll be in center a lot.
4) Jason Heyward will become a bench bat
I want Heyward to succeed, I really do, but I've more or less given myself up to the notion that offensive mediocrity may be his only remaining hope. It's as though coming to Chicago installed a drop ceiling on his career that's about six feet lower than the original. Like, he's got to duck his head when he enters the room.
Despite tweaks to his swing, some of those same bad habits are just as present as always and his timing at the plate requires everything to go perfectly in order for him to barrel up the pitch. It's just awkward to watch him hitch the bat up and down before eventually cross-locking his hands as though he's trying to wring out a towel.
Elite defense or no, there may finally come a time when Maddon can no longer afford to keep Heyward in the lineup. And if a lefty is on the mound, it's very possible that we'll see more of Almora in center and Happ in right.
5) Justin Grimm will not make the Opening Day roster
Many, present company excluded, were surprised when the Cubs tendered Grimm a contact his winter. The move was more about maintaining roster flexibility and seeing whether the big righty could regain the control of his fastball, since a salary awarded through arbitration is not guaranteed. The Cubs will owe Grimm only a fraction of what he's owed should they cut him prior to March 29, and his performance this spring leads one to believe they'll do just that.
Though this could turn into 20/20 hindsight before this post even drops, March 13 is actually the last day to release a non-guaranteed player before a jump in the salary he's owed. If released more than 15 days before the start of the season, the player is owed only 30 days' salary as a severance. If released within 15 days from the start of the season, the salary owed goes to 45 days. Once the season starts, that player's contract is fully guaranteed.
For the sake of proper context, those amounts in Grimm's case would be $350K (if released more than 15 days prior), $500K (less than 15 days), and $2.2M (after start). You know, if money is a determining factor here.
6) The Cubs will not trade for a closer
This is as much about Brandon Morrow as it is the strength of the guys around him. I have a very good feeling about what the former Dodger can do as the full-time closer, but I have an even better feeling about Justin Wilson (whose name I still can't type the first time with just one L). Then you've got Steve Cishek, Carl Edwards Jr., and, of course, Dillon Maples.
7) Victor Caratini will be traded
I don't know when or for whom, but Caratini seems like an obvious candidate to be moved. Like Jeimer Candelario last season, Caratini is a talented player who simply can't provide the Cubs the same value as a player that he can as a trade chip. Besides, he deserves a shot to see what he can really do in a regular role.
8) Chris Gimenez will prove his worth beyond his connection to Yu Darvish
Okay, this isn't super bold and it's hard to quantify, but this guy will be more than just a way to make Darvish happy. He'll fill that Grandpa Rossy role and will provide a few surprisingly impactful performances.
9) Kris Bryant will hit .300+ with 40+ doubles, a BB rate over 15%, and K rate less than 18%
The multifaceted specificity of this is what gives it the heft of boldness, while Bryant's ability to continually improve makes it very achievable. His increased plate coverage will lead to more extra-base hits to the opposite-field gap, something he focused on this winter.
10) Addison Russell will post at least a 110 wRC+ and 4 fWAR
Unlike the Bryant prediction, this isn't really a matter of getting too specific with different stats. If Russell actually performs that well offensively, he's a lock to go over 4 fWAR. Consider that he had 3.9 additional wins with a 94 wRC+ in 2016, when he played 151 games. He'll need to stay healthy and he'll need to be more consistent at the plate, but Russell could really break out this season.
11) Jake Arrieta will take the mound at Wrigley on Tuesday, June 5
We don't know how the rotation will set up or what could happen between now and then, but the Phillies make one trip to Wrigley this season and it'd take an act of God to keep Arrieta off the mound. And since Theo Epstein no longer has any say in the bearded righty's career, I'm guessing Arrieta will be out there.
Even if it's not that first game of the series, Arrieta will be starting in one of the games. And I've got a sneaking suspicion that we're going to see a vintage performance…for about five innings. Cubs fans are going to get the chance to celebrate the return of their former conquering hero, after which they'll be able to celebrate conquering their former hero.
---
So there you have it, the most definitive set of guaranteed-to-maybe-happen predictions this side USA Today. Feel free to drop your own below or just, like, talk mad trash about mine.