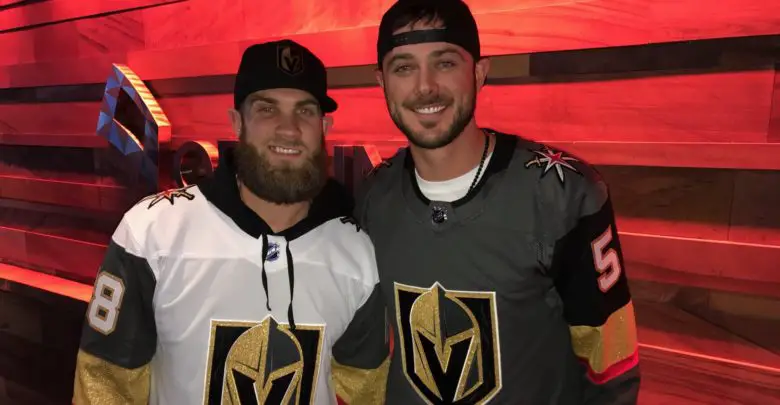 Epstein Explains How Darvish Signing Impacts Pursuit of Harp…Er, Future Free Agents
The logical step from the Yu Darvish signing is to analyze exactly how it impacts the Cubs this season. Whether it's the construction of the roster or their win projections, or even the way it gives them MLB's highest drop in projected runs against, the 2018 season should be the focus. But it's impossible not to look at how this signing will affect the Cubs in the future as well.
And I'm not talking about age-based regression or the shifting around of the rotation. No, I'm much more concerned with what adding at least $21 million AAV to the payroll means in light of a wave of franchise-level free agents hitting the market for 2019.
"[The plan for next year] remains to be seen, but look, I think anytime you sign a multi-year contract, you're taking away a little bit of flexibility in the future in exchange for talent now and in the future," Theo Epstein told 670 The Score's Mully and Hanley Wenesday morning. "That's not just the case with Darvish, but with the other investments we made.
"We would never put ourselves in a position to be completely inflexible going forward, but yes, when you commit $126 million to someone it does take a way a little bit from future flexibility."
As the market continued to move at a snail's pace, the Cubs found themselves in a position to make a bigger splash than they'd initially imagined. Though they had viewed Darvish as the best available pitcher from the jump, they also believed his asking price would push them beyond their comfort zone.
And there had been a sense at the outset of the offseason that the Cubs, among others, would be trying to keep a little powder dry for the following winter.
"Next year I think you'll see a market where there's a ton of supply, because there are great players out there," Epstein said. "It's a deep free agent market for position players, not as much for pitchers. But next year there's going to be plenty of supply, and I think there's going to be very robust demand. I think there are a lot of teams that are going to be aggressive next offseason.
"So we saw this offseason more as an opportunity, the fact that the market was slow, that there were some teams on the sideline that were limited. This was our opportunity to get a top-of-the-rotation type pitcher in Darvish at a reasonable cost that might not be available going forward."
Epstein spoke in pretty broad terms the whole time, refraining from actually naming any teams or players, and limited his specifics to the moves the Cubs have made this winter. That's perfectly understandable, though a discerning listener could easily pick up some hints as to what kind of appetite the Cubs might have next year.
Actually, you don't really need to read between the lines too much with some of this.
"We have some work to do to make sure we're in a position to pounce if a certain great fit or just the right special player happens to become available. Or somebody wants to be in Chicago and something becomes too good to turn down, it's just too impactful, or too good a deal (and) would mean too much to the team, we just need to be in a position to do that."
Those of you who've already received your handy-dandy Bryce Harper BINGO™ card in the mail can go ahead and get it out now. If you haven't gotten yours yet, a piece of scratch paper will do. Ready? Here we go: Great fit; special player; somebody who wants to be in Chicago; too good to turn down; too impactful. Hey, I think we have a winner.
Listen, I don't want to make this all about a single free agent, particularly one who may well command the biggest contract in the history of American professional sports, but Harper has been mentioned in connection with the Cubs for a while and then you hear stuff like this. And when you bring in some of Epstein's statement's from Tuesday's introductory press conference, it practically screams that the Cubs are going to be willing and able to spend big.
"One of our goals was to put the team together this year in a way that would maybe allow us to reset under the CBT threshold going forward," Epstein explained. "We thought that made sense in the big picture for us. So average annual value of the contracts that we were negotiating was important to us."
A quick bit of clarification here: The Cubs didn't necessarily need to reset their CBT number as much as they need to keep it below the threshold for a second straight season. Despite an early report that they had gone over for 2017, they were actually well under the mark. And they'll be so again this season, barring some kind of big move, which gives them three more seasons under the current CBA.
That means they're still subject to potential "repeater" penalties, escalating fines and/or draft pick and international pool restrictions applied to teams that exceed the CBT threshold. But if given the opportunity to add a unicorn like the one Epstein describes above to their young core, what's a few million dollars in fines?
When it comes to spending, you've got to consider the potential impact of a new media deal that should go into effect for 2020, not to mention the overriding desire to keep winning.
"Tom (Ricketts) was very supportive," Epstein said of the Darvish acquisition. "It's wonderful to have an owner like that that sees the big picture and then once he's gotten a real taste of winning isn't necessarily content just to be a contender or in the mix each year, but really wants to capitalize on this window that we have and deliver championship baseball to our loyal fans who certainly deserve it.
"We're starting to capitalize on some new revenue streams and that allows us to fish in these waters as long as we do it in a responsible way for the short and long term."
Epstein's never going to come right out and lay all his cards on the table until the hand is over, but he certainly gave a few hints that they'd be willing to push all-in should the situation arise. Although maybe he's just stating the obvious, which is that other players will have to be added at some point. I'll let you decide for yourself what he means
"Rosters are flexible, payrolls are flexible, I'm sure there are future moves that we can make."