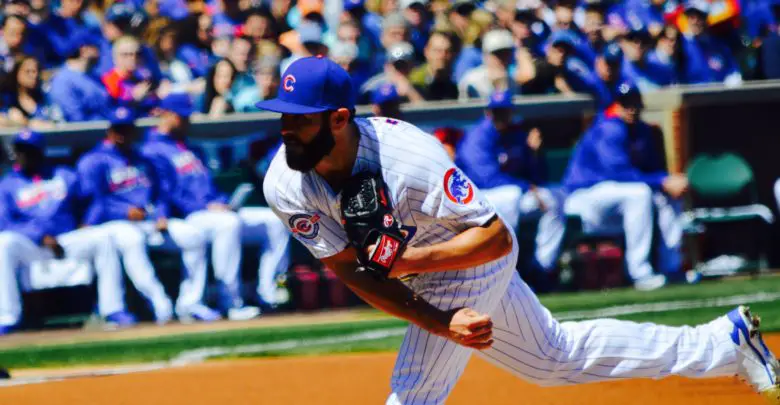 Report: Cubs Offered Arrieta Six-Year Deal, He Turned Them Down
The Cubs hadn't talked much with Jake Arrieta this offseason, either because the relationship resembled a frozen-over Lake Michigan or because each side knew what the other wanted. In truth, it was probably a little bit of both. That's why Theo Epstein saw fit to give it one last chance before agreeing to terms with Yu Darvish.
According to FanRag Sports' Jon Heyman, Epstein called Arrieta (or Scott Boras) with an offer believed to be nearly the same as the one they gave Darvish. And Arrieta turned it down cold.
But Epstein felt like he owed Arrieta that call to gauge that possibility. After all, not only had Arrieta put together one of the great half-seasons in baseball history to win a Cy Young, he'd come up big time and again when it counted most and was a key figure in the Cubs' historic 2016 World Series championship.
Darvish was the focus by that point, but with some uncertainty about whether he'd take the deal, Epstein made the call to Arrieta to see where he stood. And to no one's surprise, while Arrieta surely appreciated the gesture, he wasn't immediately prepared to accept a six-year deal for what was believed to be for a similar annual salary, which was important for the Cubs, who are intent on staying under the $197 million threshold that has become an impediment in the free-agent market.
Heyman's right that no one should be surprised to find out Arrieta turned down $21 million in average annual value, but the six-year guarantee is probably more than he figures to get now. The idea that Arrieta would be unwilling to accept a lower AAV than Jon Lester, alongside whom he's pitched for the past three seasons, has some serious heft, though there could be more to it than that.
I've been saying for a while that Arrieta may have been wanting to leave Chicago in order to establish his own identity, or something along those lines. Held in check by the Orioles' rigid developmental practices, the unorthodox righty came into his own following a trade to the Cubs. Allowed to do his own thing, Arrieta blossomed into one of the best pitchers in the game.
You have to wonder, though, whether a guy with such supreme confidence might be a little resentful of the fact that many credited the Cubs and their coaching staff with his rebirth. Perhaps, or so I've reasoned, he wants an opportunity for yet another fresh start. With a Cy Young and a World Series under his belt, maybe finding success with another team is the one thing he feels is missing from his legacy.
Or maybe it's all about the money, which would certainly provide a much simpler explanation as to why Arrieta would turn down the Cubs' offer. Boras has been touting his client as the real prize of the offseason, and we know that Arrieta has been tracking the big contracts handed out to his peers over the last two seasons. There's a pretty serious flaw in that thinking, though.
We'd heard all along that Darvish preferred the Cubs to the Twins and Brewers, the other two teams said to be most aggressive in pursuit of the Japanese righty. Thing is, the available reports tell us that neither offered as much as what the Cubs did, either in years or overall money. The Dodgers were willing to go six years, but at only $100 million or so due to their luxury tax situation. Do you see what I'm driving at here?
The markets for Darvish and Arrieta are more or less identical, though it's obvious that teams prioritized the former over the latter. As such, it seems highly unlikely that any of the "losers" in the Darvish Derby would suddenly up their offers to land Arrieta. I suppose it's possible that a marked shift in the supply/demand curve would incite a bidding war, but that's really far-fetched.
Maybe it's a matter of pride. Maybe it's Boras whispering sweet nothings in his ear. Maybe it's a desire to clarify his legacy. Whatever the case, Arrieta saw fit to spurn a six-year offer from the Cubs that was probably in line with the one Darvish accepted. Thus concludes a relationship that for all intents and purposes had been moving to this point for the last two years.
That's something to keep in mind if you're lamenting the fact that the Cubs weren't willing to retain their erstwhile ace. It wasn't a matter of ignoring Arrieta or of totally low-balling him with an offer. If you believe this report, the Cubs may actually have wanted to sign him over Darvish, though I suppose we should apply a shake or two of salt to that. Still, it appears that Arrieta flat-out turned the Cubs down.
So where does Arrieta turn from here? Heyman lists the Brewers, Nationals, and Phillies as the top three options, with the Twins and Cardinals on the list as well. I'd be shocked, gobsmacked even, if the bearded righty gets as much as $125 million from any of those teams. But hey, more power to him.
Ed. note: If you're looking for a little more depth on this topic, check out Patrick Mooney's piece (subscription required) at The Athletic. In short, the Cubs basically reached out as a courtesy and knew Arrieta wouldn't be down to sign for what Darvish got. At the same time, they wanted to let him know that they would be around should the Darvish deal fall through.