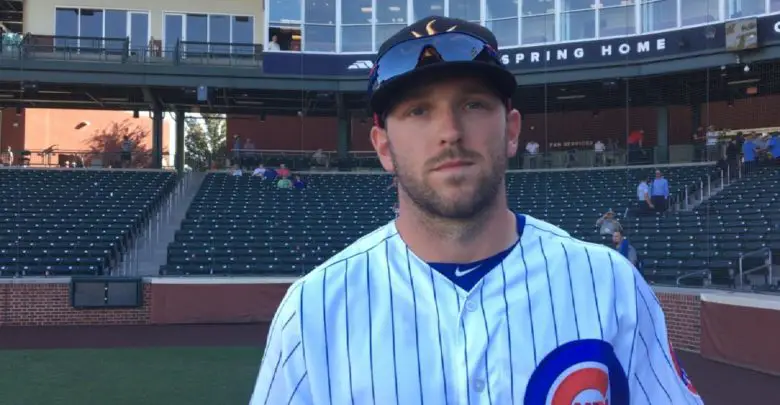 Offseason Prospect Profile: Ian Rice Could Ride Uppercut Swing and Versatility to Chicago
Most of the recent hype surrounding Cubs catchers has centered on recently acquired Chris Gimenez, but there's another backstop who could make a little noise in 2018. And not, I'm not talking about Victor Caratini.
The word majestic pretty much sums up my view of Ian Rice, whose beautiful uppercut swing is designed to hit the ball a long way. It may not be great for a high batting average, but it does create some well-struck baseballs when it connects. Rice's development as a hitter really accelerated over the past two seasons and his ascension to the upper echelons of the Cubs' system has been a breath of fresh air.
Selected out of the University of Houston in the 29th round of the 2015 draft, Rice didn't catch my eye during his first summer as a pro at Eugene. When he arrived at South Bend in late April of 2016, however, he just destroyed the baseball. He was quickly promoted to Myrtle Beach and hit 15 home runs that first full season.
Rice was assigned to AA Tennessee and really grew defensively as a catcher, but he also continued a trend of hitting home runs and getting on base at an extremely high rate. While he only hit .230 for the year, he posted a .353 on-base percentage and finished the season with 17 home runs. That performance and potential led to Rice taking part in the prestigious Arizona Fall League.
Playing among other top prospects from several teams with the Mesa Solar Sox, Rice manned both corner infield spots, did some catching, and served as the designated hitter. While he did not hit any home runs, he batted .311 with a .415 OBP and drove in 11 runs. If he's able to duplicate the growth he's displayed over the past two seasons, 2018 should be very exciting year for the 24-year-old prospect.
Basic Info
6-0, 195 lbs.
Age – 24
Bats/throws – R/R
Draft – 29th Rd (2015)
If asked to list my top five Cubs prospects in terms of who I'd like to watch play, Rice would easily make the list.
Why?
The most obvious reason that is he is going to be playing in a hitter's league in 2018 and he is going to crush some baseballs. However, I don't think that's what the Cubs are looking to see from Rice.
The ultimate goal is to get him Chicago. With Wilson Contreras entrenched behind the plate, Rice provides an alternative to Victor Caratini and offers a bit more versatility to boot. With the potential for serious power and elite strike zone management to the table, the Cubs are probably looking for Rice to further improve his on-base percentage in 2018.
Though he walked at a 15.3 percent rate last season, his strikeout rate was a career-high 22.8 percent and his .263 batting average on balls in play was a career low. Rice was a pull-heavy hitter (57 percent) who may need to try going to right more often (27 percent).
What's more, only around 12 percent of his batted balls were line drives while 37 percent were ground balls and over 50 percent were fly balls. That is what you're naturally going to get with an uppercut swing, but Rice is definitely coming across as a three-outcome hitter.
Rather than tinker much with that swing, I think the Cubs may just leave the it as it is and will take the good with the bad. Personally, I'd like to see more line drives and a different spray pattern, but that's just me. It'll be interesting to see what kind of hitter Rice becomes in 2018 and where he becomes it.
He is more than likely going to be playing a mixture of positions at Iowa. I am sure he will catch some, but he also could be at first and third to continue to make himself more versatile. And that could well be what helps him get to Chicago, where Joe Maddon knows a little something about moving players around in the field.