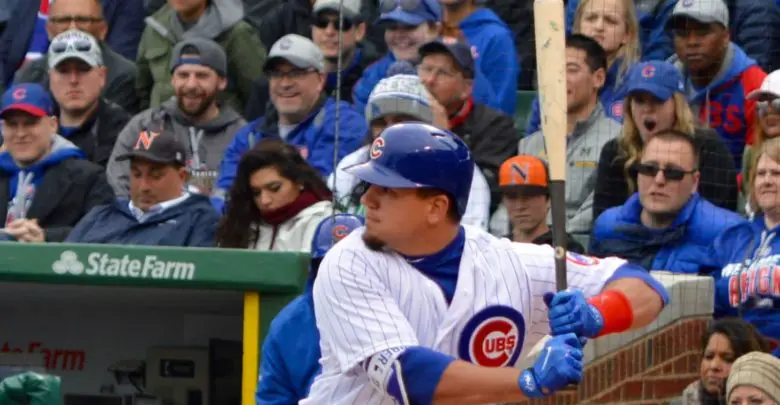 Sounds Like the Cubs Aren't the Only Ones Who Believe in Schwarber
At least one MLB exec is confident in Kyle Schwarber's ability to "be a real force in the Cubs lineup," according to NBC Sports Chicago's David Kaplan. And no, he's not talking about Theo Epstein or Jed Hoyer. This assessment actually came from a rival exec, someone Kaplan says has been high on Schwarber from the time the Cubs drafted him.
As an unrepentant Schwarber honk, I have to admit that there's more than a little bit of confirmation bias when it comes to the way the slugger is viewed. What I mean there is that the former catcher has maintained staunch support from those who have been in his corner the whole time, but he hasn't really converted (m)any of the doubters. That may be set to change.
"Everyone who doubted this kid may end up way off on their evaluation because he is a great hitter and now that he is almost two years removed from his knee injury," the aforementioned rival exec told Kaplan. "He knows what playing at the major-league level is all about I expect him to be a real force in the Cubs lineup.
"Theo and Jed do not want to trade this kid and they are going to give him every opportunity to succeed. I think he has a chance to be as good a hitter as they have in their order."
While it'll take time to get answers to how he'll perform this season, one thing that's never been questioned is Schwarber's work ethic. He absolutely attacked his rehab following knee surgery and was outlifting most of his teammates by the late summer of 2016. Then there's that whole thing about coming back to DH in the World Series, which the Cubs actually won. People forget that.
Schwarber has taken his fitness to a new level this offseason, dialing in his diet and dropping around 25 pounds in an effort to be more agile and explosive on the field. Some have wondered aloud whether dropping that weight will result in an corresponding decrease in power, but I would point those folks toward Matt Adams for proof that that probably won't be the case.
Adams reportedly dropped 30 pound last winter, though I'd have pegged it at more like 40-50 just from my the impeccable eye-test scale. And the camera adds at least 10 pounds, so add that to the total. In any case, Adams' offensive production went up pretty much across the board and his power numbers last season (.248 ISO, .522 SLG) were the highest of his career.
It's entirely possible that Schwarber will make even bigger strides, if only because his numbers were so wonky due to those early struggles that some correction is inevitable. And if those offensive numbers come back around, the real difference from his svelte figure could come in what he's able to do out in left field. Just being a little faster out there, as little as one or two extra steps of range, will go a long way toward changing the opinion that he's a DH.
Though I've said it before, it bears repeating that Schwarber isn't the defensive butcher some would like to portray him as. But carving up all that chicken this winter should have him looking better than ever in the outfield, even if that just means showing off passable glove work. The bat can make up for even terrible defense out there, as we've seen in the past with Adam Dunn and Matt Holliday.
Oh, and let's not forget that Howitzer of a right arm that can make up for some of the miscues.
Not only is Schwarber now two years removed from knee surgery, but this will really be the first season in which he's purely an outfielder. Even if there's some part of him that still wants to catch, it's obvious by now that a role as a backstop just isn't in the cards unless it's in an emergency situation.
Though I'm not privy to the Cubs' machinations in that regard, I've said for quite some time that allowing Schwarber to work out as a catcher was a conciliatory gesture. They wanted to placate him and also to make him as comfortable as possible in his transition to the outfield. Think of it like sneaking cauliflower into your kids' mashed potatoes.
Before you know it, the kids like cauliflower and Schwarber likes playing left field. Or at least he has fully embraced the idea that he's going to be an outfielder on a permanent basis. And if I'm being honest, I truly believe that realization and the resultant emotional unburdening will bear all kinds of fruit for Schwarber moving forward. I know that's totally intangible and unquantifiable, but we can file it under the mental skills training that the Cubs have so diligently cultivated.
It'll take more than just a belief that he's a full-time outfielder for Schwarber to make good on the lofty projections above and to silence the doubters. It'll take more than perfectly-portioned meals and intense agility training. Hell, it'll take more than skill and luck. A confluence of all those things will be required, but I've got a feeling that's well within reach for a guy who put a ball in the Allegheny River.