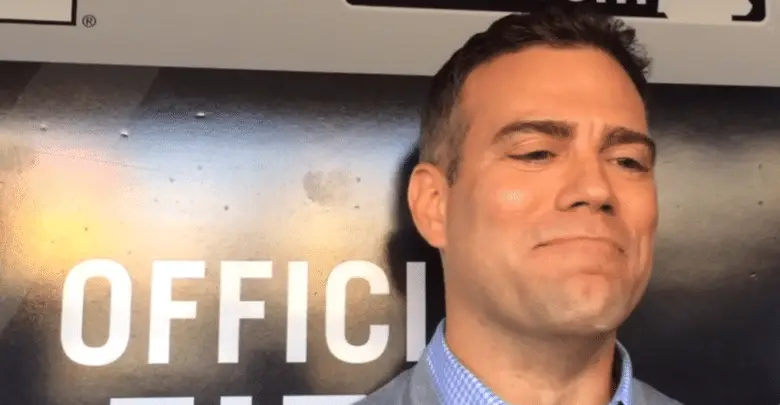 The Rundown: Pirates Tanking, Epstein Authorized to do 'Whatever He Needs,' Contreras Knows He'll Be MLB's Best Catcher
Some numbers to start your day:
There are 29 days until pitchers and catchers report. Only 52 of 203 eligible free agents have contracts, including just two of the top 10. And one of those, Masahiro Tanaka, re-signed with the Yankees just as free agency kicked off in November. We keep saying the market is about to break but there is nothing to really indicate that. Yesterday was a pretty busy day in terms of player movement (as defined this offseason), but nothing really earth-shattering,
Andrew McCutchen was traded by the Pirates to the Giants for minor leaguers Kyle Crick and Bryan Reynolds plus $500,000 in IFA dollars. In two days, the Pirates have traded McCutchen and Gerrit Cole, and the four minor league players they have received rank as follows within their system:
Reynolds (#4 overall)
Colin Moran (#5)
Jason Martin (#19)
Kyle Crick (#25)
Though they also received Joe Musgrove and Michael Feliz, Pirates fans are understandably angry. I don't care what Pirates GM Neil Huntington says publicly about competing this year or how he tries to positively spin these moves, he's entered the tank zone. Expect more moves.
Huntington: "The Gerrit Cole trade did not dramatically impact our potential to win the World Series this year. This [McCutchen] trade does not dramatically impact our potential to win the World Series this year."

— Bill Brink (@Bill_Brink2) January 16, 2018
With the additions of McCutchen and Evan Longoria this season, the Giants have added nearly six wins to a team that finished with just 64 last year. Though San Francisco vastly underperformed in 2017, I am not sure that these two moves make them a contender. The top teams in the National League are just too stacked and even within their own division, the Dodgers, Rockies, and the Diamondbacks are still better teams I believe.
In other baseball news yesterday, the Pirates signed closer Felipe Rivero to a 4/$22M extension; OF Curtis Granderson signed a one-year deal with the Blue Jays; and the Nationals and Howie Kendrick agreed on a two-year deal to keep the utility player in Washington. And yes, all that movement represented baseball's busiest day of the offseason.
Cubs News & Notes
Cubs chairman Tom Ricketts seemed disinclined to believe that collusion exists among MLB front offices and has slowed the free-agent market. In an interview with Patrick Mooney of The Athletic (subscription required/recommended), the owner addressed the Cubs' offseason plans and the availability of additional capital.
"Theo has the resources to do whatever he needs to do to win on the field. I don't know what's going to happen with the guys that are out there, whether it's a good fit for us."
Willson Contreras is aiming to be baseball's top-rated catcher. Only 25, Contreras has had a great start to his big league career. Across 193 games in two seasons, he has hit .278/.356/.494 with 33 home runs and 109 RBI. His 3.2 fWAR ranked fifth among the 33 catchers with at least 300 plate appearances last season. He was used in every spot in the order in 2017, but is best batting cleanup, hitting .307 with 13 of his 21 home runs coming from that spot in the order. When he wasn't busy f-bombing the CubsCon crowd, the catcher was displaying his supreme confidence.
"I used to watch a lot of those guys, but now I'm watching myself because I know that I'm going to be better than them. That's my plan. That's my [mindset]."
Brendan Miller looks at 2018 projections for CF Albert Almora Jr. Meanwhile, Evan Altman looks at the organizational shift toward drafting and developing pitchers, an area in which the front office has admitted failure.
One of the things we learned at this year's Cubs Convention is that Tyler Chatwood has a bit of a man-crush on one of his new teammates. When asked which Cubs player he's most interested in meeting, his response was Kris Bryant. I hope that's not too awkward.
"Just watching him, it seems like he does everything cool."
The team's new starting pitcher offered up a self-scouting report as well.
"Four-seam fastball, two-seam fastball, I'll throw my curveball a lot more. That's always been my best pitch and I kind of got away from it a little bit, but I'm going to be throwing that a lot more. Cutter and a changeup, too. So, you know, try to trick them with something."
Coming off a world championship and fighting off the World Series hangover was just one of the lessons the team learned last season. To a man, Cubs players say they are re-energized and ready to meet or exceed 2018 expectations.
Monday Stove
Bleacher Report looks at the remaining weaknesses of all 30 MLB teams, including the Cubs' obvious need to acquire another starting pitcher.
With a stagnant free-agent market, the Rangers remain hopeful that they may eventually have a chance to sign Yu Darvish.
This is a fascinating read: What is baseball's historic equivalent to the Vikings miracle victory over the Saints on Sunday?
With the trades of Cole and McCutchen, the Pirates' most magical era in decades comes to an end. Cutch showed extreme gratitude to Pittsburgh fans with a very classy tweet after the trade.
Pittsburgh.My Home.My Fans.My City. The placed that raised me and helped mold me into the man I am today. You will 4ever be in my heart.A tip of the cap to all who have been on this journey with me. With Love and respect,
Cutch pic.twitter.com/QB0n9vuBuZ

— Andrew McCutchen (@TheCUTCH22) January 15, 2018
Tuesday Walk Off Song
Bringin' On The Heartbreak by Def Leppard. Sorry Pirates fans. I feel ya.