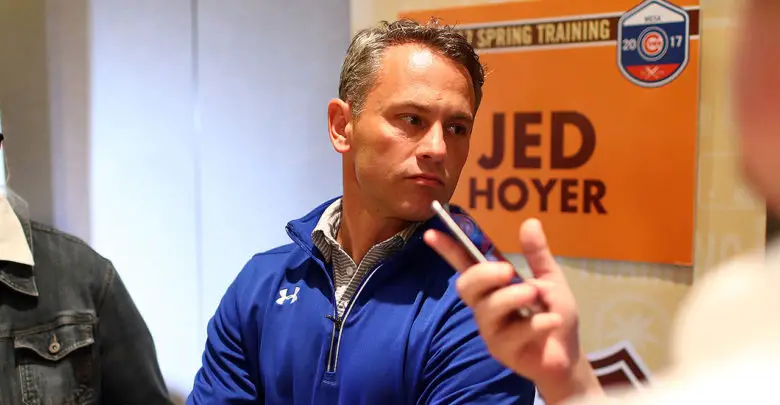 Jed Hoyer Addresses Offseason Issues Facing Cubs
With Cubs Convention about to open, Jed Hoyer joined the Bernstein and Goff Show on 670 The Score Friday to discuss a variety of offseason events. The Cubs GM addressed the stagnant market, luxury tax, Jake Arrieta negotiations, Tyler Chatwood, the leadoff role, and Kyle Schwarber.
"Slowest market I've ever been around," Hoyer admitted when asked about the current market. "[We'll] never know what's going to happen in each market. We had a sense it'd be slower than usual. Some macroeconomic factors playing in.
"[Decisions are being made] regarding [luxury tax]. Future free agents markets, number of things conspired to slow things down. I think guys will still sign. Get good deals."
Arrieta's contract status was also discussed, but Hoyer admitted that he couldn't dive deep into the details.
Jed Hoyer on possibility of Jake Arrieta returning to the #Cubs: "You never know."

— 670 The Score (@670TheScore) January 12, 2018
He then went on to gush about Arrieta's history with the Cubs and the integral role the pitcher played in turning the franchise around. Despite the slow market, Hoyer acknowledged he's fortunate to have been aggressive early on in the offseason by signing Tyler Chatwood.
#Cubs GM Jed Hoyer: "We've been one of the more aggressive teams in the free-agent market. We just did our work early."

— 670 The Score (@670TheScore) January 12, 2018
The most interesting part about Hoyer's Chatwood comments was the GM's emphasis on pitching at altitude, which has been a topic covered by FanGraphs and other researchers have. Hoyer explained that he thinks the new Cubs pitcher will benefit exponentially after getting away from the altitude of Coors Field. Chatwood's pitches are top-tier in terms of movement, whiff rates, and grounder rates, but he hasn't been able to tie all of his positive peripherals into consistent success.
In regard to the leadoff spot, Hoyer didn't seem interested in urgently addressing the perceived void atop the lineup.
Jed Hoyer calls it "unlikely" that the #Cubs acquire a traditional, ideal lead-off man before season's start: "We have to live with that."

— 670 The Score (@670TheScore) January 12, 2018
Jed Hoyer on #Cubs' lead-off spot: "We just have to find someone who's comfortable there and doesn't change their approach."

— 670 The Score (@670TheScore) January 12, 2018
Schwarber, for justifiable reasons, has been a potential candidate for the leadoff role. But Hoyer didn't talk about the Cubs left fielder in that context. Instead, he gleefully acknowledged Schwarber's body transformation.
"I think he's going to go shirtless tonight at Cubs Convention," chuckled Hoyer. "I love the fact that he's committed to conditioning, nutrition, fitness, all that stuff. There's going to be surprise when people see him in February. At some point, it's got to translate to the field, and I think it really will."
Hoyer provided a glimpse into the offseason, though a lot of what was discussed wasn't necessarily breaking news. Still, I found his comments about Chatwood to be insightful and his agnostic philosophy on the leadoff role predictable.