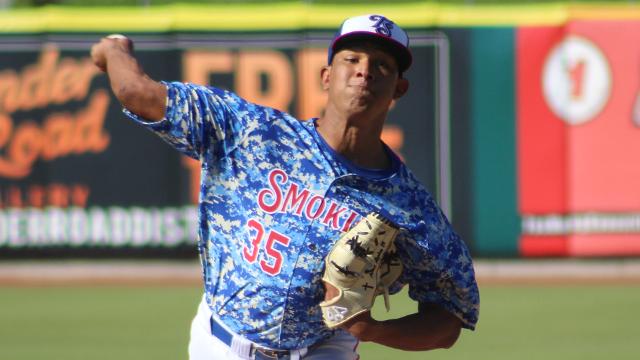 Cubs Pitching Prospect Alzolay Working on Change, 'Ready to Get the Call-Up'
The Cubs have gotten a grand total of 30 MLB innings (subscription required/recommended) from pitchers they've drafted since 2012, the first draft over which Theo Epstein presided. No, I'm not missing a number on the front or back of that. Ugh. Wanna know what's worse? Rob Zastryzny alone is responsible for 29 of those innings.
Can anyone name the pitcher who logged the remaining frame? The answer's at the bottom, but let's now turn our focus to a young man many think could play Percival to Epstein's Fisher King. That would be Adbert Alzolay (yes, I realize that he was an international signing and not a draft pick), who recently took part in MLB's Rookie Career Development Program.
The annual summit was a way for young players to learn about some of what they'll be facing at the big-league level, which could be a reality for Alzolay as soon as the coming season. He'll probably be back at Tennessee to start, but could be fast-tracked if he continues his 2017 performance.
If the call to Chicago comes in 2018, it's possible that it's to give the young righty a cup of coffee in the bullpen. His limited repertoire doesn't necessarily lend itself to a starting role at this point, though that's something Alzolay is working to change. Literally.
"Through the Arizona Fall League, I was working on my changeup, because I know if I want to be a starter in the big leagues I need to have that pitch," the 22-year-old said in an MLB Pipeline video (below). "I think that pitch will make me be a better pitcher."
Getting that offspeed offering polished up could provide the perfect foil for a mid-90's fastball that explodes unexpectedly from Alzolay's right hand. At only 6-0 and 179 pounds, he's got a lot more giddyup that you might think. He's also got a solid curveball and an aggressive approach on the mound, so being able to mix in a third pitch would really allow him to keep hitters off balance.
Epstein envisions Alzolay as a top-of-the-rotation starter, which requires more than just great stuff. Durability and consistency are keys, which is why Alzolay worked throughout the year to really drive with his legs. That enabled him to push to a career-high total of 126 total innings between two minor league levels and the AFL last season.
"Since spring training, I was focused on incorporating my legs to my delivery," Alzolay explained. "Through the whole year, I was doing that with my pitching coach in high-A, Anderson Tavares. We were working on that every single day and I think that was the key to having a successful year."
Alzolay's innings have increased each year and we should see another such bump this coming season, provided he remains in the rotation for the Smokies and/or the Iowa Cubs. That's exactly what should happen, though there may come a point at which he's needed in Chicago. Whether that's as a reliever or a starter, it sounds like he's ready.
"I think I'm ready for this season," Alzolay said. "I'm just ready to get the call-up in some point and help the team there."
Piece Johnson pitched one inning in 2017.