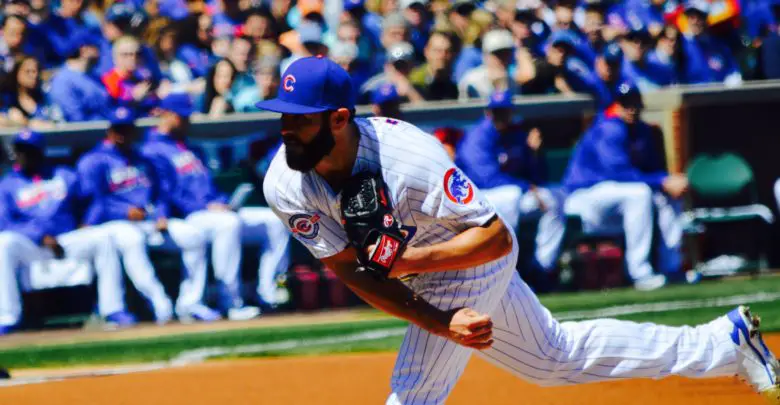 The Rundown: How NL Central Shapes Up if Arrieta Signs in STL or MIL, Yelich-to-Cubs Rumors, Pitch Clock a Possibility
Redbird Rants published an article yesterday that compared the Cubs and the Cardinals based on wins above replacement as each team heads into the 2018 season, which is similar to what Jesse Rogers posted for ESPN about a week and a half ago. Both articles used FanGraphs metrics to give an analysis of where each team stands as we sit at about the halfway point of the offseason.
With Jake Arrieta still available in free agency, and because both the Cardinals and the Brewers have reported interest in the former Cy Young Award winner, I thought I'd look at how the NL Central might play out of the right-hander signed with either of those teams, or if he returns to the Cubs.
As each roster sits right now, the Cubs project to 47.7 WAR, while the Cardinals and Brewers project to 42.8 and 25.2 WAR, respectively. Arrieta is the consensus No. 2 starting pitcher available in free agency and is said to be looking for a deal that will pay him about $160 million over six seasons. The Cubs would like to sign him for something in the neighborhood of 4/$110M and I would imagine St. Louis and Milwaukee like that price point as well. If that's the case, the first team that goes to five or six years in this Mexican standoff likely wins his services.
If Arrieta were to re-sign with the Cubs, he would round out a rotation that currently consists of Kyle Hendricks, Jose Quintana, Jon Lester, and Tyler Chatwood, with Mike Montgomery complementing that staff as a swingman and sixth starter. Adding Arrieta's projected 2.7 WAR would slot him as a No. 4 starter on paper, but Joe Maddon would likely place him second in the rotation behind Hendricks. At 50.4 total WAR, the Cubs would project to a 92-93 win season, which would be enough to win the division on paper if no other big moves are made by any of the top three teams.
If the Cardinals decide to guarantee Arrieta the type of contract he seeks, he would be among a rotation that boasts six other potential starters: Carlos Martinez, Adam Wainwright, Michael Wacha, Luke Weaver, Miles Mikolas, and Alex Reyes. Wainwright and Reyes are currently injured and the addition of another starter would presumably require St. Louis to trade from that depth, but we'll stay in our bubble here and project a rotation of Martinez, Arrieta, Wainwright, Wacha, and Weaver, with Mikolas filling the Mike Montgomery role and Reyes going to the bullpen, perhaps as the team's closer. With that staff, the Cardinals would project to 88-89 wins based on a WAR of 45.5, right on the heels of the Cubs.
Milwaukee is a wildcard of sorts. Obviously the team played well above expectations last season and their current projection may be a little light. They're young and hungry, but the Brewers' pitching staff may not really be as effective as it was last year and they don't have the depth that the other division contenders do. Still, adding a top-of-rotation starter would give the Brew Crew a decent rotation, and Arrieta would likely slot as a No. 1 starter followed by Zach Davies, Chase Anderson, Brandon Woodruff, Jhoulyis Chacin, and Yovanni Gallardo. One of Brent Suter or Jimmy Nelson would serve as long relief with a number of spot starts, and Junior Guerra would likely go to the bullpen. That projects to 27.9 wins against replacement, good for about 76 wins.
Arrieta would be a welcome addition to any of those three pitching staffs at the right price, but, based on depth, the Cubs have more need to add a starter than either Milwaukee or St. Louis. However, based on current projections, Chicago can more comfortably wait for the market to come to them. Yu Darvish and Alex Cobb remain options for any of these teams as well, and if the Cardinals or Brewers add one of the three starters, Theo Epstein and Jed Hoyer won't necessarily make a reactionary move because they really don't need to.
At the beginning of free agency, Evan went over the Cubs' offseason options and the flexibility that this team has created continues to leave them with more options than other teams is a credit to the front office. To be a 90+ win team with only four-fifths of a rotation attests to those efforts.
Cubs News & Notes
There was a lot of Twitter chatter about Christian Yelich possibly coming to the Cubs in a trade with Miami. The proposed trade scenarios are fun to read and it is amazing to see how fans value and over-value their favorite players. The best proposal that I saw included Ian Happ, Albert Almora Jr., and two pitching prospects to Miami for their young, cost-controlled centerfielder. Would Miami do that? I don't know. The Cubs have admittedly had a tough time developing pitching and unless the Marlins front office sees something I don't, they may be able to get a better offer elsewhere.
Still, Pro Sports Fandom predicted that the Cubs would sign Darvish and trade for Yelich, that Arrieta would go to the Cardinals, and that the Brewers would sign Lorenzo Cain.
Evan gamed out scenarios yesterday in which the Cubs might pair signings of Cobb and Cain, or trade for Yelich while re-signing Arrieta. What I can conclude from all of this is that the Cubs may be looking to make two big moves to conclude their offseason shopping. I suppose that also means the team is comfortable going into 2018 with Brandon Morrow as their closer.
There was also talk of an alleged trade offer at the Winter Meetings that would have sent Javier Baez to San Diego for a young pitcher or two. When I first heard the rumor I thought it was fake news, but apparently not so much. Of course, just the thought of trading Baez sent 80 percent of Cubs fans into a frenzy. We tend to love our own players, even if that love is slightly misguided I suppose.
The Cubs may be in the mix for Pirates starter Gerrit Cole.
Thursday Stove
The Dodgers, White Sox, and Royals completed a three-team deal in which Chicago netted veteran relief pitchers Joakim Soria and Luis Avilan.
The Mets and Pirates have discussed Andrew McCutchen. I expect nothing to come of this and for New York's front office to eventually explain to reporters how they "just missed" on acquiring the outfielder. Two things you can predict every winter: the Mets just missing, and the Orioles rejecting some player's physicals.
Bleacher Report proposed five *alleged* win-win trade scenarios that includes Manny Machado going to the Cardinals for Luke Weaver and Jack Flaherty. If the Orioles turned down Addison Russell, Almora Jr., and Montgomery, why would they do that deal? I know they want pitching in return, but Dan Duquette could easily flip Almora for a minor league starter similar to Flaherty and he'd still have Russell and Montgomery.
BoSox injection predicts David Price will return to Cy Young form in 2018.
It has been reported that Eric Hosmer has seven-year offers in hand from both the Padres and the Royals, however agent Scott Boras says that's not necessarily true. The super agent claimed the reports were "inaccurate" without going into further detail.
Commissioner Rob Manfred is set to meet with the players association next week to discuss possible pace-of-play changes for the 2018 season, according to Jerry Crasnick of ESPN. Manfred is known to desire that a pitch clock be deployed this season.
Daniel Bard, who lost command and control of his pitches back in 2012, announced his retirement yesterday. Bard last pitched for the Mets GCL affiliate in July and was a member of the Cubs in 2013, though he hadn't pitched in the majors in five years.
Friday Walk Up Song
Mexican Radio by Wall of Voodoo. MTV Classic. Have a great weekend everybody.