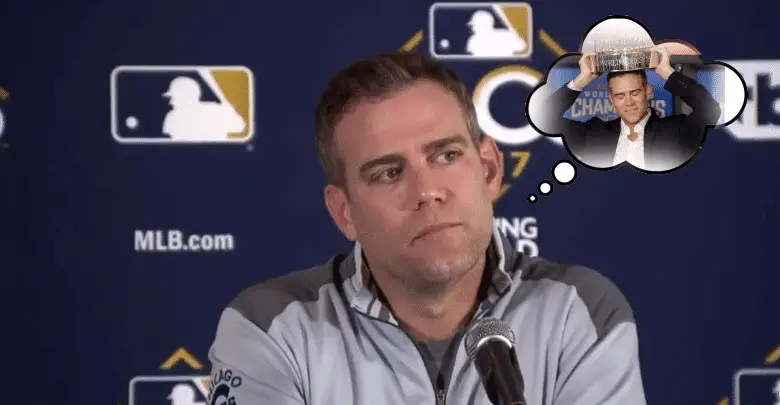 New Year's Resolutions for Cubs and Cubs Insider
Let it be known that I am not above plucking low-hanging fruit, particularly given my week-long Mariokart 8 bender and the dearth of MLB action. And since there aren't many better ways for a lazy writer to ply his trade than to put out a resolution piece, here we are.
Not that I'd imagine any of you would interrupt your New Year's festivities just to read my work, but I'd suggest pressing on with this after you've had a few adult beverages. It'll be better that way, my stuff always is.
Now that your sense of humor has been sufficiently lubricated by a barley soda or three, let's take a look at a few resolutions for the Cubs in 2018:
Win the World Series
Hey, they can't all be small or easy.
Happy Yu Year
Signing Yu Darvish as the staff ace or co-ace with Kyle Hendricks would set the rotation up for playoff contention.
Don't look back
The Cardinals figure to have gained a little ground and the Brewers could do more of the same. Rather than pay attention to that, the Cubs need to keep facing forward to maintain a stranglehold on the division.
Drop 240 pounds
The number would've been higher had Kyle Schwarber not begun his own resolution a little early, but now we look across to the other corner of the outfield and Jason Heyward's weighty contract. It'll take some doing, but the right fielder loses his full no-trade protection after the 2018 season.
Leave Heyward alone
If this sounds weird following the previous resolution, that's just because it's best to have backups. We've heard about the issues with Heyward's swing and how he's working to fix it roughly 15 million times by now. Maybe, and I know this is crazy, it's one of those deals that doesn't need fixing. Which is to say that the dude's way too far along in his career to tinker with something that's been there the whole time. I mean, his offensive production can't really get much worse at this point.
Sign Bryce Harper
Do I really need to explain this one?
Make Kris Bryant part-owner
I suspect this isn't even legal, but the Cubs need to do something to keep KB around forever.
Bring Sammy Sosa back
I'm no Sosa apologist and I'm more than a little concerned with his behavior over the last few years, which is actually why I think it's time for Tom Ricketts to dig a hole for the hatchet he's been carrying around. Time heals all wounds and Sosa's been estranged from the team long enough.
More offensive consistency
The Cubs scored plenty of runs and bashed a ton of homers, they just couldn't seem to do it consistently. They'd go out and score 15 runs one game, then would score one over the next 29 innings. Let's just see six runs every time out.
Find a leadoff hitter
Whether it's the resurrection of Ben Zobrist, increased patience from Albert Almora Jr., or Bryant being moved to the top of the order, Joe Maddon needs someone to produce from that No. 1 spot.
Please feel free to leave your own resolutions for the team in the comments. And now for some CI resolutions…
Add more writers
If there's one thing I've noticed in the midst of a great deal of growth, it's that we could use more content during slow and busy times alike. That's why I'm putting out a request for more writers. We expect a lot in terms quality writing and we can't pay much, but if you've got the willingness and ability to put stuff out there for public consumption, let me know.
Grow even more
This little site experienced tremendous growth in 2017, far more than any of us had expected. We're hoping to do that again in the year to come, so thank you in advance for that.
Publish more interviews
Interviews are fun and we want to bring you more of those from players in both the minors and majors, as well as members of the staff and so forth.
Pivot to video?
While certainly not to the extent that Fox Sports did, we'd like to bring you more live and produced video content.
More than anything, our goal for 2018 is to keep bringing you the same solid info and style that has brought you back once or twice in the past. Thanks for being a part of this beautiful mess and we hope to see more of you in the future.