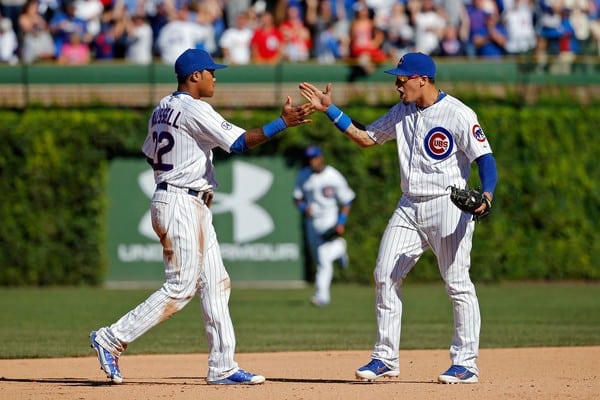 Here's Why Javy Baez Should Not Supplant Addison Russell at Short
A pitch is smacked deep in the hole between short and third and is all but certain to go for a base hit. Then Javy Baez flies into the picture to effortlessly vacuum up the baseball and flick a rocket to Anthony Rizzo to get the runner, flashing a coy smile as he does. It's the type of talent and swagger rarely seen and leads some to think, "Hmmm, maybe Javy should play shortstop full time."
Fortunately for the Cubs, Javy is not the lone defensive gymnast in the middle infield. His double-play partner, 23-year-old Addison Russell, makes similar jaw-dropping plays. Having to decide which of the generational defensive talents should man shortstop is a first-world problem for one of the first-worldiest teams in professional sports.
The topic has been up for debate in various corners of the online community, but the answer might be more apparent than you think. Many defensive numbers — such as Defensive Runs Saved (DRS), Ultimate Zone Rating (UZR), and SABR Defensive Index (SABR DI) — actually favor Russell over Baez, and it's not particularly close.
For example, Javy had a DRS of 1 when spelling Russell last season. That means the quick-twitched infielder only saved one more run than an average defensive shortstop over the course of 573.1 innings. In Baez's 1,067 total innings at shortstop over four seasons, his DRS totals 2, which is a sharp contrast to the 44 posted by Russell in almost twice as many innings. Even during a campaign in which shoulder and foot injuries plagued his season, the Cubs' everyday shortstop saved 15 runs.
Likewise, Russell's UZR/150 (UZR per 150 chances) of 13 is much better than Javy's 0.5 career line. In fact, only Francisco Lindor (14.3), Brandon Crawford (15.5), and Andrelton Simmons (19.7) have provided more defensive value since 2015.
And then there is the most recent defensive quantification method, SABR DI, which incorporates five different methodologies into one aggregate output. Russell's SABR DI of 8.3 in 2017 was rated best in the National League, well ahead of Baez's 0.6 score.
Sounds like we've got a pretty definitive answer to our question then, huh? Not quite. Defensive metrics take around three seasons to stabilize (i.e., attribute 50 percent of the score to the player and 50 percent to randomness). Russell has accumulated three seasons of play at shortstop, but Javy hasn't. So while highly unlikely, it's still possible Javy could record better defensive numbers if given equivalent playing time at the position.
Except we all know that's not realistic, and the Cubs have to choose which of the two deserves to play shortstop. Javy might be able to provide similar defensive value in time, but what's the point? Russell has already proven himself to be an elite defender by any measure and the best defensive shortstop in the NL by some methods. He passes the eye test with flying colors, too.
And while Javy Baez has as much of a knack for the spectacular as any player in the game, there is simply nothing to suggest that he would be a more valuable shortstop than Addison Russell. The numbers actually say exactly the opposite. When Theo Epstein was asked if he thought about moving Russell back to second, he shot the idea down.
"Thought? Maybe. Formal discussions? Not really," Epstein told the Chicago media last September. "I think it's pretty well established with the body of work with this team — we're a good defensive unit when Addy's at short and Javy's at second."
Understand that isn't some kind of take-down of Baez, who is an elite defender in his own right. It's just that his value resides more in being able to move around the diamond, while Russell is more of a singular talent whose defensive prowess is nearly unparalleled in the sport. The debates will surely continue, since that's how these things work, but I think we can say with more than a little certainty who the Cubs should have at short on an everyday basis.