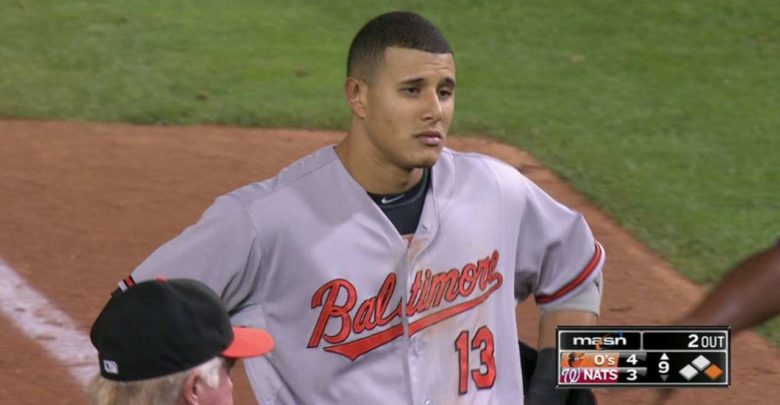 Okay, Let's Try to Clarify This Manny Machado Trade Offer Business Again
I really didn't want to cover this any further, but there's nothing else going on and I've got 30 minutes on the elliptical so let's talk about the Manny Machado trade reports that keep being resuscitated. Yes, I know it's getting tiresome. No, that's not stopping me. I know it's hard to believe coming from the 17th most popular Cubs blog, but not every Cubs fan reads every post.
As Mike Canter noted in Wednesday's Rundown, Darryn Albert of Larry Brown Sports wrote a piece titled: "Cubs' reported trade offer for Manny Machado revealed." Yeah, so that's super misleading. Not only did supposed revelator Nick Cafardo do nothing of the sort, but his report was a near carbon copy of what Roch Kubatko had put out two days prior.
I've heard that the Cubs' discussions with the Orioles included shortstop Addison Russell, center fielder Albert Almora Jr. and left-hander Mike Montgomery. The Orioles aren't going to come away from a trade with the only pitcher being Montgomery, though they'd gladly take him as a needed southpaw. Kubatko
The most substantive trade talks seem to be with the Cubs; Addison Russell, Albert Almora, and Mike Montgomery were reportedly discussed in a package. Cafardo
Please understand that I'm not casting aspersions on the tenured Boston Globe scribe, though I can't say the same about Albert or the editor who titled his piece thusly. Even that I do lightly, since Lord knows I've written my share of doozies. Given that Cafardo and Kubatko run in some of the same circles, it's likely that they simply shared a source on this one. Still, it's a little weak not to cite a report that had been out there for at least two days prior.
Then again, there is one very important difference between the two blurbs above. Did you spot it? While it could simply be a matter of syntax, Kubatko's report is presented as a look at what had been discussed while Cafardo's makes it sound like the lines of communication are still open. That would fly in the face of the Orioles' reported decision to cut off talks, though I guess nothing's ever really over.
Moving on, it's important to note that while both reports make it sound as though Russell, Almora, and Montgomery were bundled, neither says definitively that that was the case. Nor are they saying that Machado was the only Oriole being discussed. And while I have no inside sources of my own on the matter, I'll gladly step up and guarantee that there's no way in hell the Cubs had/have such a ludicrous 3-for-1 deal on the table. How can I be so sure?
For starters, I'm just being consistent after saying as much nearly a week ago when this reported proposal first came out. But the real source of my confidence is the belief that the deal would have been done had this actually been the offer. Even for as boneheaded as Peter Angelos and Dan Duquette have been in this and other potential transactions, no one would be stupid enough to turn down 14 years of control of three solid players, one of whom is potentially great, for an expensive rental who's going to walk next year.
If this package is truly what the O's asked for in exchange for Machado, they'd have heard Theo Epstein's laughter fading as he took the phone from his face to end the call. If it was Epstein making the offer, Duquette should have accepted before he even heard the last syllable of Russell's name, let alone the other two players.
It's just so insanely lopsided that the only way the Cubs would consider it is if they had created proprietary predictive technology that guaranteed with a great degree of certainty that all three of their current players would suffer career-ending injuries within the next two seasons. That, or the Cubs actually asked for Machado plus Dylan Bundy or Kevin Gausman and maybe Brad Brach or Darren O'Day.
With a desperate need for pitching already, Baltimore would likely balk at anything that cost them a starter or simply kept them even in the rotation. They had reportedly sought two starters with at least four years of control apiece in exchange for Machado, which is laughable in and of itself. That pipe dream adds a little context to the lack of traction they made in talks, but they'd still have jumped at the chance to snatch up that reported Cubs offer.
And that brings us back to the reports themselves, which lean a wee bit toward sensationalism. It's entirely possible that the writers heard nothing of other names being mentioned in addition to Machado, but it's borderline irresponsible to not at least posit the likelihood of a bigger ask by the Cubs.
Or maybe I'm just a silly blogger who's jaded by his affinity for the team he covers. No way would a real journalist be guided by some sort of agenda. Nah, we've never seen anything like that.
Nor will we see anything like the trade being discussed between the Cubs and Orioles, even if their talks were the "most substantive" of any with several teams inquiring about Machado. I have no doubt that there were talks and that names were exchanged, but nothing we've heard to this point makes sense from the Cubs' perspective.
Just don't tell that to Kevin Millar, who said on Intentional Talk that he "likes this deal all the way around" and that it makes the Cubs "really, really, really awesome." Really? Really.
Machado for Almora Jr., Montgomery and Russell.

Are you taking that deal if you're the #Orioles? #IntentionalTalk pic.twitter.com/4TUCBLT9ac

— Intentional Talk (@IntentionalTalk) December 27, 2017