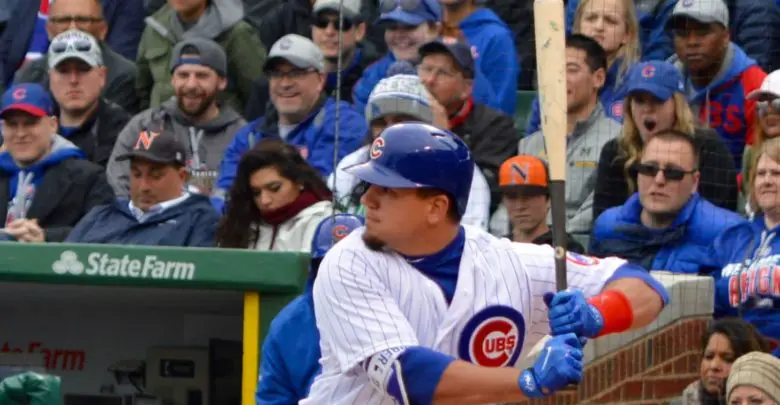 Red Sox Interested in Kyle Schwarber, Don't Bet on Anything Happening
The Red Sox finished 2017 with only 168 home runs, which is way more than one away from being nice. And now that the Yankees have added Giancarlo Stanton to a lineup that led MLB with 241 dingers, Dave Dombrowski and his Boston ballclub have got some serious catching up to do.
J.D. Martinez and Eric Hosmer are obvious candidates from the free agent pool, but the latter doesn't represent much of an upgrade when it comes to pure slugging. As such, they may need to look elsewhere to supplement their power supply. According to ESPN's Scott Lauber, the Red Sox are interested in Kyle Schwarber, whose lefty power may remind some of a recently retired great even if his new figure doesn't.
That the Sawx could be asking about Schwarber isn't necessarily a new concept; we'd even heard some scuttlebutt about a potential swap involving Andrew Benintendi, though that really never had legs and was summarily dismissed. Lauber likewise downplays this recent possibility, citing Theo Epstein's affinity for the catcher-turned-outfielder.
As Eptein shared last week, Schwarber's recent focus on fitness was a mutual decision between player and team. It's also an indication that the Cubs are very much invested in keeping Schwarber in Chicago and in left field.
"We brought it up with him," Epstein said of the body transformation. "He told us he already had made it a priority he was going to get in the best shape of his life and realizes now to be the left fielder he needs to be, and be a hitter he needs to be, is something he wanted to do.
"And take control of the controllables, and you can control what kind of shape you can get into in the offseason. A lot of this game you can't control. He's looking to dominate everything he can control, and this is one of them.''
Schwarber looks to have dropped at least 20-25 pounds and could come into spring training dangerously close to two bills, which would really be something. If he can add a little range and explosiveness in the field without losing any pop at the plate, why, that might just get people to stop all this DH business.
Nothing is ever set in stone, though, and Schwarber's name is always going to be mentioned when talk turns to the Cubs' seemingly eternal need to add pitching. But if the Cubs are indeed able to land Alex Cobb, it quells their need/want to make a splashy trade for a young arm. How did Epstein put it? They would no longer need to control a controllable. Starting pitcher, that is.
With the Winter Meetings upon us, expect to hear plenty more rumors with plenty more names, Schwarber among them.