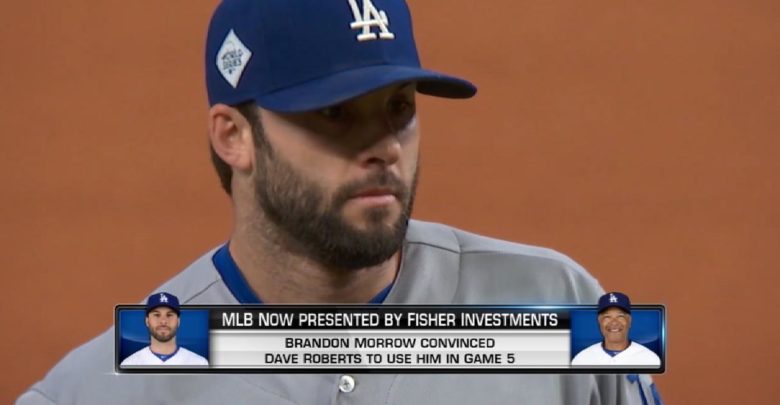 Cubs Could Do Worse Than Trusting Future to Morrow
He was a failed starter who had posted a 5.70 ERA (4.69 FIP) with a measly 1.40 strikeout-to-walk ratio and 0.91 home runs allowed per nine innings. Once he was transitioned to the bullpen on a full-time basis, however, his ERA and FIP dropped to 2.43, his K/BB ratio rocketed to 4.04, and he gave up only 0.69 HR/9. Nice.
You can see how the Cubs might like to add an arm like that to a bullpen, especially after getting an up-close look at him in the playoffs. There's just one problem: Andrew Miller is still under contract through 2018 and it'd take too much to pry him loose from Cleveland.
Maybe they'll turn instead to a pitcher who put up a 4.32 ERA (3.88 FIP) with 2.44 K/BB and 1.01 HR/9 in his time as a starter. Not eye-popping, but since being converted to a relief role on a permanent basis with San Diego in 2016, Brandon Morrow has dominated: 1.96 ERA (2.30 FIP), 4.83 K/BB, 0.30 HR/9.
Only 22 relievers who've thrown at least 50 innings since 2016 have a lower WHIP than Morrow's 1.04, only 13 have a higher K/BB ratio, only six have allowed fewer HR/9, and only one has allowed a lower home run-per-fly ball rate than Morrow's 4 percent. Pare those numbers back to just 2017 and a minimum of 40 innings and they get even better, particularly the zeroes in the home run categories.
Were it just a matter of statistics, there's no question that Morrow would be a fantastic addition. But it's impossible to talk about the dominance without also discussing the injuries that have limited him to 180 1/3 innings pitched over the last five seasons, three of which included at least partial starting duties. Any acquisition is a balancing act between risk and reward, what has been and what could be, it just gets a little more precarious with Morrow.
In addition to the small sample from which his relief numbers are drawn, there's the recency bias of his meteoric rise and the overuse in the World Series that dulled the luster on his star. That will surely temper the offers Morrow receives, but the righty is still expected to get a contract in the neighborhood of $24 million over three years. That's great if he lives up to the hype and it's not crippling if he doesn't.
The smoke signals being sent up from the hot stove aren't quite as thick with Morrow as they are with Alex Cobb, but reports have been coming out since the conclusion of the NLCS that the Cubs would pursue the reliever. Whether it's Dan Bernstein mentioning it on air or Patrick Mooney writing about it, it's become pretty clear there's some serious interest in bringing the well-traveled reliever to Chicago.
And Morrow's probably not the only high-leverage bullpen arm they'll seek out. With Wade Davis potentially leaving via free agency, the Cubs need to do what they can to stock the back end of the bullpen with guys who have experience closing games. A trade for Zach Britton is pretty much out of the question, which means going after several different pitchers in that Morrow mold.
Addison Reed, Jake McGee, and Mike Minor are other names that have been tossed around as potential targets, and I don't necessarily think it's a matter of bringing in just one of them. The GM Meetings offered a relatively staid preamble to the real offseason action, but we should see the Cubs' plans start to take shape in the coming weeks as they head into the Winter Meetings.
Even if it's not tomorrow, I'd imagine we'll see the Cubs making an offer to Morrow before long.