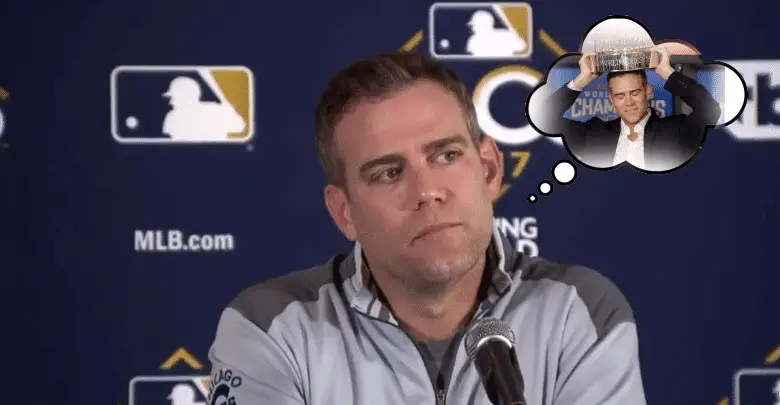 Salary Predictions for Top 80 Free Agents Give Cubs Plenty to Work With
Theo Epstein and Co. are going to have plenty of options to choose from as they look to restock for another playoff run. In speaking with Spiegel and Parkins Thursday afternoon, Jed Hoyer shared a little about the offseason strategy and said this might be the busiest winter they've had since arriving prior to the 2012 season. So who will they end up targeting?
We've seen predictions of all manner so far, including those with destinations and salaries for the top 50 free agents, just destinations for the top 25, and even Vegas odds for a selection of big free agents. Jon Heyman of FanRag sports changed things up a little bit and gives us what may be the most objective look at free agency yet, though there are no landing spots included.
Instead, Heyman and an unnamed expert run down projected salary figures for the top 80 free agents on the market. This format is much less murky and, at least in my opinion, skews much further away from sensationalism due to the lack of teams associated with each player. What we're left with is a fairly good idea of how the market will treat each of the free agents listed.
You'll definitely want to check out the full article, which includes blurbs on each of the players, but I've culled some of the names and figures below. I narrowed it down to 25 players that have been tied to the Cubs in some form or fashion, which still produces a pretty extensive list.
The notes are my thoughts on the players, the numbers are Heyman's rankings, and he is the "Me" in each of the projections below.
3. Yu Darvish, SP: Expert: $155M/6 years. Me: $144M/6 years
Hard pass. I don't want anything to do with six years of Darvish, though the salary figures are lower than what we've seen elsewhere. I actually think he gets more.
4. Jake Arrieta, SP: Expert: $140M/5 years. Me: $125M/5 years
This is right in line with what I was guessing for Arrieta, though the expert pick is a little higher. The Cubs probably aren't willing to go beyond four years, but something could perhaps be worked out if Arrieta's market doesn't materialize as we all expect it to.
6. Lorenzo Cain, CF: Expert: $68M/4 years. Me: $80M/5 years
He's been mentioned as a possibility for the Cubs, but I just don't see it unless they move Albert Almora Jr. and trade for a pitcher.
7. Wade Davis, RP: Expert: $64M/4 years. Me: $72M/4 years
Wow, Heyman's estimate is pretty salty. The expert guess is right around Mark Melancon's deal from last winter, so I can get with that. I think the Cubs can, too.
8. Alex Cobb, SP: Expert: $58M/4 years. Me: $75M/5 years
If the expert is correct, this is a very doable contract. Going $14.5M AAV on a mid-rotation starter is well in line with the market, so I'm cool with it. The longer obligation would scare me off, though, as I'm not completely sold on Cobb as being worth that fifth year.
9. Lance Lynn, SP: Expert: $75M/5 years. Me: $56M/4 years
Huh, it's pretty much a flip-flop. Again, I'd be down with the deal under Heyman's terms. A lot of Cubs fans seem opposed to this, but I think a lot of the motivation comes from Lynn being a former Cardinal. Like Cobb, he's a guy with some warts, one of which is that he could be a good low-rotation stalwart.
10. Greg Holland, RP: Expert: $60M/4 years. Me: $64M/4 years
The guy Davis replaced could turn the tables, though I imagine the Cubs would prefer to retain last year's closer at comparable cost.
15. Addison Reed, RP: Expert: $35M/4 years. Me: $27M/3 years
The former White Sox closer is only entering his age-29 season, so he's got plenty of tread on the tires. And the Cubs could very well kick those tires, though probably not for $35 milly.
17. Mike Minor, RP: Expert: $32M/4 years. Me: $24M/3 years
The parade of former KC relievers continues. As a lefty, his market might get bigger than what Cubs are interested in matching.
19. Andrew Cashner, SP: Expert: $30M/3 years. Me: $22M/2 years
I talked myself into liking this a while ago, though I'm not a big fan of a three-year commitment. Cashner is a guy who I believe could reinvent himself in the bullpen, where he could potentially regain the life he's lost on the fastball.
20. Tyler Chatwood, SP: Expert: $24M/3 years. Me: $25M/2 years
Yes, please. Ground ball guy, serious spin rates, increased velocity last season, and a bump from getting out of Coors. The expert prediction would be fantastic, as $8M AAV for a guy who could be very good is crazy value. And Heyman's prediction mitigates risk with a short term. Do it.
21 Anthony Swarzak, RP: Expert: $28M/4 years. Me: $21M/3 years
Familiar with Chicago, could be a nice bullpen arm.
22. Brandon Morrow, RP: Expert: $23M/3 years. Me: $24M/3 years
There seems to be consensus on Morrow's value, which I'm not sure is a good thing. Kinda feels like someone is going to jump this, but I'd take his potential at $7-8M per.
23. Brandon Kintzler, RP: Expert: $24M/3 years. Me: $21M/3 years
He's a former closer, so there's some value there. Probably not a target for the Cubs, all things considered, but an intriguing name nonetheless.
27. Steve Cishek, RP: Expert: $20M/3 years. Me: $21M/3 years
There are several experienced relievers in the 20's, so a lot of this is about finding the right fit. Cishek isn't a big strikeout guy, but he's posted a WHIP under 1.00 in the last two seasons combined.
28. Tony Watson, RP: Expert: $19M/3 years. Me: $21M/3 years
See the last two, more of the same.
30. Jhoulys Chacin, SP: Expert: $17M/2 years. Me: $20M/2 years
As our Brendan Miller wrote recently, Chacin could be the steal of the offseason. He's got a wicked slider, but needs to develop better pitch sequencing to improve the effectiveness of his fastball.
32. Bryan Shaw, RP: Expert: $12M/2 years. Me: $24M/3 years
Incredibly durable, Shaw's impeccable health record carries value. Then again, he's made a boatload of appearances over the past few seasons.
37. Jon Jay, OF: Expert: $9M/1 year. Me: $20M/2 years
The Cubs aren't touching this, but I included him because I can.
38. Pat Neshek, RP: Expert: $13M/2 years. Me: $16M/2 years
He just turned 37, but Neshek doesn't appear to have lost much. Put up 10 K/9, only 0.9 BB/9, both enviable qualities in a reliever.
40. Jake McGee, RP: Expert: $15M/2 years. Me: $12M/2 years
Predicted to go to the Cubs in, I believe, the MLB Trade Rumors piece, McGee could experience greater success after getting out of Colorado.
47. Joe Smith, RP: Expert: $9M/2 years. Me: $10M/1 year
There's a pretty wide gulf in the values here and I don't think the Cubs will bring him back, but Smith's got a funky delivery and has been an low-key monster over the last two seasons.
48. Jeremy Hellickson, SP: Expert: $8M/1 year. Me: $10M/1 year
Another buy-low starting option, Hellickson wasn't viewed very well in Philly because they way overpaid for him. That won't be the case if he signs for what's listed above, but he could turn a bounceback age-31 season into one last good contract.
50. John Lackey, SP: Expert: $8M/1 year. Me: $9M/1 year
Many will point to Lackey's strong second half as a reason to give him another shot, but he was noticeably diminished last season and the home run totals don't lie. Father Time is undefeated and can't easily be bludgeoned and dragged behind the Santo Dumpster.
54. Tommy Hunter, RP: Expert: $11M/2 years. Me: $6M/1 year
Hunter's got a blazing fastball and has performed well since his time with the Cubs in 2015. I'm not sure that's something the Cubs are willing to pay $5.5 million AAV for, but it's not bad.
As you're looking through these, keep in mind that the Cubs probably have somewhere in the neighborhood of $40-50 million to spend this winter. And that's leaving plenty of powder dry to add during the season if need be. As a fun little exercise, try to put together the best possible group to serve the Cubs' needs from the names above. It's basically like daily fantasy sports, except you won't win anything.
The Cubs could win, though, and that's exactly what they plan to do with some of these new players next season.