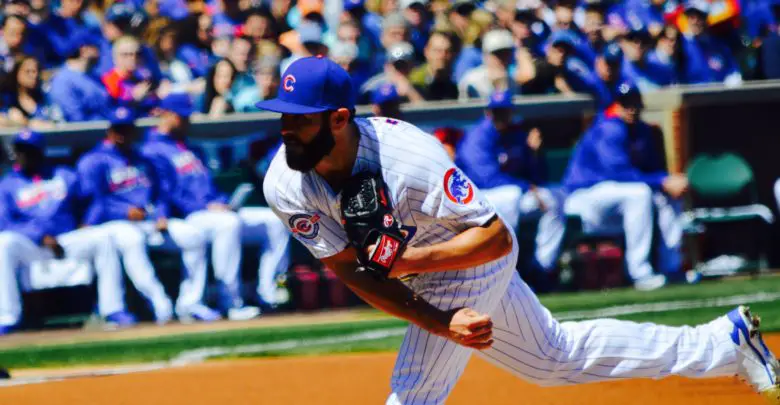 What Asking Price for J.D. Martinez May Tell Us About Jake Arrieta's Future
Let me come right out and admit that I'm reaching a little bit with this one. That said, I do think the reported $200 million asking price for J.D. Martinez may tell us a little bit about how Jake Arrieta is approaching free agency and what that it could mean for him. And the Cubs, for that matter.
That Martinez is seeking a huge contract comes as a surprise to exactly no one. Not only is he coming off of his best season by nearly every statistical measure, but the market isn't exactly flush with big-time hitters. Oh, then there's the matter of his representation. Scott Boras isn't known for being a pushover, and starting the bidding with as high a price as possible is a solid tactic.
Even if Martinez doesn't actually get $200 million, there's no harm in asking for it. This will only be his age-30 season and hitters don't really age the same way pitchers do, so it's possible that a team out there is willing to pony up. If they aren't, there's a lot of wiggle room to end up with a pretty cushy deal.
So how does Arrieta factor into this whole thing? We've known for quite a while now that the former Cy Young winner was motivated by the contracts being handed out to other ace-level pitchers, which means a deal of six-ish years that would exceed $150-ish million.
"You want to be paid in respect to how your peers are paid," Arrieta said in the wake of Stephen Strasburg inking a seven-year, $175 million extension in May of 2016. "I don't think that changes with any guy you ask. It happens around baseball every year."
I'm sure you'll be shocked to learn that Strasburg just so happens to be represented by the same man who set that outlandish figure for Martinez. And wouldn't you know it, Boras is also Arrieta's agent. That doesn't mean the salary targets will match up, but the tactics should be the same. That may give us some insight into what Arrieta will be seeking.
The first thing to note is that Strasburg was still two months shy of his 28th birthday when he inked that extension. At the same time, he was a Tommy John recipient who'd missed a good chunk of the previous season with various injuries. Boras isn't usually one to negotiate deals for his clients ahead of free agency, but this one made too much sense at the time.
Arrieta somewhat infamously stated that "aces get seven years" when asked about his own future deal, but that was 18 months ago. While his overall situation is vastly different from Strasburg's, there are some mitigating factors that close the gap between the two pitchers' valuations.
Much has been made of Arrieta's superior fitness, and that he doesn't have as many MLB innings on his right arm as you'd expect from a guy entering his age-32 season. In fact, his 1,161 IP total is only 61 1/3 more than Strasburg has thrown to this point. But he's still nearly four years older than Strasburg was when that aforementioned deal was signed.
I suppose we could also look at Jon Lester, who joined the Cubs for six years and $155 million shortly before his 31st birthday. Even though he's not repped by Boras, the whole concept behind Lester coming to Chicago provides a solid corollary for Arrieta's future. Which is to say that a team might be willing to overpay for a proven veteran with a strong postseason track record and a solid work ethic.
MLB Trade Rumors predicted that Arrieta would get $100 million over four years, but those figures seem awfully low in light of everything we've just discussed. My guess is that Boras will start the bidding for his bearded boss at no less than five years and $125 million, with some sort of vesting for a sixth year. The AAV is right there with Strasburg and Lester, but the overall guarantees are less.
I could actually see Boras telling teams they're looking for a guaranteed 6/$150M, citing Arrieta's relatively low mileage and strong performance in high-pressure games. And that's where the Cubs could — and I'm stressing that this is a big maybe — get back into the negotiations.
As we saw with Dexter Fowler prior to 2016, there's a possibility that the market doesn't quite materialize to Arrieta's liking. Though it probably wouldn't be a one-year bridge deal like the center fielder agreed to, perhaps Arrieta would come down closer to that MLBTR estimate if he's not finding takers for more than four years. As unlikely as I believe that to be, it's probably the lone scenario that brings Arrieta back to the Cubs.
Either way, I see Arrieta being one of the later signings of the winter. There's really no need for teams to wait on how the top end of the market will be set, since there's such a clear difference between that upper tier of Arrieta and Yu Darvish and then everyone else. That gives Boras a little more time to work the angles without as much need to rush or fear that the money will dry up. He can't wait too long, though, or the hard-to-get strategy could backfire.
So while it's not a very realistic scenario on the whole, the chances that Arrieta comes back to Chicago do increase a little bit the later we get into free agency.