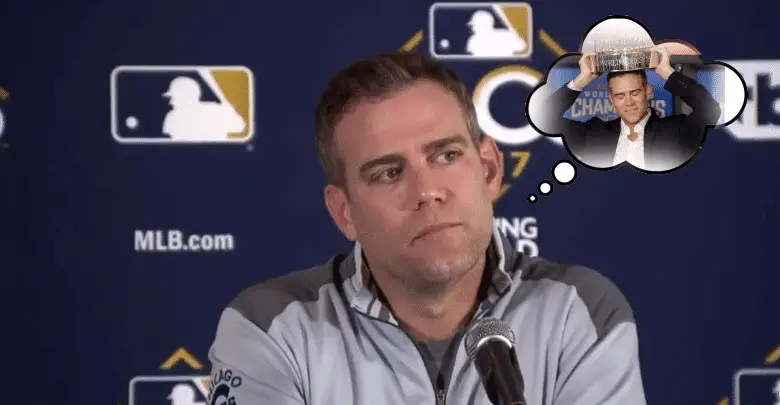 Gird Your Loins for Cubs' Most Challenging Offseason Yet
"We knew the 2017-18 offseason would be one of our most challenging," Theo Epstein told us hours after the Cubs lost in the NLCS.
The upcoming months will be challenging for a variety of reasons. Jake Arrieta and John Lackey's potential departure leaves the Cubs with two gaping starting pitching holes. Then you've got first-year arbitration salaries for Kyle Hendricks, Addison Russell, and Kris Bryant, signaling that realistic talks for extensions are fast approaching. And Joe Maddon's already volatile bullpen could be devoid of a lock-down closer with Wade Davis entering free agency. Even my OOTP teams don't have this much going on during an offseason.
But the Cubs are still in a healthy enough financial position to overcome their hurdles. Evan Altman noted that Theo and Co. are likely locked in for around $135 million after arbitration, leaving them with around $50 million to spend in the offseason. We can't look at that allowance in short-sighted fashion, though. If the former champs sign a free agent to an expensive, multi-year deal, the contract would run into seasons in which arbitration salaries of the young core escalate, leaving the Northsiders with little flexibility for forthcoming offseasons.
Instead of signing high-profile players like Yu Darvish and Jake Arrieta, the Cubs' best bet might be to sign a basket of mid-tier starting pitchers to short contracts in order to supplement the starting rotation while conserving adaptability. I'm looking at you, Andrew Cashner, Tyler Chatwood, Jhoulys Chacín, and Alex Cobb.
MLB Trade Rumors has a comprehensive listing of every free agent this winter, of which there are several dozen starting pitchers. Take a few moments, if you will, and see about finding a few needles in this haystack:
Brett Anderson (30)
Jake Arrieta (32)
Christian Bergman (30)
Mike Bolsinger (30)
Clay Buchholz (33)
Madison Bumgarner (28) — $12MM club option with a $1.5M buyout
Trevor Cahill (30)
Andrew Cashner (31)
Jhoulys Chacin (30)
Tyler Chatwood (28)
Jesse Chavez (34)
Wei-Yin Chen (32) — Can opt out of the remaining three years, $52MM on his contract
Alex Cobb (30)
Josh Collmenter (32)
Bartolo Colon (45)
Johnny Cueto (32) — Can opt out of the remaining four years, $84MM on his contract
Yu Darvish (31)
R.A. Dickey (43)
Nathan Eovaldi (28) — $2MM club option
Scott Feldman (35)
Doug Fister (34)
Yovani Gallardo (32) — $13MM club option with a $2MM buyout
Jaime Garcia (31)
Matt Garza (34)
Dillon Gee (32)
Miguel Gonzalez (34)
Jeremy Hellickson (31)
Derek Holland (31)
David Holmberg (26)
Drew Hutchison (27)
Ubaldo Jimenez (34)
John Lackey (39)
Francisco Liriano (34)
Jeff Locke (30)
Jordan Lyles (27)
Lance Lynn (31)
Miles Mikolas (29)
Wade Miley (31) — $12MM club option with a $500K buyout
Mike Minor (30) — $10MM mutual option with a $1.25MM buyout
Ricky Nolasco (35) — $13MM club option with a $1MM buyout
Wily Peralta (29)
Martin Perez (27) — $6MM club option with a $2.45MM buyout
Michael Pineda (29)
Tyson Ross (31)
CC Sabathia (37)
Anibal Sanchez (34)
Hector Santiago (30)
Chris Sale (29) — $12.5MM club option with a $1MM buyout
Masahiro Tanaka (29) — Can opt out of the remaining three years, $67MM on his contract
Chris Tillman (30)
Josh Tomlin (33) — $3MM club option with a $750K buyout
Jacob Turner (27)
Jason Vargas (35)
Hideaki Wakui (32)
Asher Wojciechowski (29)
Chris Young (39)
Then you've got the bullpen, which you'd think was the worst one ever assembled by the reaction on social media. Although it's not flashy, the Cubs might be more comfortable with a relief unit fleshed out by signing guys like Luke Gregorson, Addison Reed, Anthony Swarzak, or others from the free-agent pool.
As with the starters, there's a veritable treasure trove of possibilities out on the market. The question, then, is where can you find the proper intersection of value and consistency. Many reports have the Cubs planning to pursue the Dodgers' Brandon Morrow, who had a breakout year and was lights-out in the early playoff rounds before Dave Roberts began throwing him every game.
Several names from the lists of right- and left-handed relievers below jump out, either because they're former Cubs or because they've achieved some degree of notoriety to this point. Given the volatile performance of relief pitchers, combing through these groups is by no means a simple task.
Right-Handed Relievers
Matt Albers (35)
John Axford (35)
Tony Barnette (34) — $4MM club option with a $250K buyout
Matt Belisle (38)
Joaquin Benoit (40)
Christian Bergman (30)
Mike Bolsinger (30)
Blaine Boyer (36)
Trevor Cahill (30)
Jesse Chavez (34)
Josh Collmenter (32)
Tyler Clippard (33)
Steve Cishek (32)
Wade Davis (32)
Neftali Feliz (30)
Dillon Gee (32)
Jeanmar Gomez (30)
Luke Gregerson (34)
Jason Grilli (41)
David Hernandez (33)
Yoshihisa Hirano (34)
Greg Holland (32)
Tommy Hunter (31)
Craig Kimbrel (30) — $13MM club option with a $1MM buyout
Brandon Kintzler (33)
Seth Maness (29)
Chris Martin (32)
Dustin McGowan (36)
Brandon Morrow (33)
Jason Motte (36)
Peter Moylan (39)
Pat Neshek (37)
Juan Nicasio (31)
Bud Norris (33)
Seung-hwan Oh (35)
Kevin Quackenbush (29)
Chad Qualls (39)
Addison Reed (29)
Fernando Rodney (41)
Francisco Rodriguez (36)
Sergio Romo (35)
Fernando Salas (33)
Rob Scahill (31)
Bryan Shaw (30)
Chris Smith (37)
Joe Smith (34)
Craig Stammen (34)
Drew Storen (30)
Huston Street (34) — $10MM club option with a $1MM buyout
Anthony Swarzak (32)
Carlos Torres (35)
Koji Uehara (43)
Tom Wilhelmsen (34)
Asher Wojciechowski (29)
Chris Young (39)
Left-Handed Relievers
Fernando Abad (32)
Jerry Blevins (34) — $7MM club option with a $1MM buyout
Craig Breslow (37)
Jorge De La Rosa (37)
Brian Duensing (35)
Zach Duke (35)
Josh Edgin (31)
David Holmberg (26)
Ian Krol (27)
Francisco Liriano (34)
Boone Logan (33) — $7MM club option with a $1MM buyout
Jake McGee (31)
Mike Minor (30) — $10MM mutual option with a $1.5MM buyout
Eric O'Flaherty (33)
Oliver Perez (36)
Glen Perkins (35)
Kevin Siegrist (28)
Tony Watson (32)
Free agency trials aside, the principal reason the 2017-2018 offseason might be the most challenging is that the front office now has a reliable sample from their young core players, forcing some tough decisions. We know more about Addison Russell's limitations, Javy Baez's weaknesses, Kyle Schwarber's struggles, Albert Almora's holes, and Ian Happ's deficiencies.
"It stinks to give up a good player," Epstein said when discussing trades. "But if you think that way, you'll never make any trades. You have to focus on what you're getting back."
And so, Team Theo will have to weigh their young hitters' ceilings against what could be had via trade. Nothing has been definitively announced, but perhaps some of the following pitchers could be dangled on the trade market:
Chris Archer (29)
Jeff Samardzija (32)
Jake Odorizzi (27)
Marcus Stroman (26)
Kevin Gausman (26)
Michael Fulmer (24)
Julio Tehran (26)
Dyland Bundy(25)
Jose Urena (26)
JA Happ (35)
Seth Lugo (28)
Daniel Norris (24)
Discussions have probably already started, but will really gain steam when the first major gathering opens in less than two weeks. The GM Meetings take place in Orlando in mid-November, with the Winter Meetings to follow a month later, also in Orlando.
| | |
| --- | --- |
| November 13-16 | GM Meetings |
| December 10-14 | Winter Meetings |
| Mid-January | Arbitration submission deadlines |
| Mid-late February | Arbitration hearings |
Given all the names above they'll need to sift through and the relatively short allotment of time they have to do it, the front office really has its work cut out for it. Wheeling and dealing to fill a 25-man roster for a team expected to lose 100 games is one thing, but trying to improve a unit aimed at winning 100 games is quite a different task.
Get ready.
*Note: You can track all of the offseason's moves in real-time with the Transaction Tracker by MLB Trade Rumors, which compiled the above free agent list.