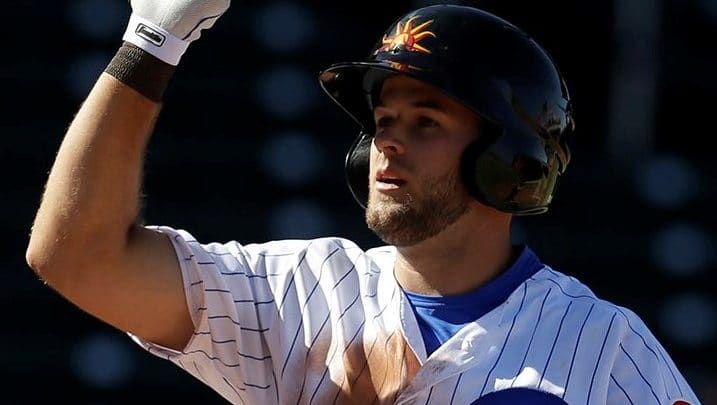 Prospect Profile: David Bote Tearing Up Arizona Fall League After Slow Start to Career
There is no hotter player in the Cubs' system right now than David Bote. He earned Arizona Fall League Player of the Week back on October 17 after hitting .500 with three home runs and eight RBI for the Mesa Solar Sox. He is currently batting .483/.559/.931 overall and it's almost as if he is toying with the competition in such a prestigious league.
Contrary to those results, Bote's journey has not been an easy one. When the 2016 season opened, he looked to be just another organizational journeyman who had no home. But in the last two seasons, the versatile infielder/outfielder has become a legitimate prospect with a legitimate shot to become a Chicago Cub.
Basic info
5-11, 185
Bats/throws – R/R
Age – 24 (turns 25 on April 7)
Bote was drafted by the Cubs in the 18th round in 2012 out of Neosho Community College in Kansas. He made his debut that summer in the Arizona Rookie League, where he hit a nondescript .232 over 125 at-bats. He spent most of the 2013 season at short season Boise, where he hit .250, but he put in a couple of short stints filling in at Kane County and Daytona.
The 2014 season saw Bote all over the system, hitting .260 in 37 games with Boise before struggling to a .210 mark over 58 games with Kane County. He even got a cup of decaf with the Iowa Cubs, hitting a home run in one of his 10 at-bats in four games.
I first saw Bote during that stint with the Cougars when they swung through Clinton, Iowa back in 2014. Though he had played primarily second base (that has remained his primary position) he showed a decent glove at shortstop this particular day. The bat was lacking at the time, though, and I hadn't really taken much notice of him on the whole.
That all changed in 2015.
Bote was not good in the first half for the South Bend Cubs and he struggled to put the ball in play. However, you could see that he was getting stronger over time and there was a sense that a leap forward was inevitable. In the second half, he put together his best stretch as a Cub, hitting .270 with four home runs. His maturation, both physical and mental, was obvious.
The Cubs apparently did not see things the same way, as Bote was shuffled around between high-A Myrtle Beach, AA Tennessee, and AAA Iowa during the first part of the year. But when Ian Happ was promoted to Tennessee, it created a spot for an everyday position for Bote at Myrtle Beach.
Bote hit over .360 in July and over .300 in August of that 2016 season and was clearly the most valuable player for the Pelicans as they won their second consecutive Mills Cup championship series.
The confidence he gained from 2016 carried over into 2017, as he made three monthly minor league all-star teams at Cubs Central. He hit .270 for the season, but his monthly splits were more intriguing as he adjusted several times to the league adjusting to him. He hit .293 in April, then .250 in May. June saw him back up to .294 and July had him slipping to .255, but then he was back to .273 in August. Bote also cranked out a career-high 14 home runs in that time. It was an impressive hitting display.
Going forward
Right now, Bote is in a serious groove and I'm excited to see where that takes him next season. He should play a mix of positions at AAA Iowa, and the display he's putting on in Mesa indicates that he may have a little more power than initially though. Even though his bio has him at 185 pounds, he appears a little bit thicker than that now. Maturing from 19 to 24 years old has a tendency to do that.
I am of the mind that if you can make it at AA, you can make it anywhere. That is the toughest league with the best raw talent, at least in terms of how players adjust to the different levels of the minors. What I really like about Bote is how he's been able to adjust to overcome struggles, a key element in being a good professional baseball player.
I don't know if he will get a shot with the Cubs in the next two years, but he has at least earned an opportunity to play with the big league club in spring training. When you sit back and take a look at his journey, it is pretty inspiring that he's never given up on his dream or himself.