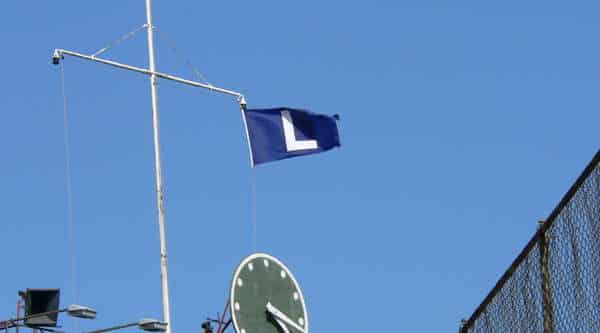 CI Recap (NLCS Game 5) – Cubs 1, Dodgers 11: Cubs Fall Behind Early, Eliminated by Dodgers
Coming off a 3-2 win that extended the series, the Cubs were facing another win-or-go-home scenario with Dodgers ace Clayton Kershaw on the mound. LA jumped out to an early lead, scoring seven runs through the first three innings, and the Cubs couldn't get up off the mat.
The Dodgers tacked on some late runs to add to their lead, ultimately winning 11-1 to advance to the World Series and end the Cubs' season (box score).
Why the Cubs Lost
Jose Quintana got roughed up early in this one, giving up six earned runs in only two innings of work, which essentially ended the game. The Cubs never got anything going to fight their way back.
Key Moments
Starting off the top of the 3rd inning, Quintana gave up a ground-rule double to Chris Taylor and back-to-back-to-back singles to Justin Turner, Cody Bellinger, and Yasiel Puig. After striking out Logan Forsythe, Quintana was replaced by Hector Rondon, who surrendered a grand slam to Kike Hernandez to put the Cubs down 7-0.
The lone glimmer of hope for the Cubs offense came in the bottom of the 4th inning on a Kris Bryant solo shot to left field to put them on the board and shrink the gap to 9-1.
Stats That Matter
Jose Quintana got hit hard early – 2 IP, 6 ER, 1 BB, 1 K, 1 HR allowed

The Cubs' underwhelming performance at the plate doomed them all series – 8 runs scored (1.6 runs/game), which is less than the Dodgers scored in Game 5 alone.

Kike Hernandez had a historic game, setting an LCS record and tying the postseason record for RBI in a game – 3-for-4, 3 HR, 7 RBI, 1 BB

161 – The number of days left until Opening Day of the 2018 Regular Season, which we can only hope comes quickly
Bottom Line
The Cubs were hoping for a strong outing from Quintana to give them an opportunity to claw back into this series, but the Dodgers jumped all over him early and put this one out of reach. Scoring one run is not going to win you very many games, especially against the potent Dodgers lineup. The Cubs were outplayed in every facet of the game in this series. The bullpen struggled, the offense couldn't score runs, and they just looked worn down. That's not a recipe for success in the playoffs.  
The 2017 season brought a second consecutive NL Central crown and a third consecutive NLCS appearance, but unfortunately ended shy of another World Series appearance.
On Deck
The Cubs begin next season on the road against the Miami Marlins on March 29, 2018.