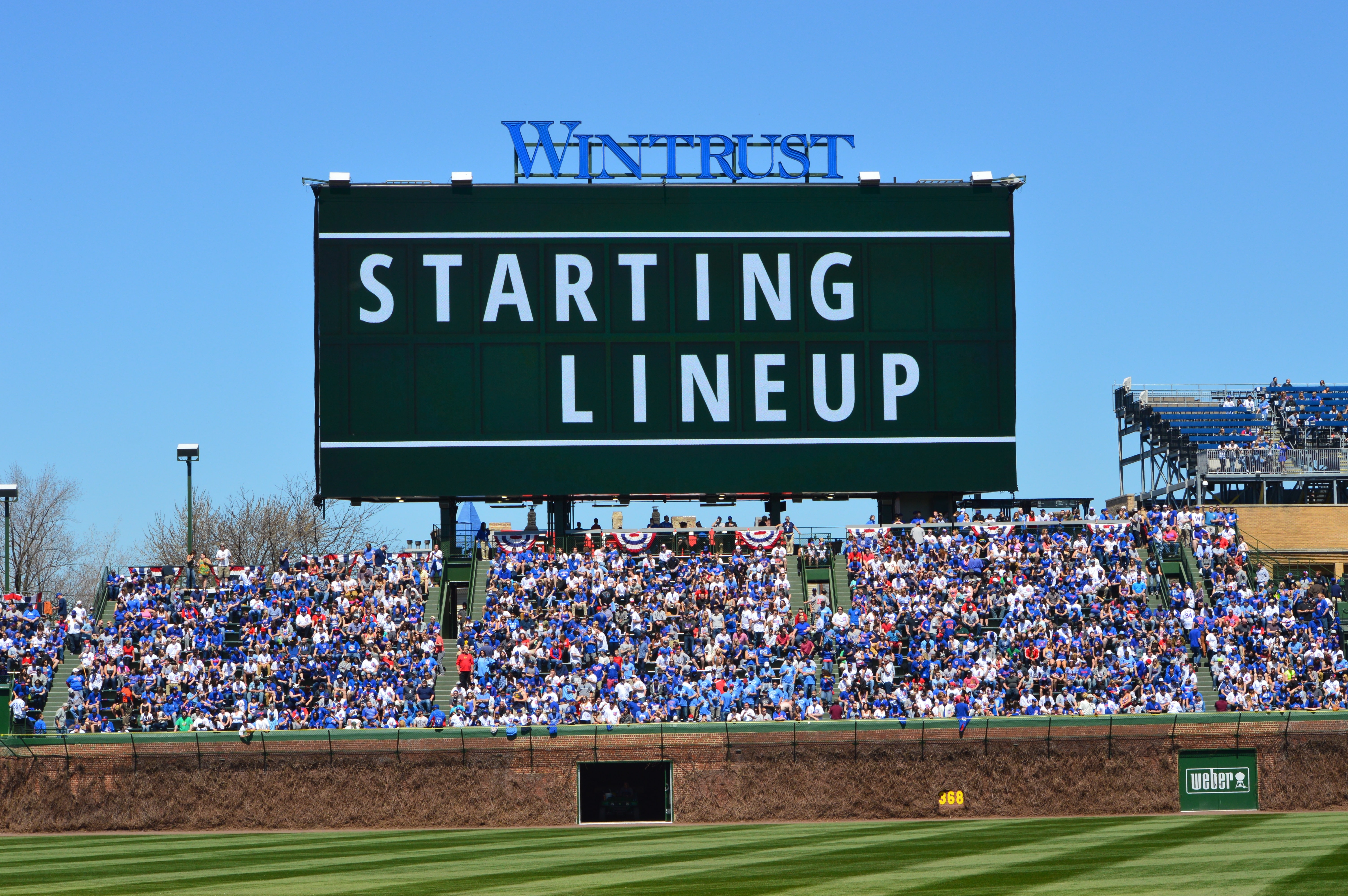 Chicago Cubs Lineup: Zobrist and Schwarber Lead Order, Javy Sits as Cubs Look to Trouble Yu for W
After scoring only three runs and answering all kinds of questions about their performance and strategy in LA, the Cubs are back for the first of what we hope will be three games in Chicago. Joe Maddon has made some changes to spur a struggling offense, starting with Ben Zobrist leading off.
Zobrist is also playing second base, which means no Javy Baez against what was sure to be a tough matchup for him. Then you've got Kyle Schwarber batting second, a significant departure from what we've seen from the Cubs in quite some time. He'll be looking to run into one against a guy who's given up a fair number of bombs to lefties.
Kris Bryant, Anthony Rizzo, and Willson Contreras remain together in the order, just a spot down. Jon Jay will be batting sixth and playing center, followed by Addison Russell and Jason Heyward. I'm a little surprised we're not getting Zobrist in right with Tommy La Stella leading off and playing second, but maybe Maddon didn't want to dry hump La Stella.
Kyle Hendricks was pretty shaky in his last start in Game 5 of the NLDS, but he was far from the only pitcher to give up runs in that game. He was able to settle down after giving up four early runs, though, and he's proven himself in tough situations in the past. While you have to expect the Cubs to start scoring at some point, it'd sure be nice fro Hendricks to get some early worm-burners.
Yu Darvish will be on the mound for the Dodgers to make his second start of the postseason. He shut the D-backs down in Game 3 of the other division series, but that was eight days ago at this point. The big righty has made 24 previous starts (153.1 IP) on six or more days' rest and has a 2.99 ERA with 192 strikeouts and 60 walks in that sample. In other words, slightly better than his career averages in all regards.
Of course, coming off the DL or other longer periods of rest and pitching on the road in the playoffs are slightly different animals. One mark in Darvish's favor in that regard is that he's been much better on the road this season, with a 2.44 ERA and 3.13 FIP (5.24 ERA and 4.51 FIP at home). We can take those numbers with a grain of salt because he's played for two teams, but his performance has been better with the Dodgers both home and away.
Darvish presents a huge contrast to Rich Hill, the two-pitch starter the Cubs saw Sunday in LA. The lanky Japanese import throws harder, is a righty, and has eight different pitches in his bag. Some of those are subtle variations, but Darvish works mainly with a four-seam, sinker, cutter, and slider, mixing in two variations of the curve and also a change and splitter.
The slider has been the best of those pitches and it's the one he throws more often than anything but the four-seam. He's equally comfortable throwing it against both lefties and righties, though he does have a tendency to leave it up in the zone a little more against the former. Unlike Clayton Kershaw, who pounds that power slider in there around 89 mph, Darvish takes something off and brings it in around 83 mph on average. That's quite a change from his mid-90's fastball.
What has made Darvish so effective over the course of his career is the consistency of his release point regardless of which pitch he's throwing. The GIF below is a few years old now, but it gives you an idea of just how difficult it can be for a hitter to recognize what's coming.
Because of the difficulty in picking up his pitches, Darvish has been really tough on right-handed hitters, holding them to a .600 OPS and .260 wOBA this season. Lefties, however, boast a .778 OPS and .333 wOBA, not to mention 16 of the 27 home runs he's allowed. That could be something that plays in the Cubs' favor as the five left-handed starters look to jump-start the offense.
Their only runs in the first two games have come via the longball and Darvish is among the top 20 qualified MLB starters in terms of home runs allowed, home runs per fly ball, and hard contact. And that's saying he gives up a lot. Not John Lackey, but in the same galaxy.
Though he is 45th among qualified starters when it comes to throwing first-pitch strikes (48.9%), he's 19th in terms of working in the zone (47.4%). And he's 13th in swinging-strike percentage (12.3%), which means he's going to try to get hitters to expand early before coming back with some of that filth in the zone.
Darvish has shown a tendency to go ugly early and he can fade quickly after turning the lineup over, so the Cubs need to be selectively aggressive in this one. But with a combined 41 at-bats against the relatively new Dodger, they may be in feel-out mode for a little while as they get a look at what they're facing.
It's going to take more than one or two runs to get the job done at Wrigley and Bryzzo is going to need to come through after being nonexistent for the last five games. First pitch from Wrigley is set for 8pm CT and can be seen on TBS.
Here is tonight's #Cubs starting lineup.

NLCS Game 3 preview: https://t.co/YgYHeHMzKd #FlyTheW pic.twitter.com/HH7JZ9jsCJ

— Chicago Cubs (@Cubs) October 17, 2017