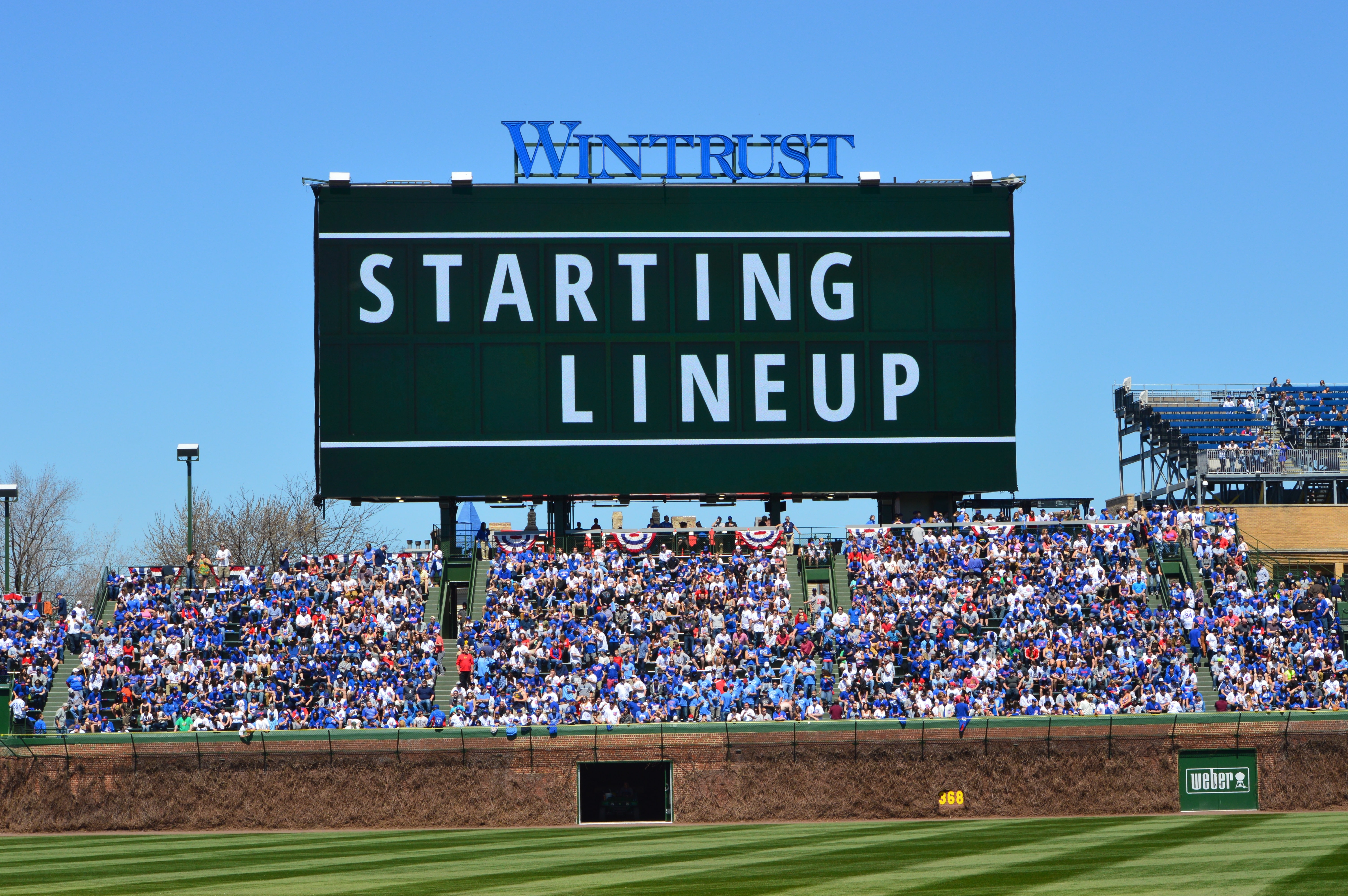 Chicago Cubs Lineup: Jay Leads Off, Zobrist in Right, Baez at Second, Backing Arrieta with Chance to Clinch
With a win Tuesday (weather permitting), the Cubs will move on to their third NLCS in as many years. I don't want to put the cart before the horse, but the fact that that's even a possibility is staggering.
Jon Jay will be leading off, followed by the to-be-expected trio of Kris Bryant, Anthony Rizzo and Willson Contreras. Following Willco is Ben Zobrist playing right field, and Kyle Schwarber in left — and yes, Joe knows what he's doing. Tanner Roark's line against lefties is a stout .283/.362/.474.
Addison Russell, and Javy Baez, playing second base, round out the lineup for today.
Jake Arrieta returns to the mound to face live hitting for the first time in two weeks, and with a fair bit on the line. We saw how well Max Scherzer performed in his first start back from a hammy issue, though the two situations aren't identical. Here's to hoping the rest does Arrieta well and that the charged atmosphere (though I hope not actually charged with lightning) drives a vintage performance.
Standing between the Cubs and the NLCS will be Roark, who doesn't inspire nearly as much worry as the three Nationals starters the Cubs have faced so far. Roark has posted slightly better overall numbers since his August 4 start against the Cubs, but he's also allowed 10 home runs and has walked 20 in that 10-start stretch.
His four-seam and sinker sit around 92-93 and comprise a little over half of his pitches, with a curve, slider, and change splitting the remaining offerings pretty evenly. The offspeed and breaking stuff generates the best results, though Roark doesn't really have what you would call a wipeout pitch.
When it's on, the hook has a lot of bite to it and runs glove-side as well, something of a 1-7 or 2-8 movement (in terms of a clock, where 12-6 would be straight up-and-down). Roark works it front door on righties, letting it drop down and away, and knocks at the back when lefties are in the box.
But by Roark's own assessment, the curve is only his second-best offering. The sinker might be his go-to, but the changeup has looked better since he modified his grip earlier this season. That offspeed offering generates a nearly 20 percent swinging-strike rate despite only finding the zone only about 36 percent of the time.
The Cubs have been making the most of very limited opportunities thus far, so here's to hoping they get the game in and ride the wave of momentum to attack Roark early and often.
First pitch is scheduled for 4:38pm CT, so here's to hoping that holds out.
Here is today's #Cubs starting lineup.

NLDS Game 4 preview: https://t.co/TTI24GynJN pic.twitter.com/jm6PGsTYvT

— Chicago Cubs (@Cubs) October 10, 2017