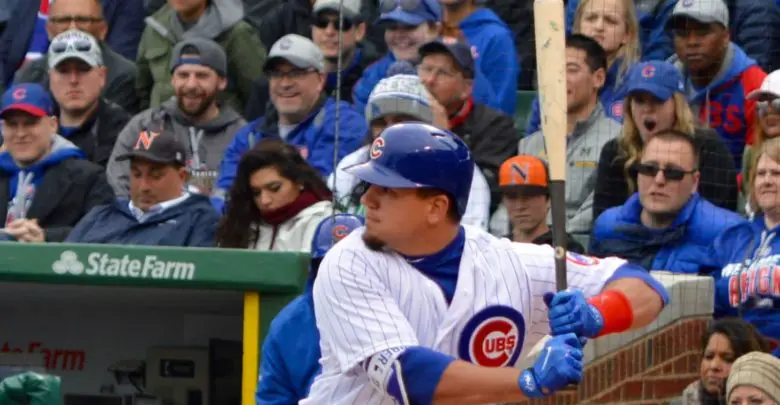 Ryan Says: Davies and Brewers bullpen, Which Cubs Player Is Worst Long-Term Fit
The Cubs dodged a major bullet on Wednesday night. Having already lost 8-1 to the Tampa Bay Rays, they were in danger of seeing their lead in the division slip to 2.5 games over the Brewers heading into the all-important four-game set beginning Thursday night. But with a 4-3 lead in the 8th inning, closer Corey Knebel threw the ball into right field on a David Freese infield single, allowing the tying run to score from second base. Then in the 9th, Knebel gave up a two-out, two-run walk-off homer to Adam Frazier.
Whew.
• Know thy enemy. Zach Davies will start for the Brewers on Thursday evening, and he comes into the contest with a nice stretch of success in the second half. Over his last 16 starts, Davies has a 2.74 ERA in 102 innings pitched. That includes three starts against the Cubs in which he has totaled 20 innings with just six earned runs and one walk allowed. He also leads the National League with 17 wins, if you're into that.
All joking aside, there is at least one thing his win total tells us: the Brewers often come out victorious when Davies takes the mound. They are 19-12 in his games and just 62-59 in games started by anyone without a useless 'e' dropped into their last name.
Something to watch in this series is that Brewers manager Craig Counsell used his late-inning relief duo, Knebel and Anthony Swarzak, in three consecutive games against the Pirates. Left-hander Josh Hader worked two of the three games, throwing 2 2/3 innings. If Milwaukee has a late lead on the Cubs Thursday night, it'll be interesting to see who they put on the mound to close things out. Davies doesn't walk many batters, but the Cubs would do well to find a way to build up his pitch count and knock him out early.
• I wrote in this space two weeks ago that Addison Russell had fallen hard. At least one reader didn't like that, even though everything I wrote about the situation was the truth. The truth as we stand today is that I can't believe how well Russell hit coming off the disabled list without a rehab stint. Throwing out everything else about the situation, any baseball player seeing live pitching for the first time in weeks and hitting the longest home run of his career in the first at-bat is impressive.
So I'm not here to tell you that I think the Cubs should trade Russell in the offseason. His stock is as low as it has ever been, so to advocate for such a move would be to sell low on a 23-year-old player with the talent to be a regular All-Star. And if I wanted to make the case to trade anyone, it would probably be Kyle Schwarber.
I'm only partially trolling here. The Cubs are going to head into 2018 with a logjam of position players yet again, with Javier Baez and Russell anchoring the middle infield and Schwarber, Ian Happ, Jason Heyward, Albert Almora Jr., and Ben Zobrist vying for playing time in the outfield. Oh yeah, and don't forget Tommy La Stella and his 120 OPS+ this season. Depth is a good thing, and with the injuries and surprisingly poor performances they've had at times this year, it has really been their savior.
But at some point, the Cubs will need to commit to regular playing time for a few of these young guys. Almora has certainly been earning it lately and Happ projects to be very valuable as a corner outfielder with the flexibility to play second base.
Will the Cubs make a deal this winter to move Schwarber and open more playing time for Happ and Almora? Probably not, because it's another sell-low situation. But if there is one player that doesn't fit quite as well with this team long-term, it's Schwarber and his defensive deficiencies in left field.