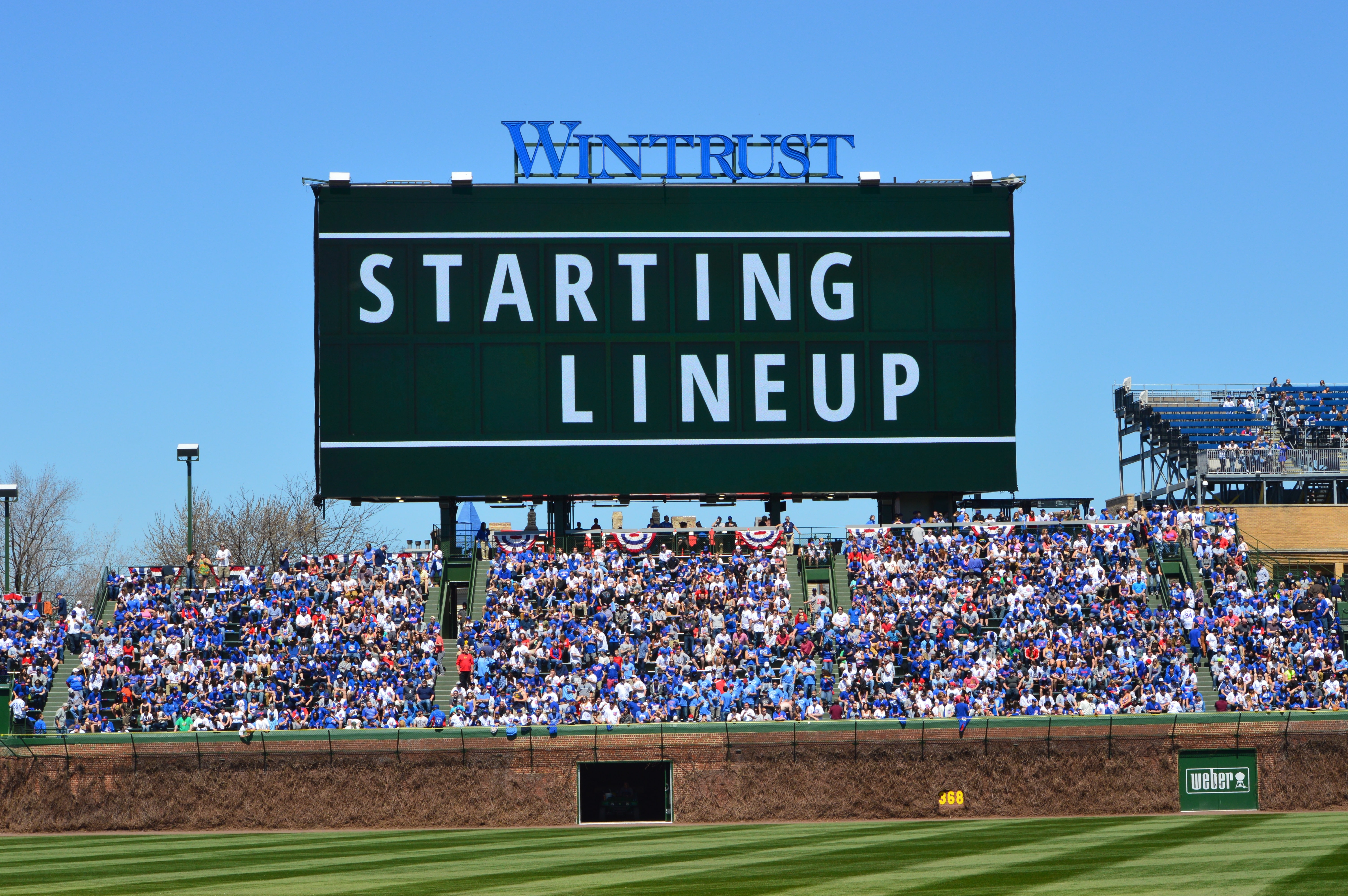 Chicago Cubs Lineup: Jay Leads Off, Schwarber in LF, Javy at 2B to Back Arrieta's Return
That kid is back on the escalator! I guess that's not funny if you've never seen Mallrats, but it's the first thing I thought when I saw that Jon Jay was leading off once again. Jay has been significantly worse on the road this season and is actually worse against righties overall, but what do I know?
I guess Jay does have a .328 OBP vs. righties on the road in the second half, which is up from .315 in the first half. Sorry for banging this drum so loudly, folks, but it's got a beat I like to dance to.
Kris Bryant, who has a 1.025 OPS in 25 at-bats against today's starter, assumes his usual role, with Anthony Rizzo looking to wash the taste of a sluggish showing in Tampa out of his mouth. Willson Contreras cleans up at catcher and Kyle Schwarber follows him.
Both WillCo and War Bear have taken Zach Davies deep this season and the splits tell us there's a good opportunity for someone else to join that list tonight. Could that be Addison Russell, who moves up to the sixth spot in the order as he gets another start at short?
Maybe Jason Heyward can get his third home run of the month. Or perhaps it'll be Javy Baez, who has moved back to being the team's primary second baseman. It's a little weird that a guy with that much offensive potential is at the bottom of the order, but no weirder than leading off with the guy who has the lowest wOBA and wRC+ on the team in the second half.
Jake Arrieta is back for the first time in a little over two weeks and he's going to need to be sharp to make it deep into this game. With a limit of 75-80 pitches tonight, Arrieta can't afford to get behind many hitters and he really needs to avoid walks. While that's super basic and may go without saying, Arrieta hasn't been the most efficient pitcher in the world this season and the Cubs could really use a strong start.
Speaking of strong, I'm interested to see how the velocity looks in this one. Arrieta has been right around 92 mph all season, though it's crept up ever so slightly since that first month of the season and has pretty much hovered in the same spot since May. This is where the two weeks off might actually serve a starter well, particularly one like Arrieta who has pitched a lot more innings over the last few seasons than he ever has before.
"The good thing is the arm strength is there, it's remained there, and I actually feel better for maybe having a little bit of time off," Arrieta told reporters Tuesday in Tampa.
Zach Davies will be on the bump for what feels like the 75th time this season against the Cubs, but the actual total will stand 70 fewer than that after tonight. The lithe right-hander has alternated losses and wins in each of the first four, which bodes well for the Cubs after that one-run gem 11 days ago. That was the only time he's managed not to allow a homer to the Cubs, though he did give up seven hits and a walk.
That's the way Davies' works, pitching to contact and trying to get outs on the ground. He's only walked three Cubs in 25 innings, so they need to be ready to swing when they get to the plate. It's all about being selectively aggressive against the sinker/curve/change/cutter he'll throw up there. There really isn't a lot of new material to break down in this matchup, it's just a matter of the Cubs going out there and handling their business.
Well, there is one little wrinkle that bears pointing out. Both of the games Davies has lost to the Cubs this season have come in Milwaukee, where he's actually performed much worse this season. He's allowed an .834 OPS at Miller Park as opposed to a .666 mark on the road. That's a really big split, man. Righties have a higher average and OBP and lefties have slugged more, giving them very similar wOBA marks.
That could really come into play if the Cubs are able to chase Davies early, as the Brewers bullpen has been taxed by some must-win games in Pittsburgh. Their back-end pair of Corey Knebel and Anthony Swarzak pitched in each of the last three and southpaw Josh Hader pitched in two of those. Attrition could play a big role here.
You can find out whether the trends bear out when the Cubs open this pivotal series at 7:10 CT on CSN Chicago Plus.
Big weekend.

Series preview: https://t.co/H5wHkRDmsI pic.twitter.com/zOEzJQl5NA

— Chicago Cubs (@Cubs) September 21, 2017