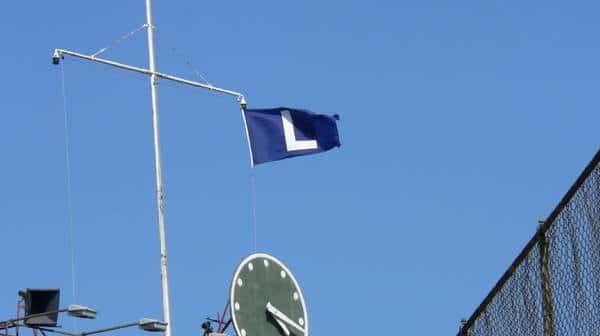 CI Recap (9/20/17) – Rays 8, Cubs 1: Lester Hit Hard as Winning Streak Ends
After winning a pitchers duel on Tuesday, the Cubs had a chance to sweep the Rays on Wednesday in the finale of a brief two-game series. A rough outing from Jon Lester combined with minimal offensive output ensured that did not happen, however, as Chicago's winning streak came to an end (box score).
Why the Cubs Lost
As has become surprisingly commonplace this season, Lester simply did not have command of his stuff. This resulted in a lot of hittable pitches, and hit them the Rays did, as they were able to jump on several of Lester's offerings and build up an early lead they would not relinquish.
While Lester owns some of the blame for the outcome in this game, the offense certainly didn't do its starter any favors. The Cubs never really mounted much of a threat against the Tampa Bay pitching staff, managing just five baserunners through seven innings before the regulars were removed in the latter stages of the game.
Key Plays
Down 4-0 entering the top of the 5th, the Cubs' offense appeared to be putting something together. Javy Baez led off the inning with a walk and moved to second on an Addison Russell single. Ian Happ worked his way into a favorable 3-1 count but proceeded to ground into a 6-4-3 double play. A Jon Jay lineout to left ended the threat and, essentially, Chicago's evening.
Stats That Matter
It was another rough outing for Lester, who allowed seven runs on eight hits and three walks with no strikeouts over 4 1/3 innings. While his surface stats this month (3-0, 3.71 ERA entering Wednesday's start) had been better than those in August (0-1, 7.85), things weren't as positive as they seemed. Lester's command has left him at times in September, which has resulted in a relatively low K/9 (7.41) and an uncharacteristically high BB/9 (4.76), WHIP (1.65) and FIP (6.15). The numbers look even bleaker when you factor in Wednesday's start: 5.91 K/9, 5.06 BB/9, 1.83 WHIP and 6.58 FIP. Ouch.
Blake Snell has faced the Cubs twice this season and both times he has mystified the Chicago lineup. After going five shutout innings on July 5, Snell was even better on Wednesday as he limited the Cubs to two hits and three walks while striking out five over seven scoreless.
Bottom Line
Neither Lester nor the offense had it Wednesday night, and the Cubs dropped their first game in over a week. Not even Javy doing Javy things could save this one. Luckily, Pittsburgh came back to beat Milwaukee, so Chicago's lead in the NL Central remains 3 1/2 games.
On Deck
The Cubs will be in Milwaukee on Thursday as they begin a crucial four-game series against the Brewers. Jake Arrieta will take the mound for Chicago in his first start back from the DL, while Milwaukee will send out right-hander Zach Davies. First pitch is slated for 7:10 p.m. CT and will air on CSN Plus.