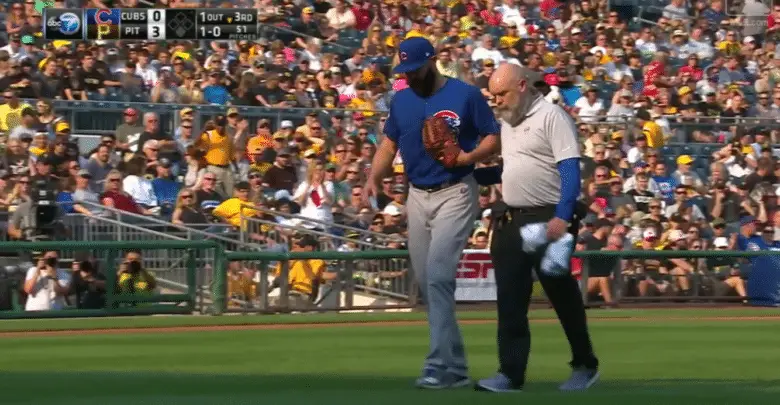 Arrieta Will Throw Bullpen Thursday, Sim Game Soon After As He Nears Return
Jake Arrieta joined 670 The Score's Bernstein and Goff Show Thursday afternoon and echoed much of what Chris Bosio had said about the rehab progress, at least in terms of how he was feeling. But while the pitching coach offered next to nothing in terms of a timeline, Arrieta told the show's hosts that the plan was to throw a bullpen session after his appearance and then, depending on how he felt, probably a simulated game in the next couple days.
"Everything's pointing in the right direction," Arrieta said. "The biggest part of the progression is kind of pushing it to the point where there's no discomfort, no pain, and controlling the effort that way, just so you're not taking any steps back.
"And up until this point, we've been able to do that. We've been able to kind of push it without going overboard, and that's really the biggest part of the rehab process, trying to make strides without having any setbacks."
The pitcher went on to explain that his injury was not nearly as severe as the one suffered by Willson Contreras. As such, the timeline for Arrieta's return is significantly shorter.
Everyone's recovery is different, but the Cubs are pretty meticulous when it comes to planning out the timing of their rotation. And if we look at the way Jon Lester rehabbed and returned, we saw him throw a bullpen session on August 25, then a sim game three days later on what would have been his normal spot in the rotation. He returned to the active roster five days after that, on September 2.
Arrieta's timing will likely be a little different since his spot in the rotation is today, Thursday. So let's say he feels great after the bullpen session and moves on to a simulated game this weekend, probably Sunday. The Cubs have Monday off and could roll John Lackey out against the Rays this coming Wednesday on regular rest. Same for Kyle Hendricks in Thursday's opener in Milwaukee.
Arrieta could then pitch Friday evening, five days after that hypothetical simulated game. Again, this is all assuming everything goes well. And who knows, he could come back a little earlier if everything goes perfectly and the medical staff gives him a green light. But as long as he comes back by either next Friday or Saturday in Milwaukee, Arrieta wold make a start in St. Louis as well.
Now let's hope for some good news out of this bullpen session.