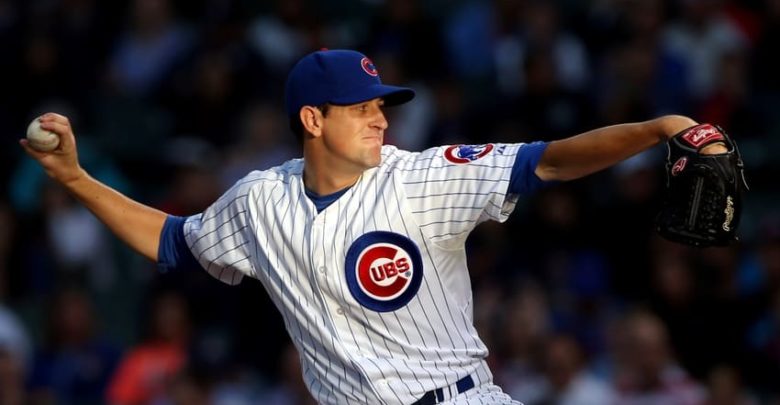 Kyle Hendricks Finally Threw 'Fast' in Last Start
Did you guys see Kyle Hendricks' last start? For the first time all year, he actually looked like last year's Cy Young candidate.
Sure, the lanky right hander has a stellar 3.29 ERA this year, but he also has a 4.17 scFIP (Statcast FIP) and 3.75 bbFIP (batted-ball FIP), suggesting that his ERA might be unsustainable going forward. These underwhelming numbers sharply oppose the impressive 2.13 ERA, 2.88 scFIP, and 2.29 bbFIP he recorded during the 2016 season.
It's almost unavoidable: Hendricks' average run prevention coincides with the kind of velocity drop normally reserved for aging veterans. After averaging a touch over 88 mph last year, the 27-year-old has followed up by averaging decimals below 86 this year.
Even Hendricks' ordinarily consistent mechanics became unhinged. In fact, we here at Cubs Insider found that when the sinker-baller lets go of the pitch higher, fastballs are slower. Hendricks went so far to confirm this conundrum, describing a feeling of "getting stuck," which he said affects velocity.
But in Tuesday's start against the Pirates — and I type this with a big smile — Hendricks was throwing faster. He clocked in at an average velo of 87.4 mph, well within the range of velocity that we've grown accustomed to seeing from The Professor during past seasons.
Graphed below is Hendricks' per-start velocity, with the red line representing his effort in Pittsburgh. The dotted line reflects the pitcher's average velocity at that date. Looks pretty encouraging, right?
Velocity isn't everything, but it's certainly something. The good folks at The Hardball Times found that a 4 mph increase in velocity is associated with saving roughly one projected run per nine innings. I remember when Hendricks darted 89 mph sinkers on the outside part of the zone in 2016, the same pitches that basically led to top-tier isolated and real run prevention numbers last year.
Finally, for the first time this season, Hendricks' fastballs looked like that 2016 guy.