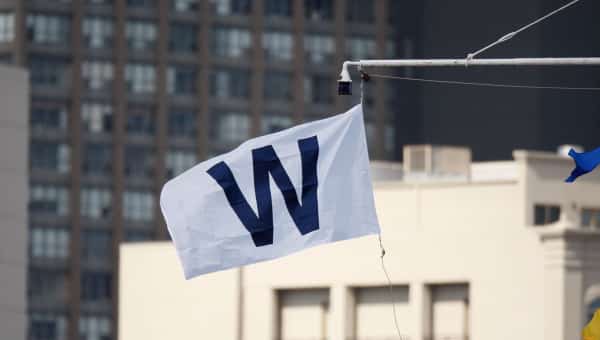 CI Recap (9/6/17) – Cubs 1, Pirates 0: Relief Pitcher Scores Game's Lone Run
The Cubs needed to win, but they also needed to get the offense back on track. One of those happened tonight. Overall, it was a pretty straightforward pitching duel between two really good ball-throwers. Neither team had many opportunities to score in this game, but the Cubs made the most of their final chance (box score).
Why the Cubs Won
Jose Quintana and the Cubs pitching staff kept the team in the game by shutting down the Pirates. They allowed no extra-base hits and no Pirate runner reached third base. In total, they gave up six hits and walked two while striking out nine.
Key Moments
Quintana found himself in a jam in the 6th, when the Pirates hit two consecutive singles to lead off the inning. Fortunately, Quintana got Jose Osuna to ground sharply into a 6-5-4 double play after a long battle, then induced an easy ground ball out on the very next pitch.
Alex Avila came up with the clutch hit in the top of the 9th. Leonys Martin, pinch running for Anthony Rizzo, was on second when Avila tripled to drive in the run with two outs and set things up for Wade Davis in the bottom of the frame.
Stats that Matter
Avila hit his first triple since 2013. A single would have sufficed, but it was awesome to see the big guy run the bases.
Quintana's game score of 68 was his second highest with the Cubs, trailing only his debut start in Baltimore.
Bottom Line
This game epitomized what the Cubs have done recently on offense. After that period where they were hitting the crap out of the ball, one had to expect to see them cool off a bit. I don't think anybody could have predicted the entire lineup would go cold all at the same time, though. Hopefully the Cubs can figure something out soon, because this is frustrating to watch. It doesn't get any easier in the series finale, either, because the Cubs face a really good young pitcher.
On Deck
Thursday night at 6:05 CT, Jon Lester faces Jameson Taillon as the Cubs try to split the series. The game will be broadcast on CSN Chicago.