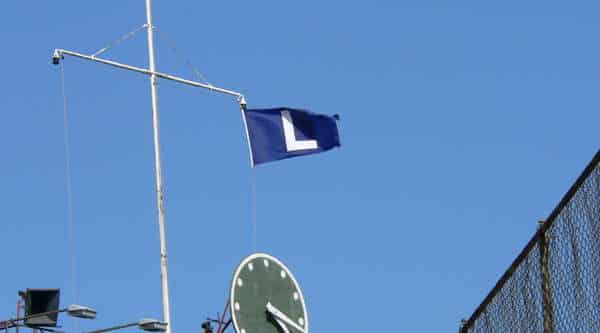 CI Recap (9/3/17) – Cubs 1, Braves 5: Homestand Ends with Lackluster Offensive Performance
It was a gorgeous day for some baseball at Wrigley Field. The Chicago Cubs were going for a sweep over the Atlanta Braves, and their seventh win in a row. Unfortunately, the Boys in Blue weren't able to get it done today. Their pitching was good enough — until the 9th inning — to win, but the offense was nowhere to be found (box score).
Why the Cubs Lost
The Cubs offense was stymied by the Braves pitching staff, led by rookie Max Fried who made his first start as a big-leaguer. They managed only one extra base hit in the game, a solo home run in the bottom of the 2nd inning by Ian Happ. The two through five hitters for the Cubs went a combined 0-for-14 with five strikeouts.
Key Moments
Javy Baez exited in the top of the 3rd inning today, after his head collided with Ozzie Albies' right knee while attempting to steal second base in the bottom of the 2nd inning. After to game, Joe Maddon indicated that Baez did not sustain a concussion but he was continuing to be evaluated. He hopefully won't miss much time, but it may take a couple days before he is back in the lineup. We'll see.
Mike Freeman came into replace Baez, making his Cubs debut, and he left much to be desired. He booted a ball hit by Braves pitcher, Max Fried, for an error and had some pretty mediocre at-bats. It's not easy coming into a game cold, so hopefully today's poor performance was more about him not being mentally prepared to make his debut while getting major playing time in the process.
Dillon Maples made his big-league debut today, and pitched well. He walked a man and struck out another in one inning of work. His slider looked pretty nasty, so that'll be fun to watch in this final month.
Stats that Matter
The Cubs were 1-for-2 with runners in scoring position.
Ben Zobrist and Ian Happ each had two hits. Jason Heyward was the only other Cub to get a hit — a single — today.
Mike Montgomery had a decent start, but not his best: 5 IP, 3 R, 5 H, 1 BB, 1 K, 64 pitches thrown
Bottom Line
Today's loss was disappointing to watch but, considering the Cubs were on the verge of a perfect home stand, there's really not too much to be overly concerned about. Well, except the injury to Javy Baez, which sounds like it's nothing major, thankfully.
The Cubs finished with a 6-1 record against the Braves this year. Currently, they sit at 75-61 and have a 3 1/2 game lead on the Brewers in the division.
On Deck
The Cubs head to Pittsburgh for a four-game series that begins on Monday against the Pirates. The National League pitcher of the month, Jake Arrieta, will square off against Chad Kuhl at 3:05 CT. The game will be broadcast on ABC-7 and ESPN (out-of-market).