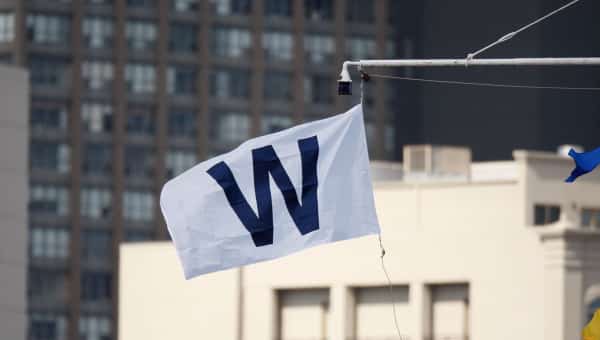 CI Recap (9/2/17) – Cubs 14, Braves 12: Chicago Wins on Late Safety
The Cubs jumped all over young Braves starter Lucas Sims and piled up runs on the Atlanta bullpen. Jon Lester returned and the rust was evident, but he and the relief corps did just enough to extend the Chicago winning streak to six (box score).
Why The Cubs Won
The Cubs offense exploded again Saturday, scoring a total of 14 runs on Sims and company. That onslaught was enough to overcome a lousy effort from the Northsiders' bullpen, which allowed eight runs.
Key Moments
Anthony Rizzo singled, then Ben Zobrist and Jason Heyward walked to load the bases with one out in the 2nd inning. Catcher Rene Rivera jumped on a hanging slider from Sims and banged a grand slam off the foul pole to give the Cubs a 4-0 lead.
Jon Lester walked to open the 4th, Jon Jay singled, and Kyle Schwarber walked to load the bases again. Anthony Rizzo smoked a line drive into the right-center gap off of Ian Krol for a three-run triple. Javy Baez then doubled home Rizzo and would score when Heyward singled to put Chicago up 10-4
Stats That Matter
Jon Lester was not on his game Saturday: 5 IP, 4 R, 8 H, 4 K, 3 HR, and 1 BB. He was throwing the ball hard, so it appears he's healthy, might be more rust than anything.
Don't look now, but Jason Heyward is heating up. He had two hits, including a homer, and two RBI and is now has eight hits on the homestand.
Rene Rivera had two more hits including the grand slam and has been a pleasant surprise at the plate so far.
The Cubs bullpen was absolutely horrible on Saturday: 4 IP, 8 R, 9 H, 5 K, and 4 BB. What should have been an easy win became a tense game due to the staff-wide meltdown. Hopefully it's out of their system.
Bottom Line
That game was a complete mess, but the Cubs were the winning team so all's well that ends well. Bullpen performances like Saturday aren't a plan for long term success.
On Deck
Chicago goes for a perfect homestand Sunday at 1:20 CT as Mike Montgomery does battle with Max Fried, who makes his first career start. The game is on CSN-Chicago.