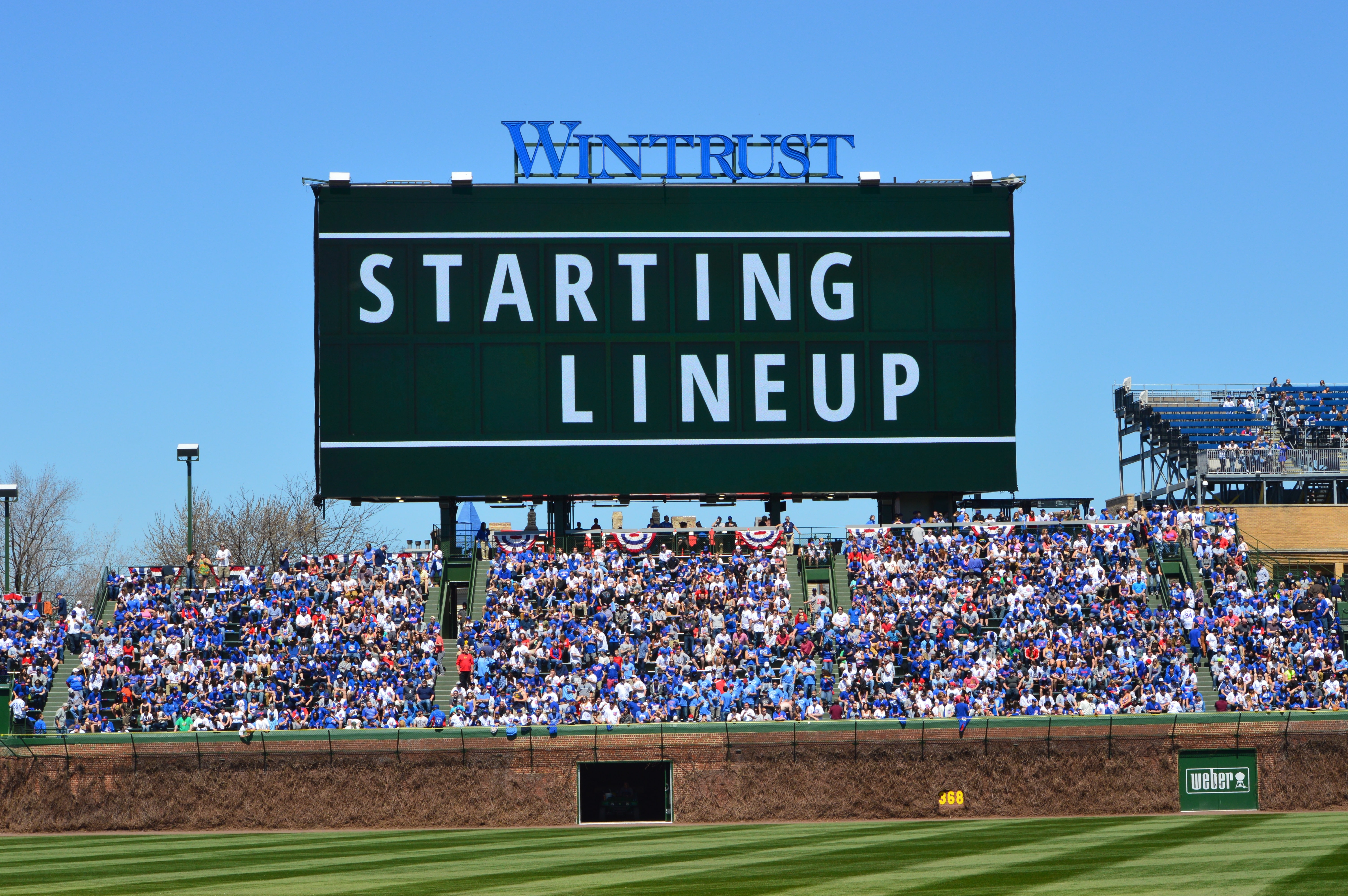 Chicago Cubs Lineup: Zobrist and Schwarber Lead Six Lefties Against Foltynewicz, Braves
Ben Zobrist finished the month of August with a .792 OPS and 110 wRC+, most of it coming from the left side of plate. He'll be there this afternoon as he leads off and plays second base. Kyle Schwarber has rediscovered his power stroke and the ability to hit to left field, which is where he'll be playing today.
Kris Bryant (1.045 OPS) and Anthony Rizzo (1.060) have long been the dual driving forces of this offense and something tells me their August performance is going to continue through September. In fact, I'm sensing a big power surge for KB in particular.
Ian Happ takes his turn in the centerfield timeshare, while Alex Avila is back behind the plate after a couple days off and Jason Heyward fills his usual spot in right. Despite a few multi-hit games over the last week, Heyward has displayed almost negative power. His inability to hit for extra bases is somewhat mitigated by his defense and baserunning, but it remains extraordinarily vexing that a man of his size can't pick more than three doubles in a month.
Javy Baez is back in the eight-hole, which seems odd on the surface when you think about his overall offensive ability. The again, batting at the bottom of the order really seems to suit him well.
You guys don't need me to tell you much about John Lackey, do you? I mean, there's really not much to say even if you wanted to know more about him. The dude is who he is, a veteran pitcher who you hope can hit his spots and avoid giving up too many homers.
He had a really strong run there for a while that was largely the product of a little good fortune, but stumbles in recent starts have brought him back down to earth a little. The key for Lackey will be hitting his spots and avoiding the big early inning. If he can get into the 3rd, he usually gets rolling and can start throwing the slider for strikeouts. Fingers crossed.
Let's go ahead and get this out there early: the Brave's pitcher's last name is FOL-ten-EH-vich. Or is it fol-TEN-uh-VICH? Either way, getting him to pronounce it backwards will actually send him back to his home in the 5th dimension. And…that's a joke that maybe two readers will get. For those who do, I offer a thumbs-up.
Now let's get back to the business of discussing Mike Foltynewicz, the 25-year-old righty on the mound for the Braves this afternoon. If you saw the game preview on Cubs.com, you might have noticed that he and Lackey share eerily similar lines. Both are 10-10 with an ERA near 4.00 and strikeout totals that fall within four K's of each other.
The two even share nearly identical pitch repertoires, though Folty puts more emphasis on the sinker and curve where Lackey throws a lot more sliders. And the younger pitcher throws quite a bit harder, too, running that fastball up to the plate in the mid-90's. It hasn't been a great pitch for him, nor has the change, but Foltynewicz has had decent success with the breaking stuff.
He's got some run on the fastballs and will keep them away from hitters, but the change tends to remain on the arm-side, particularly against lefties. Foltynewicz uses the slider mainly against righties and the curve against lefties, though the latter doesn't have a ton of depth and can sometimes stay up in the zone. Overall, his stuff hasn't played well against lefties, who've tuned him up for a .309/.386/.498 slash.
A lot of that has come at home, where the young righty has been absolutely abysmal when facing left-handed hitters. Things even out significantly when he pitches on the road, to the extent that his platoon splits are almost negligible. Foltynewicz has had a really rough go of it over his last six starts, over which he's got a 9.00 ERA with 29 strikeouts and 15 walks over 27 innings. His FIP is only 3.94 in that same span, though, and he only allowed two homers.
Expect to see most of the contact against him in the air, which could be fun for Cubs fans as long as the wind isn't howling in. First pitch is set for 1:20 CT and you can catch it all on WGN.
Here is this afternoon's #Cubs lineup against the #Braves.

Game preview: https://t.co/96NGX1TtfY pic.twitter.com/XttvLbULu6

— Chicago Cubs (@Cubs) September 1, 2017