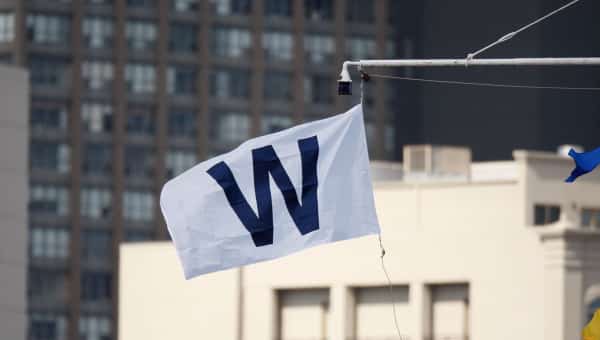 CI Recap (8/16/17) – Cubs 7, Reds 6: Lackey Steals Show, Cubs Walk Off on Wild Pitch
Wow, that was kind of a weird one.
Anthony Rizzo got the party started with a first-pitch grand slam off of Homer Bailey in the bottom of the 1st, becoming only the third cleanup hitter in Cubs history to hit a grand slam in his first at-bat of the game. It was set up by two straight opposite-field singles by Ben Zobrist and Kyle Schwarber and a Kris Bryant walk.
The scoring continued when Alex Avila drove in Rizzo on a two-out double in the 3rd inning. Tommy La Stella played add-on in the 6th with a double to drive in Jason Heyward.
John Lackey really struggled in the first couple of innings, loading the bases with no outs to start the 1st inning and again with two outs in the 2nd. He also walked three guys in those first two frames and it took until the 14th batter of the game to record his first strikeout. Shockingly, he only allowed one run and was able to dig himself out of a deep hole.
After a two-out single in the 3rd, Lackey allowed no base runners and struck out six men. It was an impressive rebound from a really bad start to this game.
As a sign of the impending apocalypse, the gnarled pitched stole a base for the first time in his career. He was then caught in between second and third to end the 4th inning after Ben Zobrist walked. It was truly a bizarre, yet entertaining, sequence of events. Lackey also made a sweet grab on a Joey Votto line drive that would have been Votto's second hit of the game.
Hector Rondon came into the game in the 7th and had an easy time getting the first two outs. Unfortunately, he allowed a solo home run, a single, and a two-run home run to give the Reds some hope. He was removed from the game after the second home run, after which Brian Duensing got Votto to ground weakly to first.
Duensing returned for the next inning and gave up a double that just went over Heyward's glove. He then induced a ground ball to short, which Javy Baez made a great play on. Adam Duvall was slated to hit, so Joe Maddon went to Carl Edwards Jr., who promptly gave up a game-tying two-run home run.
Wade Davis, making only his fifth August appearance, pitched a clean 9th give the Cubs a chance to walk it off in the bottom of the inning. Things would get pretty crazy before the home team could celebrate, though.
Javy Baez led off with a double, Jon Jay walked, and Ben Zobrist got hit by a pitch to load the bases. Wait a minute…The umpire actually ruled that Zobrist had offered at the pitch, so he had to go back to the batter's box with an 0-2 count.
Joe Maddon was as livid as I've ever seen him, and he had a point. Maddon got ejected, and might face a fine because he was up in all of the umpires' grills. Zobrist ended up grounding out, which advanced the runners to second and third, but Albert Almora Jr. struck out in an at-bat that was reminiscent of Javy Baez when he's in swing mode.
On the first pitch to Kris Bryant, a spiked slider got away from Reds catcher Tucker Barnhart and Baez ended up scoring to end the game.
Stats that Matter
John Lackey is the only Cubs starter to go at least five innings in every start this year.
Kyle Schwarber had reached base eight straight times before striking out in the 7th inning. .
Tommy La Stella is 7-for-19 as a pinch hitter. That hit tool he has is impressive.
Our fearless leader made a pretty awesome observation tonight:
All Cubs RBI have come from lefty batters (against whom Bailey has generally been better), all on opposite-field hits.

— Evan Altman (@DEvanAltman) August 17, 2017
Bottom Line
The Cubs made it interesting by allowing the Reds back into it, but thankfully still prevailed. The bullpen really let a good John Lackey start go to waste, but all's well that ends well.
On Deck
Tomorrow, Jon Lester and the Cubs face Reds opening-day starter Scott Feldman and the rowdy Reds at 1:20 CT on CSN.