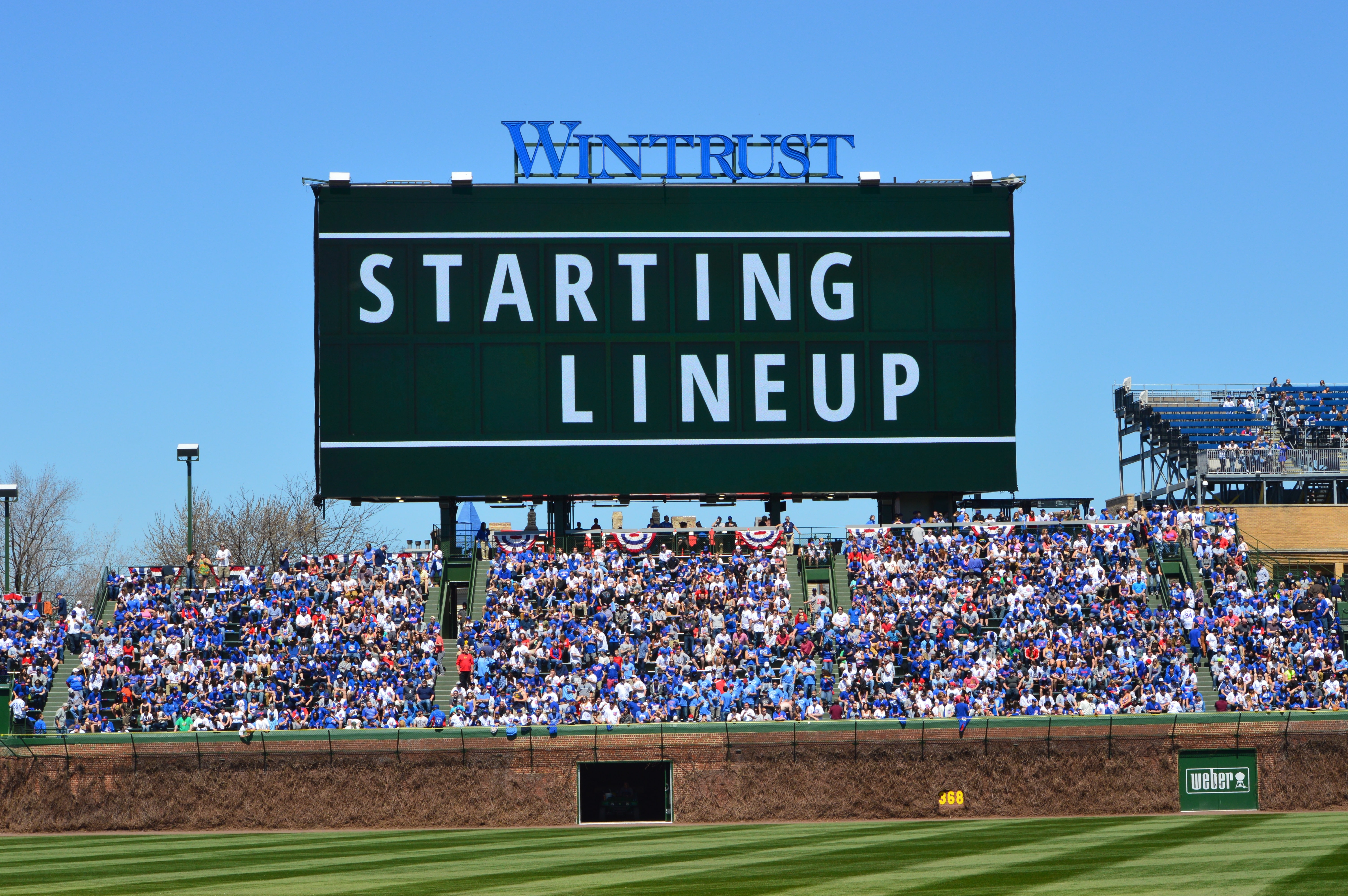 Chicago Cubs Lineup: Heyward Leads Off, Schwarber at DH, Caratini Catching as Cubs Take Swords to Shields
Jason Heyward is leading off yet again for the Cubs, a lineup tweak the right fielder told Matt Spiegel and Danny Parkins he actually suggested to Joe Maddon. Kris Bryant and Anthony Rizzo follow, with Ben Zobrist playing second and batting cleanup in place of Willson Contreras, who's getting the day off.
Kyle Schwarber is batting fifth and manning the DH spot, Ian Happ is hitting sixth and playing center, and Jon Jay completes the outfield in left. Addison Russell is at short and Victor Caratini makes what could be his last big league start for a while as the Cubs look to add a veteran catcher to the mix at the deadline.
Jake Arrieta, who has been using sinkers at a much higher rate over his last few starts, will be facing the Sox for the eighth time overall and the fifth time as a Cub. Those previous matchups don't really mean much, given how the lineup has changed over the last couple of years, but Jose Abreu is 3-for-8 with a .944 OPS against the former Cy Young winner.
Named for his ability to step up in high-pressure contests, "Big Game" James Shields has seen that moniker turned into a pejorative over the past couple seasons. The righty was looking pretty good at the start of the 2017 campaign, allowing a single earned run in each of his first three starts (16.2 IP). In what was a precursor of things to come, solo homers (the third of which was an inside-the-park job from Brian Dozier) were responsible for all the scoring.
What began as a smooth run hit a snag when Shields hit the DL for the first time in his MLB career with a lat strain. Whether it's lingering effects from the injury, a hit to his confidence, or just water finding its level, Shields has been awful since coming back after two months on the shelf. His 8.10 ERA over the last six starts isn't much worse than his 7.64 FIP, and he's given up nine homers in 30 innings (2.7 HR/9).
Some of those results can be attributed to a drop in velocity over those last half-dozen starts. Shields' fastball is down nearly one full tick and is under 90 mph, while his cutter has come down 1.5 mph and has averaged just under 85 mph. The changeup is down one mile per hour as well, lighting up the gun at 82.3 mph. The curve is the only pitch that has remained static at right around 75 mph, and that's the only one of his offerings that has positive value.
Even though the veteran pitcher is getting a lot more contact on the ground and less in the air of late, the drop in velocity — among other things — has led to him giving up a great deal more hard contact. Most of that has come at the hands of lefty batters, who carry a .296/.415/.670 slash with a .442 wOBA against Shields this season. And when he's pitching at Guaranteed Rate, those numbers jump to .333/.463/.788 with a .504 wOBA (41 total batters).
This is the kind of game in which the Cubs should be able to absolutely pound away, which means that we'll probably all be sitting there in the 6th inning wondering how in the hell they've only got one run. Shields is 2-0 in four career starts against the Cubs and he held them scoreless over 7.2 innings when he faced them exactly one year ago. You may also remember that Shields was on the mound for the Padres when Kris Bryant made his MLB debut. The eventual ROY struck out swinging three times against Shields, twice on the changeup.
Given their disparate trajectories, I think we can expect different results this time around. Bryant has a 1.103 OPS and has nine extra-base hits (5 doubles, 4 homers) against changeups this season, while Shields' offspeed offering ranks among the bottom four in baseball (min. 40 IP) in both overall (-7.71) and per-100-pitch (-9.92) value. Something tells me Bryant remembers that first matchup and that he'll be looking to make up for yesterday's ejection as well.
First pitch is set for 7:10 CT and will be broadcast on ABC-7 (Cubs), CSN Chicago (Sox; Hawk's histrionics could make it worth a hate-watch Cubs fans), and ESPN (national). Though fans often lament the national coverage of their teams, the Four-Letter has put together a banner crew for this one. Former Cubs Rick Sutcliffe and David Ross will be paired with top-notch Sox broadcaster Jason Benetti for the call. And if none of those suit your fancy or availability, you can head to Facebook, where the Cubs and ABC-7 will be showing the game in its entirety via Facebook Live feeds on their respective pages.
Here is tonight's #Cubs starting lineup.

Game preview: https://t.co/Zth83ebS6p pic.twitter.com/IqHRSFHSmq

— Chicago Cubs (@Cubs) July 26, 2017